We all love to see dogs with smooth, tangle free coats, particularly if it's our own dog.
But often a dog's coat can become matted and full of knots. Removing them and keeping the coat clean may pose a problem.
Hello, my name's Megan and my dog has a lovely coat – until it gets dirty and tangled. I brought Bailey home when he was just a pup and he arrived with a beautiful smooth coat.
I realised that if I wanted to keep that coat looking good and tangle-free I was going to need to brush it – often.
There are several reasons why you may want to keep your dog's coat groomed. As I know, Bailey feels at his best when his coat is shorter and not matted.
A dog with a thick coat will shed constantly and your house will have almost every surface covered with dog hair. Grooming him will keep shedding to a minimum and give you a cleaner home.
Dogs will normally shed twice a year, in the spring after the winter is over, and in the fall to get rid of the summer coat.
Your pooch may well use your furniture to do this, and while it may work reasonably well, it is never as good as brushing.
I have learned with Bailey that in preparation for the hot summer months here in Spain, he looks and feels better with a good cut.
Not only does this get rid of all the thick winter fur, it also ensures that he is not badly affected by the excessive heat.
Having a dog well groomed gives you a chance to spot any fleas or ticks which are prevalent in warmer weather.
Not keeping on top of grooming Bailey means that his fur becomes tangled and matted, which is simply horrible in a dog with thick fur.
As the fur gets more matted it pulls at the skin and can seriously hurt a dog, not to mention that it gives insects a good place to hide.
How to Groom Thick Dog's Hair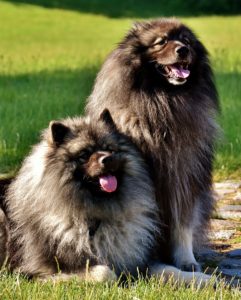 First step is to de-mat the dog's hair. For this you'll need a de-matting tool. This is a special brush which you can use to gently work through the hair.
De-matting brushes normally have a retractable cover and when it comes in contact with a mat the blade will gently cut it out.
Now on to the shedding brush which you should use to brush a heavy coat in the direction of the hair growth.
Do this slowly in case there are knots which will hurt your dog if you pull hard as you brush.
You should brush the hair until there are no more knots before giving your pooch a bath.
If your dog has very bad knots and mats, then you may need to shave his fur completely at this point.
Run a lukewarm bath. Your dog won't appreciate a cold bath, and a hot one can burn his newly shaved skin, so be sure that the temperature is tepid.
Shampoo using a 'doggie shampoo' and not your own, and rinse thoroughly to remove any excess shampoo.
Give your dog a brush with a boar bristle brush and if possible, let the fur air dry.
There's nothing wrong with drying your pooch with a hairdryer as long as you keep it moving so that it does not get too hot in one place.
How to Groom Matted Dog Hair
The only way to prevent matting in a dog with thick or long hair is to brush and groom them every day.
Even with daily grooming your dog may still get some mats if the hair is long.
You'll know if there are any mats when you try to comb the fur and the comb gets stuck. If you can't get through the fur, you can be sure that there are mats at the skin level.
Often you may not be able to see mats until you run a comb through the fur. The worse the matting, the greater the chance of needing to shave the hair.
If the hair needs to be shaved, this should be done before you bath your dog. If you wet the mats, they will simply get worse and tighten up even more, making life very uncomfortable for your dog.
Once the fur has been shaved off you may notice that the skin underneath is red and sometimes raw. This is because the mats have been tightening as they are left.
Areas Where the Worst Matting Happens
There are some areas where matting occurs more often than others. These areas are not always visible, and you may only discover mats when you try to brush the dog.
Around and Under the Ears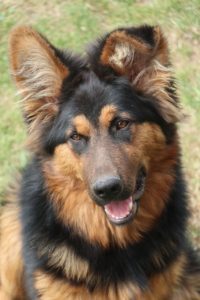 Any dog who has long or thick hair around their ears will – if left unbrushed – develop mats in this area.
You may not see them until you run your fingers through the fur.
You may be able to remove them with a de-matting brush, although if they are large you may need to shave the area.
Under the Front Legs
If you think of this area as under a human's armpits, you will realise that every time your dog moves, the fur rubs against itself.
Tangles will inevitably form in a dog with think and long hair. You may be able to remove them with scissors, if not, then they should be shaved off.
The Tummy
If you take your dog for walks in grass which touches his belly, you will find knots.
Likewise, many short-legged dogs will get tangles in this area because it is in contact with grass.
This is a sensitive area for a dog so you should be sure that you handle the knots gently and do not pull them as you remove them.
Tails
Any dog who has a furry tail will get knots in the fur. As they wag their tails they will come into contact with grass and twigs, some of which will stick.
If they are not removed right away, they will form a knot. These can be difficult to brush off and may need to be shaved off.
Between Paws
Most dogs will get knots in this area because it comes in contact with everything!
Sticks, stones, grass and seeds may all find their way between the toes and start to tangle. Often you will be able to remove them with scissors.
All Over Mats
Sometimes if a long-haired dog has not been brushed for some time the fur will become matted all over.
This will make life for the dog very miserable and then the only solution may be to shave the fur off completely.
This will give the skin a chance to recover from any insect bites or infections.
7 Best Dog Clippers for Thick and Matted Hair
1) Andis ProClip 2-Speed Detachable Blade Clipper
This is a super-duty clipper which will work on all types of fur, whether they are matted or thick.
Because of the versatility of the clippers they are great for families with more than one dog, particularly if the coats are different.
The clippers come with two speeds and an easy on/off switch. The blade is removable and has several different length options.
Because the blades are detachable and the drive cap removable it means that the clippers can be cleaned easily at the end of a grooming session.
You will find that the motor runs cool so even a large dog can be groomed in one session.
The clippers come with a 14' length of cable which makes moving around the dog a piece of cake.
2) Wahl SS Pro Clipper Kit
This is a single-speed professional clipper set with maximum performance. You will find the clippers to be powerful enough to cut through think fur as well as matted coats.
The speed is 3,200 SPM and the blade gives a smooth finish to the fur. The blade is detachable for easy cleaning.
The clippers are lightweight and run cool so are great for big dogs when you don't want to stop.
What is good about these clippers is the way they are shaped for fingers. The finger grips are ridged for extra comfort as you groom your dog.
The cord is 10' long so can get around large dogs with ease. You will notice that the clippers run quietly and stay cool while you work.
3) Andis AGC2 UltraEdge 2-Speed Detachable Blade Pet Clipper
This 2-speed clipper set comes with detachable blade. It is great for all types of fur and works well with either thick or matted hair.
The motor runs quietly and stays cool while you work. What you will notice is that the housing is break resistant so it will stay intact should you drop it.
The clippers come with a 14' cable so you can move around even a large dog with ease.
There is a locking power switch so the clippers cannot accidentally shut off as you work.
The speed at which the clippers operate are 3,400 and 4,400 SPM (strokes per minute) and the detachable blade makes for easy cleaning.
4) Oster Volt Lithium Ion Cordless Pet Clipper
This set of clippers come with a detachable Lithium Ion battery which will last for 2 hours before needing to be recharged. There is a quick charge option if you need to extend the grooming time.
Because the clippers are cordless you can use them wherever you like – no cables to drag and sockets to find.
You will see that the clippers are ergonomically designed and lightweight so even an extended grooming session will be easy on your hands.
While the clippers are lightweight, they are also durable and heavy-duty, and perfect for removing matted hair.
The motor stays cool through extended grooming sessions and the clippers are compatible with all Oster A5 blades.
5) Punada Professional 5-Speed Heavy Duty Pet Grooming Clippers
This is a great pack of clippers which comes with a comb, two pairs of scissors and four guard sizes, as well as a high-quality clipper. It would make the perfect gift for someone who plans on grooming their dog themselves.
The clippers are 5-speed and work well on thick coats as well as on matted fur. The maximum speed is 7,000 RMP.
The clippers are cordless and can hold their charge for up to 4 hours so are great on large dogs. They come with a cord if you prefer to use that instead of being cordless.
The LED screen lights up to remind you of the power use as well as the speed. It also indicates when it is time to add oil and clean the blade.
The clippers are so powerful that they are even suitable for use on horses! You can be sure that this set of clippers is going to handle any thick or matter fur on a dog.
6) Kiizon Dog Grooming Clippers & Hair Trimmer Tool Kit
These are 3-speed clippers with the maximum speed being 6,500 RPM (rotations per minute) and are often chosen by professional groomers so you can be sure that they do the job properly.
This is a complete set which includes everything you can ask for when you groom your dog.
I think it would also make a great gift to anyone who wants to start grooming their dog. They are suitable for any types of fur including thick hair and matter coats.
The clippers are wireless and have a rechargeable battery with extended life. You will find that the clippers last for 4 hours after charging them for just three hours.
If you prefer you can use the clippers with the cord although cordless means you can groom your dog wherever you want to.
The clippers come with an LED display which shows you when they need more oil. The LED also indicates how much power is left and when you should clean the blade.
What is nice about these clippers is that they are very quiet so even a timid dog will not be alarmed when groomed.
7) PSALMS Professional Dog Grooming Clippers Kit
There are 14 different tools in this set so you will have everything you need to groom your pooch. The clippers are suitable for dogs with thick hair, in fact they are also recommended for horses so should have no trouble with a dog's hair.
The trimmer is cordless which means that you can work anywhere you like. They are ergonomical to use so are good for extended periods of use.
The clippers will last up to 70 minutes without recharging and they are made from heavy duty titanium so they will last a long time. The blade is also heavy duty, being made of ceramic and titanium.
There are five levels of length to choose from and the low noise and vibration means even the shyest dogs will not be alarmed.
The set comes with a bathing glove as well as a fine tooth set of combs so you can bath your pooch after grooming and then brush out the fur.
Final Thoughts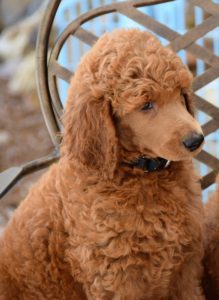 Although it is better to prevent knots and mats, sometimes they do happen.
Dealing with them early will prevent more discomfort for the dog and stop any insects or fleas from inhabiting the matted areas.
Having a cordless clipper or one with a cable is a personal preference and largely depends on where you need to groom your dog.
If you have a large dog, make sure that the clippers will stay charged for the entire time, so you don't have to recharge them before finishing the job.
It seems that clippers which run quietly are preferable so that your pooch is not bothered by the noise, as are clippers that stay cool while you use them.
The last thing you want is to be handling a hot gadget while you groom your dog.
If you need to groom a dog with thick fur or very matted hair, then it's best to invest in a set of heavy-duty clippers which will do the job properly.