Hi my name's Irena! First off, have you got a white dog?
Well, I have two who are predominately white with just a couple of brown patches and freckles on their faces. They are both very cute, but boy, is it difficult to keep them clean.
If you are in the same position as me, you will know only too well how hard it is to keep your dog's coat shiny, bright, and white. My Sherlock is a particular problem as he loves to roll about in the mud when it rains. Like most white dogs he seems to attract every bit of dirt that's out there.
So, what can you do? The simple answer is to get a shampoo especially formulated for getting the coats of white dog's white again. There are plenty of whitening shampoos on offer, so it isn't difficult to find one. However, you have to be careful to choose the right type and not one which will cause itching and scratching.
It's a great idea to talk to your vet as well and see what he recommends.
What is a Whitening Dog Shampoo?
A whitening shampoo is exactly what it says. It gets the coat of your white dog white again. Many contain clarifying brighteners and moisturizers which help to bring back the natural shine of the coat.
However, some of these include chemicals which can cause skin irritations so you need to be careful as to what you choose.
There are lots of shampoos out there which have natural ingredients and still do the job as well as ones which are filled with chemicals.
What are the Different Kinds of Whitening Shampoos?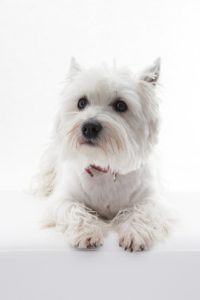 There are quite a few different types of whitening shampoos and many have some sort of bluing agent in them. It's an additive which can help to get rid of the yellow hue which is common on a white coat.
My other white dog, Lipstick, and yes, this is an odd name for a dog, but my step-granddaughter chose it, seems to look yellow a lot of the time so I'm all for a shampoo which gets rid of this problem.
The reason this type of shampoo works is that they are blue or purple and enhance the coat to make it seem as if it is white. If your dog has a dull coat it will become much brighter by adding optical enhancers to the coat.
The blue color is also very efficient at getting rid of stains from licking or from urine, as well as from sun damage.
In addition, bluing shampoos can help to enhance the colors of darker dogs and give their coats a shiny and sleek look.
Unfortunately, many whitening shampoos contain ingredients that can be harsh on the skin. In my opinion, these should be avoided as they can cause skin irritation and other unnecessary side effects.
Bleaching your white pooch is not a good idea. It is interesting to note that peroxide can even remove color from a dark coat, so it can't be the safest method to get your pooch's coat white. If you do decide to go down this route, be sure to put a strong conditioner on your dog after use.
Dyeing is equally as bad as it contains harsh chemicals which are no good for your dog. Again, if you decide to do this, wash your dog beforehand and condition afterwards. It's best not to use this regularly, but just now and again when you are looking to remove stubborn stains.
In my opinion the best way to go if you want to remove yellow stains and to get your pooch's fur white again is to use a natural whitening shampoo. There are plenty of shampoos out there which don't have chemical ingredients, but still do the job.
It's always best, especially if you are using chemical products, to avoid the eye area of your dog. Watch him while he has the product on to make sure that he doesn't rub his eyes as this can cause extra irritation.
I would recommend this whether or not you are using natural ingredients. Even products which are natural can cause problems with the eyes so it is best to be prepared.
Natural Ways to Help Whiten your Dog's Fur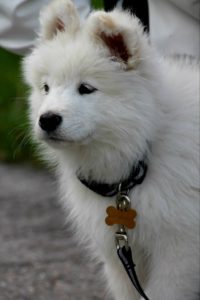 Perhaps you are not keen on using chemical products on your dog's fur.
Of course, there are natural shampoos which can be just as efficient, but maybe you also want to use a home-made solution to enliven the dull coat of your white dog.
The first thing to do is to only give your dog purified water. The reason for this is that purified water is high quality and helps to minimize tear stains.
Tear stains can be caused by chemicals in the water and also by high levels of iron. Too much iron can lead to discoloration of your dog's fur.
If you give your dog treats as I'm sure many of you do, avoid ones which have added coloring. They can also cause discoloration of your pooch's fur. Just feed him dye-free treats and this, combined with a natural diet, will make all the difference.
If your dog is long-haired, you may find that his hair gets into his eyes. This can cause him irritation and may lead to excessive tear production which produces stains on his coat. It is a good idea to have this excessive hair chopped off, but if you don't want to do this, tie his hair back. He will probably end up looking cool!
So are there methods that you can use to naturally whiten your dog's fur? Yes, there are although this doesn't mean that you have to abandon shampoos. This is just an extra bonus which will help.
You can brush your dog's fur every day with equal parts of water and dog shampoo in a spray bottle. It doesn't even need to be a special whitening shampoo, any will do. This is a great alternative if your dog hates baths and protests every time you try and get him in one.
Just spray the mixture onto a warm cloth and use it to wipe down your dog's fur. It won't take long to see the difference.
Another homemade stain remover can be made with a mixture of boric powder, baby powder, and milk of magnesia. Combine these into a paste and apply to the stained parts of your dog's fur. Let it dry and then comb out.
Now that we've talked about the ways of whitening your dog's fur, it's time to take a look at some of the products out there which can help. I have chosen shampoos which are natural and don't have added chemicals in them as I feel that this route is the right one to take.
1. Petpost/Dog Whitening Shampoo and Best Lightening Treatment for Dogs with White Fur
This is a great whitening shampoo for dogs, particularly as it uses natural ingredients without the use of harsh chemicals.
It produces a beautiful white coat and it isn't surprising that it's popular with breeders, groomers, and vets.
This shampoo contains coconut oil, oats, wheat proteins, and aloe. These combined together gives your dog a white and soft coat as well as helping to reduce any signs of dry and flaky skin.
You only have to use it once to see a difference in the color of your dog's coat, and this is all without any hard bleaches. You won't be tempted to use any chemicals after choosing this shampoo.
2. Lillian Ruff Brightening & Whitening Shampoo for Dogs
This is another all-natural product which will help your dog to regain that beautiful whiteness. In fact it can help lighten all color of coats.
This product will relieve your dog of dry and itchy skin, and it helps with matting and tangling.
The aloe in the shampoo is a great moisturizer and will make your dog feel comfortable in his skin.
It has a lovely coconut scent which will make your dog smell fresh until his next shampoo.
The scent is also relaxing so your pooch will feel comfortable and calm while being washed. It's a great product to use if your dog gets a little edgy at bath-time.
The shampoo is purple in color which will give that blue edge to your pup's skin, but it becomes white with use.
It is very environmentally friendly so is great for all of you who want to save the planet. It hasn't been tested on animals so is completely cruelty free.
In addition, it is gluten free as well as paraben free. Parabens are artificial preservatives and really are unnecessary.
It is also vegan and has no sulfates. Sulfates are used in strong detergents and have no place in a dog shampoo.
3. SynergyLabs Veterinary Formula Solutions Snow White Shampoo
This dog shampoo contains no bleach or peroxide so is totally skin friendly. Bleaches and peroxides can irritate or even damage the skin, not to mention that your dog's coat can go a little brassy with extensive use.
It contains vitamin E and green tea extract which are both healthy products and can do nothing but good for your dog's skin. They also help towards a glossy coat.
This shampoo is totally natural and with continued use will clean and deodorize a coat which is going yellow.
The smell of this shampoo is fantastic. It has a blue coral and citrus fragrance which lasts for ages. Your pooch will smell great!
To top it all you can use this shampoo and it won't affect any flea treatments you have put on your dog. What can be better than that?
4. Viva La Dog Spa 16oz Dog Shampoo
If you are looking for a whitening shampoo which is a totally green product, look no further than Viva La Dog Spa.
It is produced in Cardinal's 100% solar manufacturing company in California. The shampoo is completely biodegradable and the container is recyclable. If you want to save the planet as well as get your dog's coat white, look no further.
Your dog will smell great as the shampoo is scented with cucumber and melon.
There are no harsh chemicals in this product meaning that your dog won't get irritable or flaky skin. Instead, his skin will be moisturized and soothed and his coat will become a beautiful white color. It even adds strength to the hair shaft. You will have a completely different dog skin wise and a much happier one.
This shampoo creates a white color and smooth coat with a long- lasting scent.
5. Angels Eyes Artic Blue Whitening Shampoo
This shampoo is completely PH balanced and will create a shiny coat on any white or lightly colored dog.
It adds body to the coat which makes your pooch look very smart. His hair will be smooth and easy to brush which is always a bonus. I don't know about you but my Sherlock hates having his hair brushed if it's tangled.
Your dog's skin will be moisturized and hydrated as well as whitened. His fur will be enhanced with a perfect white color.
This product won't affect any flea treatments which you have put on your dog which is good news. Fleas are not a thing you need to contend with.
The shampoo is tearless so he won't have leaky eyes, nor are any harsh chemicals used, in particular bleaching products.
Your dog will smell sweet with this product as it has a gorgeous tropical scent.
Finally, it contains natural oatmeal which helps to condition your dog's skin and stops him from itching and scratching.
Final Thoughts

There are plenty of dog whitening shampoos out there, but I would recommend that you pick one that has natural ingredients, mainly because they don't contain harsh irritants for your pooch's fur.
My top choice is Petpost Dog Whitening Shampoo. It has a special formula combining coconut oil, oat and wheat proteins, and aloe which will leave your dog's coat soft and white.
Even the water melon fragrance will leave your dog with a highly acceptable smell. It also takes just one use to make a difference for your dog.
Thanks for reading, if you have any additions or questions, drop them below!