Hello, my name is Valerie and I am the owner of a three-year old Clumberdoodle named Bentley. Bentley came to live with me when he was just 15 weeks old. I have been very fortunate in that we have always had an outside lawn for him to pee on.
My friend has not been so lucky. She lives in an apartment with her pooch. We were talking the other day while our furry friends played about the problem of getting her dog outside to pee.
She finally decided that it might be easier for the dog to have a special place out on her patio where he could toilet in peace without having to get down stairs and outside the apartment block.
I decided that I would do a little research and see if I could find anything to help her, and I have found many interesting things about this.
What I have found is that it is a common misconception that a dog will not like artificial turf. In fact, dogs will use this in the same way they will use your garden.
I think it is very true that you can train your dog to do most things like pee in the same spot every time, and to use fake turf instead of grass. All it takes is patience – lots of it – and perseverance.
I think that the misconception stems from us as pet parents feeling guilty because we are not taking our pooch out into the garden to pee.
Once we get over our own guilty feelings, we will see that a dog will happily pee anywhere that he is comfortable. He likes his own space and routine, wherever this may be.
The Benefits of Using Artificial Grass for Your Dog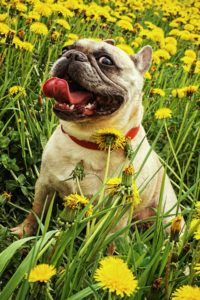 This grass is easy to maintain, whether you place it inside or outside.
Your dog can use it all year round, and there is no need to mow the lawn, fertilise it or weed it. So, there is no dangerous residue of chemicals for your pooch.
Artificial grass will act as a good training aid to a new puppy. It will enable you to either train him on it where it is placed or move it slowly to the door until he learns to go outside.
If you're attempting to potty train a new puppy, you can check out our guide here!
Another benefit is that if you live in cold climates where you get ice and snow, the artificial turf will not freeze over, even on the coldest day of the year.
Older dogs who can't easily get outside or down steps will appreciate that they can have a toilet close at hand.
Likewise, dogs who are recovering from surgery or have any joint issues will be better off using somewhere on the same level as they are, as well as not being close at hand.
The turf is easy to clean, most of the pee runs right through it, and poop can easily be scooped up and disposed of. The turf is then just washed with water and looks as good as new.
Artificial turf may be cheaper than real grass, depending on where you get it from, although it is important that you buy a good quality turf. If you spend money on cheap turf, you may find that it does not drain urine through it, or it simply disintegrates when used.
So, if you plan on this method, make sure to buy good quality stuff so that you don't end up buying it twice.
Fresh Patch vs DoggieLawn
I've found two types which I've had a good look at, both of which are real grass.
These are sold as solutions to having an area in your apartment for your dog to use as a toilet.
Both these products are available online and you should also be able to get them at some pet stores.
DoggieLawn Review
DoggieLawn is made of real hydroponic grass, meaning that it is the same as the grass you would grow outside, except that it does not have any dirt from where the grass seed grows.
The pad is designed to absorb liquid and neutralise smells, exactly as your garden lawn would do. You still have to scoop up the poop as you would do outside, but the urine will be absorbed.
What's nice about this is that you can also use it to start potty training your dog at an early age, and it can also be used by senior dogs who can no longer get outside.
The container if firm and leak resistant. It is also completely disposable.
Size of the DoggieLawn
This is a huge pad! It is 25% bigger than most others on the market.
Because of the size it is not ideal to take with you when you travel but works great if left in one place.
You can use the XL for large breed dogs.
How Long Does Doggie Lawn last?
The grass pad will last about three weeks depending on how often it is used.
If you water the pad it will last longer, although you will know it is time to dispose of the grass when it starts to turn brown.
Because the grass is real it is important that you open it right away otherwise it will start to die.
Pros of DoggieLawn
It is real hydroponic grass
25% bigger than most others on the market
Does not attract or harbour bugs and dirt
Easy to dispose of
Cons of DoggieLawn
Probably the only point against this is that it will only handle dogs of up to 25 pounds, so will not work for larger dog breeds.
Fresh Patch Review
This real grass grows on a hydroponic mat and uses no soil. The grass is a natural odour repellent and attracts dogs the same way garden grass does.
You can dispose of poop in the same way you would outside. This should be done at least once a day to stop any odours.
The grass is a great choice for unvaccinated pups who should not go outside, as well as for housebreaking dogs. You can also use this grass to replace the litter box, if you have a cat.
The pad is somewhat lighter than DoggieLawn and is very sturdily made. It does not leak or leave dirt. When you need to replace it, simply dispose of it.
Size of the Fresh Patch
The pad measures 26"x16" so does not take up too much space.
For larger dogs you should use the XL which is significantly bigger than the regular size.
How Long Does Fresh Patch Last?
The grass pad should last for up to two weeks. This may be longer depending on the size of your pooch.
The grass needs a quick watering every so often and needs to be replaced once it starts to look old and worn.
Pros of Fresh patch
The pad is quite lightweight
The grass is real and living
No dirt or bugs to deal with
Easy to dispose of
Cons of Fresh Patch
The cons here are the same as with DoggieLawn.
Unfortunately, neither of them are made for extra-large dogs.
The weight limit here is also 25 pounds.
Comparing DoggieLawn and Fresh patch:
The main difference between the two products is that DoggieLawn is far bigger than FreshPatch. You could always place to Fresh patch pads next to each other if you needed to, but that would work out more expensive.
Both are made of real grass, and both last about the same time. Both need to have poop scooped off them and should absorb smells.
It is easy to dispose of each of the products when you need to replace them.
So the only noticeable differences seem to be the actual size of the patches and the price you pay.
Therefore, DoggieLawn works out to be more economical due to the size and cost of the grass patch.
Reasons why you may opt for a Grass pad:
Grass pads are great for dogs with any bladder control problems. Also they're good for older dogs who can't get out to the garden in time.
Sometimes it is safer to stay inside after dark than to take your pooch out. Also, a lot of the time there is not the space in big cities for dogs to walk and poop, so a small patch at home maybe the better option!
If you have to leave your dog in the house for any length of time, at least you know he has a place to pee, which is not on your sofa or floor. No nasty little surprises when you arrive home (hopefully!)
They're ideal for people who live in apartments, as you can still have a dog, without the need of a large garden. Obviously, here we're speaking in terms of toilet requirements, as you still need to give your dogs plenty of walks!
Not that I have ever heard of this reason before, but I guess if you had a pooch who had grass allergy, you would definitely opt for a grass pad.
Finally, they're prefect for dogs who prefer not to go out in the rain or snow – say no more, we all know a dog like that!
Reasons to get a Real Grass Patch
Your dog will be attracted to it as it resembles what he already knows. The earthy smell attracts dogs and also absorbs odours.
They're also environment friendly as these real grass patches are easily composted instead of being thrown away.
They tend to suits a picky dogs as some canines are finicky about where they pee. Real grass helps to remind them of where they have peed before and will instinctively use it.
What About Synthetic Grass Pads?
This goes back to the age-old issue of buying cheap. While synthetic grass pads may cost less than the real thing, they don't absorb smells.
These products normally come with a collection tray underneath where the urine drains through, but this is not a perfect way to keep your dog's feet dry. You may still find pee prints on your floors and carpets.
Fake grass does not normally attract dogs. Additionally, they are hard to clean. The tray must be emptied daily. Once the grass begins to smell it needs to be cleaned with soap and warm water and left to dry before using again. With real grass it's a simple matter of disposing of the grass every two weeks.
So, I've had a look around and found some good buys to think about, if you need to set up an indoor potty for your dog.
Best Indoor Dog Potties
        1. Forest Grass 7FT x 13FT Artificial Carpet
Although this is made of synthetic material, the reason I like it is because of the size.
It is huge and big enough to make a really comfortable place for your dog to pee.
It's high-quality and non-toxic, and really looks the same as natural grass.
The height of the grass blades is 1 3/8 inches, and the backing is coated with durable rubber. It also comes with drainage holes. The whole thing can easily be washed to keep clean.
The fabric has been laboratory tested for durability and fire resistance, as well as for colour degradation.
What is even more amazing is that it comes with a 14-year warranty! When did you ever find that anywhere else!
2. DoggieLawn Disposable Dog Potty
This is the 'real deal', it's easy to use because once it is finished its useful life you can simply dispose of it.
It requires no cleaning and makes no mess so is perfect for apartments and patios.
The patch measures 24.7 x 21 inches so is a decent size for all but the biggest dogs.
The real grass actually neutralises the odours which are left so it does not need to be replaced daily either.
The cardboard is firm and does not leak which is good as there are no smells and stains on your floors.
When it comes to disposing of it, the grass is biodegradable, and the cardboard tray is recyclable.
If you have any problems with training your pooch to use this, they offer a free helpline where you can work out any problems your dog may have.
3. Fresh Patch Disposable Dog Potty with Real Grass
This is hydroponically grown grass and is a natural attractant for dogs. It is also odour free and a good neutraliser.
You will find that this is great for training puppies or to use as an alternative to an outdoor potty area.
The potty box is fully disposable, and the grass is long-lasting and dirt-free. The pad measures 16"x24" and is good for apartments and patios.
Once you are done with the pad you can simply dispose of it as it is all biodegradable. If you have any problems about getting your pooch to use this, they are available every day to help you.
4. PZG Premium Artificial Grass Patch w/Drainage Holes & Rubber Backing
You will notice right away that this grass looks and feels thicker than any other kinds you may have looked at.
That's because it is about 50% thicker than cheaper versions.
The grass blades stand up 1.7" and look beautifully manicured. The patch is designed to last and is very durable.
It will withstand sunshine and rain without degrading. The patch is made of UV-resistant polyethylene and polypropylene yarn which you can expect to last for several years.
Of course, being synthetic there is very little maintenance in that you never need to mow, weed or fertilize, and they offer a 100% satisfaction guarantee which is a nice thing to know.
5. MTBRO Artificial Grass Rug
This is very handy in that it is a large piece of turf which you can lay in an area either in or outdoor for your pet.
It looks and feels like real grass and you can cut it into any size to fit.
It is not treated with pesticides or chemicals and has no smell of its own. The back is made of durable rubber with drainage holes which are easily cleaned.
This is the next best thing if you want your dog to pee outside but just do not want the hassle of real grass to mow.
It looks attractive and is made of high-quality anti-UV material so is suitable for extremes of weather.
Final Thoughts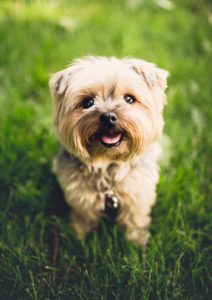 I think that if I were living in an apartment where I needed an indoor place for my dog to pee and poop I would be inclined to go for the real grass.
This is simply because most dogs are attracted to it naturally and hardly need any training at all to use it.
Therefore, DoggyLawn would be my go to option!
I also like the fact that it is easy to dispose of when I need to replace it. I would never need to mow it, weed it or fertilize it – happy me!
This is, however, my opinion. What you decide to use for your pooch will largely depend on how much you want to spend and how much space you have available.
Whatever method you choose to provide your furry friend with an indoor potty, if you keep it clean and sweet smelling, your pet will be more than happy to use it.
If you have any questions or comment, please feel free to drop them below!