Hi, I'm Irena and I have four dogs, Sherlock, Aphrodite, Oliver and Lipstick.
So why Lipstick I hear you ask? Well, my step granddaughter chose the name when Lipstick was just a tiny pup and who am I to deny her the pleasure of choosing a name!
Anyway. today we're going to take a look at the best spider costumes for dogs!
To begin with, lets take a look at why you might want a dog spider costumer, for your pooch.
Why You Might Need a Dog Costume
There are so many reasons for dressing up your dogs. For a start you might want to show off their personalities with clothes.
Your dogs may be streetwise or they may be very feminine so why not dress them in appropriate clothes. It's fun to let your dogs dress the part.
Another reason why you should dress up your dog is totoally unrelated to looking pretty. In the winter it can get cold and clothes can keep your dogs warm.
Dogs with a double coat like huskies probably don't need an extra layer, but dogs like Chihuahuas haven't got a lot of fur and may need some protection against the elements.
You can dress up your dogs is to make them the center of attention.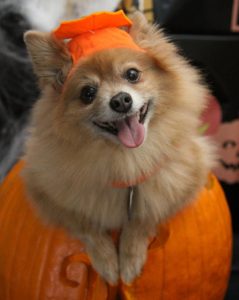 Most dogs like being in the forefront and if they are dressed up they will get lots of attention from everybody. Who can't resist dogs dressed up in costumes?
Passers-by will find them cute in their costumes. Who wouldn't be attracted by dogs in party clothes or in sweaters or raincoats? You're dogs will certainly turn a few heads.
If your dogs are dressed up it will break down the defense mechanisms of strangers. People tend to be less frightened of dogs that look cute and friendly and they will probably approach you and your pets.
Dressing up your dogs adds a little variety to their routine. Dogs eat, sleep and go for walks every day, but if you spend some time with them dressing them up they will have a little variation to their daily life.
They will love the extra attention they are getting. Other reasons to dress your pets include putting them in your favorite sports costumes.
You could even get matching outfits. How cute is that? Then of course dressing your pets can make a great photo opportunity.
Why not get all your dogs dressed up, take a photo and then turn one of the photos into a Christmas card. Your friends will love the personal touch.
If the worst comes to the worst and your dogs hate the costumes you have chosen for them, they can just be turned into a chew toy.
Nothing needs to be wasted. However, be careful not to let your dogs chew on anything they can choke on.
When Should You Take Clothes Off Your Dogs
There are times when clothes need to be taken off your dogs and it is essential to be aware of these scenarios otherwise it could be dangerous for your dogs.
Firstly, if you see your dogs trying to get their clothes off, take them off yourself. Your dogs are probably not comfortable.
If you see your dogs scratching when they have clothes on, it might be time to take the clothes off.
Different materials can bring on allergic reactions. Wool is often difficult for dogs to cope with. In addition your dogs may experience some irritation from the material rubbing against their skin.
What to Look For in Dogs Clothing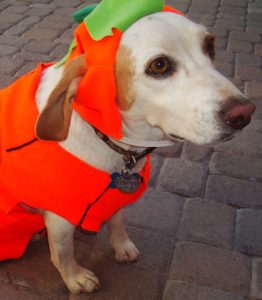 The most important thing you should be looking for when buying clothes for your dogs is that they are safe and comfortable.
Make sure that they fit properly and that is no chance that their feet or mouths get caught up where they shouldn't.
If you are buying sweaters for your dogs it is better to go for a combination of washable wool and acrylic.
If you buy a jumper made from just wool it can irritate their skin. The last thing you want is for them to be uncomfortable.
Perhaps you want to buy jewelry accessories for your dogs. Yes, they may look pretty, but make sure that your dogs can't swallow any bits of it.
It's all too easy if they end up trying to play with beads around their necks.
Think about the weather. If it's hot you don't want to dress your dogs in too many clothes as it will be uncomfortable for them.
If it's cold you may have to think about investing in booties for your dogs. They shouldn't be worn indoors, but if your dogs go outside in snow and frost they can be a lifesaver.
Mind you, I think that your pups do need to be easy going. I think I would struggle to get booties on my lot. Mind you, I live in a country which doesn't have much cold weather so it's not essential.
It's a good idea to read the reviews for the costumes you are buying. Both Amazon and Chewy usually have plenty of reviews about their items.
See if people liked the costume and if it is safe. This will help you to make sure that you are getting the best clothing for your dogs.
Dogs naturally need to relieve themselves so you need to find suitable clothes for your pooches. You don't want clothes that cover all their back area as it will make it difficult for them to relieve themselves.
How to Measure Your Pet
First you need to measure the body. You measure from the base of the neck to the base of the tail. Add on 2 inches to make sure that it is a comfortable fit.
The next bit to measure is the neck. Measure around the neck leaving room for 2 fingers to fit in their collars.
Finally, it's the chest which is the most important measurement. Measure the chest around the widest part and add 2 inches.
5 Best Dog Spider Costumes for Large Dogs
1) Rubie's Costume Company Spider Dog Harness Costume
This spider costume comes in both medium and large sizes. Just remember to measure your dogs so that their costumes fit properly and your dog is comfortable.
This costume is great for Halloween parties or just meeting trick-or-treaters at your door.
It is very easy to put on as it has fuzzy fastener straps around the neck and belly which are comfy for your dogs.
The costume is a large black spider which rests on the back of your pups and it has 8 black legs which move as your dogs do. It gives a very authentic effect.
2) Coppthinktu Spider Dog Costume
This is another spider costume which blends in very well with Halloween although you could use if at any time for a bit of fun.
Your dogs will certainly stand out in this costume and get plenty of admiring looks from everybody.
This spider costume is made with plush so is very comfortable for your dogs. It has 8 legs which will move with your dogs resulting in a life-like effect.
The material is breathable so your dogs won't feel constrained when wearing this outfit. If your dogs don't like wearing it, it can be used as a toy which your dogs will love to chew.
3) Rubie's Costume Company Spider Man Dog and Cat Costume
Now this isn't strictly a spider costume, but it's fun and I felt it couldn't be left out. Spider Man is very popular in cartoons, comic books and even on the big screen.
Rubie's is a licensed costume designer for Marvel Comics who invented Spider Man. Rubie's make high-quality costumes for many comic characters.
This costume is 2-piece which comprises a bright red and blue shirt with a webbed design and the Spider Man logo and a red mask which has holes for your dogs' ears to go through and white eyes, which are a distinctive feature of Spider Man.
This costume is great for Halloween. Perhaps you too could dress up as Spider Man! It's also great for a photo shoot.
Once you've taken the photos post them on social media. They should go down a storm with your friends.
4) Ehdching Spider Dog Costume – Halloween Tarantula
Do you want your pooches to look like big black velour spiders? If so, this is the costume for you.
It is made of a comfortable, lightweight and breathable material so your dogs won't experience irritations to their skin.
The costume has 8 legs which move with your dogs. It will look like these are really their legs as it is so lifelike.
There are straps around the waist and neck to make sure that the costume is secure and doesn't slip.
This is a great costume for any occasion although Halloween is probably the first choice. Who doesn't like to see a spooky spider on All Hallows Night?
5) Zack & Zoey Fuzzy Tarantula Halloween Costume
You can get this costume in both medium and large sizes. Zack and Zoey do tend to cater for the larger dog.
This costume will either scare people or make them laugh at how cute your dogs are. It is made of a black silky and soft plush fabric.
This material is very comfortable for your dogs. In addition it has a furry appearance which makes it resemble a tarantula.
The costume comes with 8 legs which can be rearranged so that your dog takes on different appearances. The costume is kept in place with Velcro.
Velcro doesn't stop your dog from moving and it's not uncomfortable. The belly of the costume is cut high so it doesn't cause irritation to your dogs.
Your dogs will be a great hit at any Halloween party wearing this costume.
5 Best Dog Spider Costumes for Small Dogs
 1) Princess Paradise Tarantula Dog Costume
If you are looking for a costume for your small dog to wear at Halloween, you won't go far wrong with this one.
It will either scare the living daylights out of everyone or make them shriek with laughter.
It does come in sizes up to large, but they are considerably smaller than a normal large so get a size above the one you would normally buy.
The costume is made of 100% polyester which shouldn't cause irritations in your dogs like wool could do. It looks all fluffy just like a tarantula so is very life-like.
It is easy for your dogs to sit and lay down in this costume which is a bonus. The costume can be hand washed, though not machine washed.
2) Pet Krewe PK00201 Spider Costume for Small Dogs and Cats
This costume fits dogs up to 15 pounds and with a waist size of between 18 inches and 21 inches.
It has adjustable Velcro straps, meaning that you should be able to get the costume to fit perfectly.
The legs of the spider are pliable so you can move them into any position you want. It's great if you can get them to move in tandem with your dogs' legs.
This costume is perfect for Halloween as are most spider costumes, but it can be used at almost any party or for a photo shoot.
A great thing about purchasing this item is that some of the purchase goes to different animal shelters so you will be helping dogs in need.
3) Bolbove Adjustable Spider Halloween Neck Wear for Cats and Small Dogs
If you are worried about your dogs wearing a full costume and getting irritated, why not try out this neck wear on your dogs.
It's just as good for Halloween or any fancy dress event or photo shoot. The neck wear is made of polyester and has an elastic band to keep it in place.
The neck girth is adjustable and will fit any pup with a neck size between 9.5 inches and 11.5 inches.
As well as fitting small dogs this item fits cats and rabbits so if you have a mixture of animals you can dress them up the same for Halloween.
The pack comes complete with a pet spider neck wear and a silver metal keychain. The neck wear can be worn as a scarf on colder days.
4) Rubie's Costume Company Marvel Classic/Marvel Universe Spider-Girl
Okay, we've had a Spider Man's costume so why not a Spider Girl for your female dogs?
If you have more than one dog it will be great to dress them all up as either Spider Man or Spider Girl.
Rubie's are officially licensed as costume designers for Marvel comics so the costumes are authentic.
They all have the Spider Man logo on the back and the female version comes with a tutu dress and a headpiece. Your dogs will just look completely cute in this outfit.
5) Spider Pup Costume for Pets
If you're looking for a standout spider costume for your dogs this is the one to go for. It is not only black but it has orange accents which will brighten any room.
The costume is made from polyester which shouldn't be an irritant for your dogs. In fact it should be very comfortable and soft for them.
The costume has eight attached legs which will move in the same way your dogs do so it will look very realistic. There is also a headpiece with googly eyes which will look very authentic for Halloween.
Final Thoughts on Dog Spider Costumes!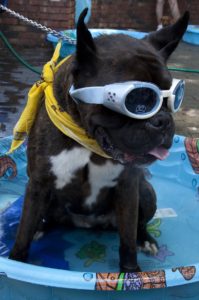 Dressing up your dogs might not be for everyone, but at the right time and place it can be very effective.
I personally think that it should be left for special occasions like Halloween, Thanksgiving and Christmas.
It will make more of an impact if your dogs aren't dressed up all the time.
If you're having a party it might be easier for some guests to see dressed up dogs as they do look cute and any fears they have will fade away.
They might even want to have photos taken with your pooches. Just be careful when you're dressing up your dogs.
Make sure that there is nothing they can choke on and that the costume is comfortable and not too tight. Also make sure that the material isn't irritating them.
If you find red and raw marks on the skin of your dogs stop using the costume.
I haven't used costumes on my dogs but reading up about them has given me the urge to try. I could just see my 4 pooches dressed up as spiders.
It would be a great touch for Halloween celebrations. Sherlock, the youngest, I think I would put in the Spider Man costume as he is very out there and I think it would suit him down to the ground.