If you have a dog, leaving them at home while you are at work can be one of the hardest parts of your day.
They know how to give you the look that tugs at your heart strings and makes you want to change back into your pajamas and stay on the couch snuggling with them all day long.
Maybe in a perfect world, right?
Hello dog moms and dads! My name is Bri, and I'm a loving, crazy dog mom to Bruce; my American Bulldog and Pitbull mix.
Bruce has a habit of making me feel like the worst dog mom alive when I am leaving for work. He even sticks his big head through the blinds of our window to give me one last look of longing.
It's so hard to leave him that I feel guilty almost every time I do. Those eyes get me every time!
As much as I would love to stay home with him all day, I have to make enough money to spoil him (and I spoil him more than I like to admit).
I recently discovered that leaving him does not mean I can't check on him throughout the day to see what he is up to!
What Are Pet Camera's?
I discovered pet cameras a few months ago and they are a game changer. These cameras are kind of like baby monitor cameras. You can set them up in any room of your house (I chose the family room with Bruce's favorite couch spot).
The camera gives you a live video feed that you can check on your smartphone or computer to see what your dog is up to while you are gone. This is especially helpful for me because Bruce is older, so it is reassuring to know that he is snoozing happily on the couch.
There are literally hundreds of different pet cameras out there, so it can be hard to decide which is the best one. That is why I put a list together for you of the best pet cameras for dogs! You are welcome!
Each list will go through the main functions of the cameras, as well as a pros and cons list so you can compare each one and help you decide which is best for you.
Now let's take a look at these doggie cameras.
6 Best Pet Cameras for Dogs
1. Furbo Dog Camera
This dog camera will make you and your dog VERY happy. And happy dogs are the best dogs!
Not only does this camera let you watch your dog at home straight from your iOS or Android device, but it also tosses a treat to your pup.
Yes, that is right. You can give them treats anytime from anywhere!
The camera has full HD camera and night vision with a 2-way chat and barking alert. If your dog has anxiety and barks often, you can soothe them with your own voice and a treat!
Plus, it works double as a security device in case your dog is barking at a potential intruder! Everyone wins (except maybe the intruder)!
The best part of this camera (besides the treats) is that it will take selfies of your dog. As if I didn't take enough on my phone, now the camera can take pictures of my dog too!
If your dog is facing the camera, it will detect their face and take a photo, and dogs learn quickly that treats come from this mystery machine so they will be posing for selfies all day long while waiting for magic yum yums!
This camera also creates a 60-second highlight video of your dog to show you a quick version of what they have been up to all day while you were gone. Dog videos are the best.
Pros:
Treat feature
Day and night vision
Two-way chat feature
Cons:
Bark sensor is very sensitive and will send notifications every time your dog barks
2. Toogie Pet Camera
What is better than getting to talk to your dog all day long? Just maybe don't let your coworkers hear you if you talk in the baby voice that I do when I talk to Bruce… anyway, this is another awesome pet camera!
Also equipped with two way talking (so your pets can talk back of course) and day and night vision, you can keep an eye on your pup at all times.
This one also has motion detection with push alert notifications. The motion sensor is adjustable, so you do not necessarily get an alert every time your pet sniffs their own… well you know.
This camera has a pan, tilt and zoom function with a horizontal, 350-degree view, vertical 80-degree rotation and four times digital zoom function so you can see the entire room or just zoom in really close to your dog's sweet face.
Pros:
Two-way chat feature
Motion detector
Wide viewing capability
Cons:
Needs powerful internet connection to work
Movement captured tends to lag
3. TENVIS HD IP Camera
This was actually created as a general security camera but can also be used to keep an eye on your babies (both human and fur).
The TENVIS HD IP Camera has a 355-degree horizontal and 120-degree vertical rotation to give you the ultimate view of whatever room you choose to put it in. It provides high-quality imaging straight to your device.
This camera also comes with day and night vision with a night range up to 32 feet, also acting as a security camera.
It also has an instant alarm and two-way audio that sends an alert to your device, allowing you to talk to your pet and soothe them or alert a dog sitter if there is a potential problem.
With an additional motion detector, you can record up to 15 seconds of video when it is triggered and will receive an alert within three seconds.
You can catch your dog doing something funny or something they are not supposed to do and have proof! Or, it can be valuable footage in case of burglary.
Pros:
Wide viewing capabilities
Day and night vision
Two-way chat
Records video
Cons:
Wireless connection is slow if far away from the wireless network the camera is set up on
4. KAMTRON Security Camera
Even though this camera is called a security camera, it is perfect for keeping an eye on your pets.
Its 360-degree, HD panoramic view lets you monitor your home 24/7. It has motion detection with two-way audio and records when the motion sensor is triggered.
The live feed allows you to interact with your dog in real time by being able to see and hear them, as well as tell them they are a good boy or girl about 50 times in a row (too much? Never.). This footage can also be stored in the Cloud, so you always have it to refer back to without using a memory card.
With an easy to connect wireless option, you can download the app to your phone and connect this camera right to your internet to watch from any location on your device.
Pros:
360-degree range
Motion detector
Two-way chat feature
Cons:
Zooming or moving the view creates audible noises from the camera which may confuse your dog
Motion detection tends to lag
5. 4SDOT Wireless IP Camera
Designed as a nanny cam, this camera is another great option to help you keep an eye on your dogs. With high definition video stream and clear live imagery and audio, you will know exactly what your dog is up to.
This camera has a 360-degree panoramic touch view navigation, so you can see your entire room at the touch of a button and even take a panoramic photo of the whole room. You can also view live video all the way around the room.
With motion detection features you can have an alert sent to your device if anything triggers the sensor. Plus, you can use the audio communication feature to soothe your dog if he or she is nervous or quiet them if they are barking loudly and disturbing the neighbors.
One of the great things about this model is that only one main account can access all the settings on the camera. More people can view the feed, but only one can control it. This allows you to feel better about the privacy in your own home.
Pros:
360-degree view
Takes photos of your room
Motion detection feature
Privacy protection settings
Cons:
Motion detection lags movement in the video
Wireless connection can be slow
6. Wansview Home Security Camera
Last but not least, we have a multi-camera pack that is perfect for monitoring your pets. This wi-fi friendly camera comes with two separate cameras so you can watch two rooms at once!
The camera comes with wide, 120-degree viewing and two-way audio so you can see and hear everything that is going on at home. You can also talk to your dog to soothe or quiet them throughout the day.
With night and day vision, you will have no problem seeing your dog 24 hours a day. The night vision works up to 20 feet, allowing you to see your entire room clearly even in the dark.
These cameras are super small and only sit at 60 by 60 millimeters.  This makes them a great option as a security camera as well without being too overwhelming and noticeable in your home.
You can watch your video feed from any iOS or Android device, as well as any computer that has internet access, so you can view your dog anywhere at anytime with a proper connection!
You can also remotely control this camera to change viewing position and see different angles of the room.
Pros:
Two cameras instead of one
Two-way chat features
Night and day vision
Cons:
View capacity is much smaller than most other cameras
Final Thoughts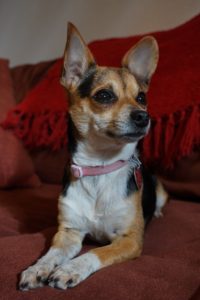 If you are anything like me, you would rather be with your dog all day every day. However, we all know that sometimes that's just not possible.
These cameras give you the ability to keep an eye on your fur babies no matter where you are, and all of the models above are great choices.
One of the biggest concerns with these cameras is security. You have probably heard horror stories about hackers being able to access in-home video feeds.
These cameras are all equipped with top security technology to help prevent such things from happening, so you are the only one watching your dog.
If you still are not sold on getting a camera to watch your dog from anywhere, let me give you a personal experience story.
.A friend of mine almost lost her dog and was able to stop him from getting into dangerous chemicals with her pet camera.
She left the house for work like she does every day, leaving her new golden retriever pup happily in his crate.  She turned on her live feed from her phone about halfway through the day and to her horror, saw that her puppy had escaped from his crate and was pulling out chemical cleaners from under her kitchen sink.
Her puppy had been chewing the lid to a chemical cleaner when she checked on him and was able to use the two-way chat to distract him while she went home to put the chemicals safely out of his reach.
When she got home, her pup was safe and happy to see her but had pulled a few bottles of household cleaners out onto the floor. Had she not had this camera, she could have come home to a very different, tragic scene.
This camera could save your dog's life. Plus, who doesn't like seeing their dog's face 24/7? I know I love to watch Bruce all day, even though most of the time he's just sleeping.
Hopefully this helps you decide which pet camera is best for you!
Happy Pet Parenting!