Hi, my name's Kearsten and I am the lucky dog mom of a beautiful, but mischievous, Miniature Australian Shepherd named Onyx. Onyx loves many things.
Digging, chasing the cats and livestock outside of our home, treeing the guineas, chewing up things that don't belong to her, playing with her plush hedgehog toy, or cuddling up next to my daughter and I at any chance she gets. But the thing that she loves more than anything, is her dog bed and sleeping!
Because Onyx loves being outside on the farm during the day, it can be a battle to keep her clean, as well as her beloved dog bed.
Onyx tends to forget that she needs to have a bath when she is extremely dirty and wants to jump right into her favorite comfy bed.
What Dirty Things Lurk in Your Dog's Bed?
Just as you wash your sheets weekly, you should wash your dog, or puppy's bed regularly. Your pet's bed is where they feel safe and will spend most of their leisure time.
Washing your pet's bedding is necessary to help keep fleas, ticks, mites, lice, and other pesky pests at bay.
It also keeps things such as dirt, mud, and mold out!  Not only that but maintaining a clean pet bed in your home decreases unpleasant smells!
Quick Cleaning Your Dog Bed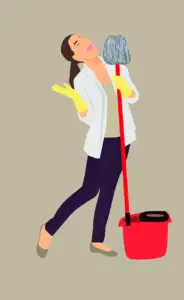 Technically, there is no way to quickly clean your dog's bed, but in between regular washings, there are a few methods that you can use to keep your dog's bed fresher. Two economic products to implement are white vinegar and apple cider vinegar. My personal preference is white vinegar, as I find it to have a slightly milder smell.
To Mix:  Using a spray bottle, simply fill the bottle half full of your choice of vinegar. Fill the other half with water and mix thoroughly by shaking. Spray 4-6 squirts of the mixture on your pets' bed. You can use this spray every day to help refresh his or her favorite bed.
If you dislike the vinegar smell, another product that I love to use is Febreze. When used as directed, this product has been found to be safe for canines. It is great for neutralizing the odor that your pet puts off. It also adds a pleasing scent to your home and your dog's bed.
Another option to keep the smell down from your dog's bedding, is to incorporate the use of essential oils. Dog aromatherapy is fairly new to the scene, but the use of oils has actually been found to be very beneficial, when used correctly. Some of the oils that I recommend are:
German Chamomile: I have not used it personally, but my aunt uses it with her poodles. This essential oil can help a pet who is susceptible to skin irritations, rashes, or other allergies.
True Lavender Oi: I absolutely love using this oil! Not only does it smell amazing, but it can be used on a pet who has itchy skin. I also use it because it seems to calm Onyx down some and she sleeps more peacefully when she has this added to her bedding. Just be careful that you dilute it.
Eucalyptus Oil: This is another oil that I have used and believe in! If your pet is not feeling well from congestion, this oil will help them breath better. It acts as a Vicks Vaporub for your dog! The smell is very invigorating in your home as well.
Clary Sage Oil: This oil can be used to calm a dog down who has anxiety. I have not used this oil. Please note, you must take precaution with it, as it is poisonous to pregnant female dogs.
Deep Cleaning Your Dog's Bed
Most pet beds on the market today have covers on top of internal bedding.  If a bed has a covering, it is extremely imperative that you wash not only the covering, but also the foam inside of the cover. You will need to wash each separately and in different manners.
Before throwing a covering into the washing machine, you should check all tags on the bedding. The tags may give you information about the temperature of the water to use or if you must hand wash the bedding. It is also important to use a laundry detergent that is mild or allergen free, such as Dreft or All Free Clear so that your dog's skin does not become irritated.
For Onyx's bed I prefer to use Dreft. I do not use fabric softener as it tends to break out the skin on her belly.
If you do not have a mild detergent handy, an alternative is to use your white vinegar or apple cider vinegar. Pour a half of a cup of either form of vinegar into your washer for mildly soiled bedding. If the bedding is heavily stained or dirty, you can use a whole cup of your choice of vinegar to help cut the grime.
Other tips for using a washing machine to wash your canine's bed are to be sure that you don't put anything in the washer, other than your pet's bedding. Washing your linens with your dog's can cause health problems for either your family, or your pet.  You should use the gentle cycle when washing the cover. This will keep the material of your cover from coming apart prematurely.
When you wash the foam insert of your dog's bed, you should not throw it inside of the washing machine. This would probably result in it disintegrating.
Instead, I prefer to use my bathtub, but a large sink would suffice. I fill the bathtub full enough to submerge the foam. I then add in half a scoop of detergent. I use my hands to massage the soap into the foam for about 5 minutes.
When I am done washing the foam insert, I drain the tub, and run the tub back full of clean water. I try to get as much of the soap out as possible and then ring the foam out. I always choose to do this on a sunny day, as you do not want to put the foam inside of a dryer.
It usually takes the foam a good 6 or more hours to be dry. Once it is dry, you may replace it back inside of its cover for your rover to enjoy again!
Top 5 Best Dog Beds
Your dog bed won't last forever and at some point, you will have to replace it. Here is a list of some of the more popular brands:
1. The Blueberry Pet Heavy Duty Microsuede Dog Bed
This dog bed is unique because it is scratch resistant and will last a much longer time than traditional dog beds.
I also love the design that's featured on the exterior!
2. The Brindle Soft Shredded Memory Foam Dog Bed
This bed is extremely comfortable with its three layers of memory foam.
It is an ideal bed for an older dog who may experience joint problems.
3. The Petfusion Large Dog Bed
Not only does this dog bed have memory foam, but it is also water resistant!
I highly recommend, as this is the bed that Onyx has!
4. The Dog's Bed – Premium Orthopedic Waterproof Dog Bed
This dog bed is great to keep down allergens in your home.
It keeps down the dust mites and will not mildew if your pup is a little wet when they lay on it.
5. Barksbar Large Gray Orthopedic Dog Bed
This dog bed is super comfortable and fluffy for your pets slumber.
This dog bed has the ability to be easily spot cleaned for when you don't have time for a full wash.
We've actually covered the best washable dog beds before! If you'd like to take a look at them, click here!
Final Thoughts
You wouldn't want to sleep in a dirty, smelly bed, so why should your dog! Washing their dog bed isn't as big of chore as you may think, with many dog beds being washable these days.
As mentioned, a dirty dog bed can be host to fleas, ticks, mould and other nasty parasites, so it's always best to give your pooch's bed a wash every so often.
I hope you've enjoyed reading and have learnt something from my article!
If you have any questions or thoughts to add, leave them in the comments below and we'll get back to you!