Dachshunds are cute. There's no two ways about it. Often called wieners, hot dogs, or even sausage dogs, their long bodies and short legs just add to their appeal.
I'll always remember my friend's dachshund, as she was the most lovable dog around. She had masses of energy and liked nothing better than to play and run about, both inside and out.
She would play catch for as long as you wanted.
There are three types of dachshund; standard, miniature, and 'rabbit', which is the smallest. What they all have in common is their love of hunting.
Although you might not want to take your dachshund hunting, you will find that they will be searching for mice, rats, and lizards while out on a walk.
Dietary Requirements for a Dachshund
Dachshund love to run around! Therefore, to keep up their stamina, a high-quality diet full of all the right nutrients is required.
This goes for all dachshunds. They should have a high-protein meat based diet rather than a grain based one. Their diet should contain at least 30 – 40% protein and should not have too many carbohydrates and fat-based fillers.
Wheat, corn and soy are unnecessary and provide very little nutritional benefit. High-protein dog food might be a little more expensive, but your best friend deserves the best for a long and healthy life.
Having said this, they still need a certain amount of fat to keep their skin healthy and their coats shiny. Make sure that their food contains 20 – 30% fat from high-quality sources like fish and avocado.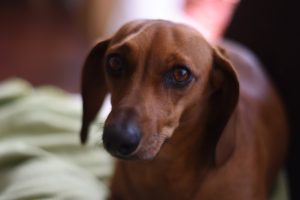 Avoid things like lard and vegetable oil.
It's a good idea to check the ingredients when you purchase dog food for your dachshund. This may seem tedious, but it's the only way to ensure that your dog is getting the right nutrients.
You will want to avoid meat scraps and processed leftovers and instead choose food which contains beef, poultry or fish.
Check the ingredients for vitamins and minerals as well.
They help to protect against illnesses and the last thing you will want is for your dachshund to get sick. Vet visits aren't much fun and you won't want to put your dog through that if you can help it.
However, don't hesitate to take your pooch to the vet if you think there's ever an issue with them!
Another thing you need to make sure of when choosing your dachshund's food, is that it has plenty of fruit and vegetables.
This is the best source of carbohydrates for them. Excess dairy is not advisable for your dachshund.
Additives, like salt and sugar may make the food taste great, but they are not good for your dachshund's general health.
So, how many calories should your dachshund eat each day?
Well, for an average sized dog of 25 pounds, 575 calories is enough to give all the right nutrients and energy.
However, if you have a particularly active dachshund, and believe me, there are plenty out there, up to 900 calories can be given.
On the other hand, an older dog who is more sedentary needs around 475 calories.
Keeping Your Dachshund Hydrated
Always make sure that your dachshund has plenty of fresh, clean water. Fill up a bowl first thing in the morning and then top up during the day.
Dachshunds need 1 ounce of water to every pound of their body weight.
Illnesses Which Might Affect Your Dachshund
Your dachshund is your companion and you need to be aware that they are prone to certain diseases such as inter-vertebral disk disease.
This affects the spine and can cause nerve damage and even paralysis. To help avoid this and other such illnesses, make sure that your dachshund doesn't get overweight.
This can put too much pressure on their delicate spines.
Their deep chests make them vulnerable to bloat so feed them small frequent meals. We all know how dogs like to woof down their food!
Best Dry Dog Foods for Dachshunds
Perhaps you have found all this a little overwhelming and are unsure what food to buy for your dachshund.
This is why we are here; to help you choose the best foods.
We have developed a list of what we think are excellent dog foods for your dachshund and hope that it will come in useful.
1. Wellness Core Natural Grain Free Original Dry Dog Food
First up is a natural grain dog food by the brand Wellness.
It's 100% grain free and has 38% protein in the form of turkey and chicken.
There are no wheat, corn, or soy fillers, nor are there any artificial colors, flavors, or preservatives, or meat by-products.
The carbs come from sweet potatoes and peas and there are also apples, carrots, blueberries, parsley, kale, spinach, and broccoli.
In addition, the food is full of antioxidants, omega fatty acids, and probiotics.
This food should help towards giving you dog a a glossy coat and a healthy immune system, and you can't ask for more than that.
2. Purina Beyond Grain Free Natural Recipe Adult Dry Food
You can choose between three different flavors which will stop your dachshund from getting bored.
There's beef and egg, chicken and egg, and wild-caught tuna and egg. They are all jam-packed full of protein, the egg giving an extra boost to the meat, poultry, and fish.
There's no wheat, corn or soy as fillers, or poultry by-products. As you want only the best for your dachshund you will be pleased to know that there are no artificial flavors or preservatives in this kibble.
Instead there are lots of vitamins to keep your dog healthy.
Purina Beyond dry food recipes are supervised by in-house nutritionists who have experience with high-quality pet food. Every step in preparing this food is monitored.
3. Blue Wilderness High Protein Grain Free Dry Dog Food
This is a special dog food prepared for small breed dogs, so what could be better than that for your dachshund.
The main ingredient in this dog food is de-boned chicken so your dachshund will be getting a big dose of protein rather than any fillers. There are also lots of healthy fruits and vegetables in this food like peas, chicory, alfalfa, sweet potatoes, and carrots.
This is a great combination of proteins and carbs to keep your dachshund healthy and lively. The food is also enhanced with vitamins and minerals which are essential for your dog's well-being.
This brand of dog food is special in that it contains Lifesource Bits. These are a blend of antioxidants, vitamins, and minerals which have been chosen by holistic vets and nutritionists.
This all helps to give your dachshund a healthy immune system.
There's no unnecessary corn, wheat or soy nor artificial flavors or preservatives in this food.
Your dachshund will be getting only the best.
The size of the kibble is smaller than usual, which is better for your dachshund's smaller jaws.
They shouldn't have trouble getting his teeth around these!
Best Wet Dog Food for Dachshunds
        4. Merrick Lil' Plates Small Breed Grain Free Wet Dog Food
This is a great wet dog food especially for smaller dogs. It's in just the right size package for one meal which means that it won't be going cold in the fridge once opened.
There is a choice of flavors which will bring variety into your dog's life. The options available are de-boned beef, chicken, and turkey, all rich sources of protein, and there are no grain fillers like wheat, corn, or soy.
There are, however, some delicious fruits and vegetables in the ingredients, such as apples, sweet potatoes, blueberries, and peas. It's gluten free for dachshunds with sensitive tummies, and there are no artificial colors, flavors, or preservatives.
What could be better than this for your best friend?
5. Purina Beyond Grain Free Natural Adult Wet Dog Food
Purina have their own nutritionists overseeing the making of their dog food, so you can rest assured that quality is the number one requirement.
This chicken and sweet potato flavor is made from real chicken and in fact, their other flavors only use meat, poultry, or fish.
There are no by-products used or empty fillers like wheat, corn, or soy, as well as it being free from artificial colors, flavors, and preservatives. A delicious gravy is added to enhance the flavor.
The protein content is high which should fuel your dachshund's energy, as well as help to maintain their general health.
Best Dog Food for Dachshunds with Skin Allergies
        6. AvoDerm Natural Dog Food For Adults
It's not fun having an itchy skin and if your dachshund has this problem you will want to help.
This wet lamb meal and brown rice formula helps to give a shiny coat and healthy skin.
The key to this is the addition of juicy Californian avocados which are jam-packed full of folate, potassium, niacin, and fatty acids like Omega-3 and 6. This helps your dog's coat to look glossy and should hopefully contribute to making itching disappear.
A high protein count and the addition of many antioxidants promote the general health of your dachshund.
There are no grain fillers or artificial colors and preservatives. In addition, the food is pressure cooked which ensures that as many nutrients as possible remain in the food.
7. Wet Canned Hypoallergenic Dog Food – Fish Based Formula for Skin Health
This dog food contains raw protein, fiber, and fat, and the main ingredient is Icelandic salmon. It is full of Omega-3 and 6 fatty acids which promote healthy skin and a glossy coat.
If your pooch has a skin allergy, hopefully this dog food will help to cure itchiness that they may experience.
It is also good for dachshunds with sensitive skin and a dull coat. In addition, this food is gluten free so in addition will help sensitive tummies.
It comes in a little tray which is just right for one meal.
Best Dog Food for Senior Dachshunds
       8. Iams PROACTIVE HEALTH Senior Dry Dog Food – Chicken
As your dachshund ages you will notice changes. They will probably be taking more naps and not running around like they used to.
You will, however, want him to be in optimal health for his age which is why we recommend special dog foods for senior dogs.
For a strong immune system, farm-raised chicken is used in this dog food and there are no wheat or soy fillers. Chicken is the major ingredient so you will know that your dachshund is getting the best.
Healthy bones and joints are supported by the addition of glucosamine and chondroitin sulfate and the food is packed full of antioxidants.
The kibble has been made easily digestible which is a bonus for sensitive stomachs. In addition, it helps to reduce plaque.
By this time, your senior dog may have bad teeth or even has lost some, so you will want the kibble to be gentle on their teeth.
9. Nutro Ultra Senior Wet Dog Food
If your dachshund has a lot of trouble with it's teeth, a wet dog food might be the way to go and Nutro Ultra Senior is an excellent choice.
The protein content is high. There are no chicken by-products, just fresh chicken, lamb, and salmon pieces.
It also has high-quality carbs in the form of fruit and vegetables, such as carrots, spinach, tomatoes, and blueberries. Your dachshund will be in heaven with this combination of flavors.
This dog food has no artificial flavors or preservatives and no corn or soy, so it is only packed with delicious goodness.
In addition the omega fatty acids encourage a sleek coat and healthy skin, and the amino acids help to give strong muscles.
Your senior dachshund should love it!
Final Thoughts: Best Dog Food For Dachshunds?
Dogs are man's best friend and they deserve to be treated as such. Giving them a healthy and nutritious diet should be your main priority.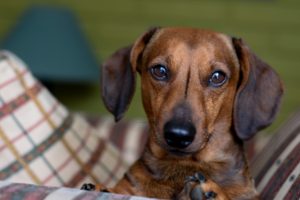 We hope you have enjoyed reading through our choices of food, but every dachshund is different and you will know what their likes and dislikes are.
Just make sure that they have a high protein diet, with an acceptable ratio of fats and good carbohydrates. Lots of water and daily exercise will complement their excellent diet.
In the end you want the best for your dachshund.
You want your pet to live a long and happy life with you and choosing a diet with high-quality ingredients is the first step there.
It might cost a little more, but your dachshund is worth it.
You may also like: