Today we're going to be taking a look at the question, should I get a glow in the dark collar?
Now in short, I believe that the simplest answer to this is yes.
Let us elaborate why we think glow in the dark collars are such an important addition to your pets collection.
Hello fellow dog lovers! I'm Caitlin and I have two gorgeous pups but today I want to introduce you to Ella, my boisterous lab.
She demands two long walks daily, and sadly because I work I cannot avoid the cold, wet nights.
The problem is, my gorgeous girl has a lovely, glossy BLACK coat. She is just not visible during dark hours. I know shes on the end of the lead, but that's about it and I hate the thought of her being hit by a car!
I'd heard about glow in the dark dog collars, but i'd never used them and didn't know if they were any good.
However, after some research I got tried my first glow in the dark collar. I have to admit I love it. It even makes me feel safer, as the green glow helps illuminate the path for me and Ella so no more trips or trodden on paws when she decides to cut me up whilst sniffing!
I wish I got a glow in the dark collar sooner, but I thought it would be annoyingly bright, however I can promise you it is not – the one I have at least!
If you're not convinced yet, read on to find out why you should make your pooch glow!
Why Should You Get a Glow in The Dark Collar?
With the night's drawing in, the window for day time walking is shrinking meaning that even the most adamant day time walkers may struggle to avoid the fading light. High visibility isn't just limited to night, but also adverse weather conditions such as heavy rain or early morning mist and fog.
It all boils down to safety. How many times have you tripped over your own dog at night? If you can't see your own dog, neither can other pedestrians, cyclists or drivers.
At least you know that your dog is around. Not being seen will massively increase the chances of your dog getting injured.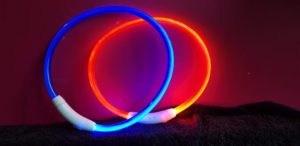 A glow in the dark collar can even help improve your safety.
If you are walking along a lane or crossing a road because your dog lit up by your side will make yourself more visible.
Alternatively, should your dog be let off the lead or get spooked and looses you, it makes finding them again a whole lot easier, especially if there recall is a bit questionable!
Ideally ever dog needs at least one glow in the dark collar. Small dogs in particular are less visible than their larger friends, but even a dog the size of a brown lab can become almost invisible in woodland areas!
Similarly lighter colours would be difficult to see in snowy conditions, so a glow in the dark collar is an essential item for either regular use or as a backup for those not so enjoyable conditions.
There is a wide range of these glows in the dark collars available and each one would suit a different dog's lifestyle and therefore i've put together this guide to help introduce you to what is available on the market.
Which Glow in The Dark Dog Collar Should You Buy?
There are a wide range of choices on the market and which collar you choose all depends on your lifestyle.
There are three main group of these collars; LED collars, LED additional safety collars and phosphorescent pigment collars.
The first option of LED collars can act as a normal collar where you can attach a leash, whereas the safety collars are not made to withstand the pulling of the leash and are worn in addition to your dog's usual collar.
Lastly the phosphorescent pigment collars are charged by sunlight, similar to the glow in the dark stars children stick onto their bedroom wall and therefore require no charging or batteries but are not as bright.
Here are our top suggestions for glow in the dark collars in no particular order as each collar will suit different people better.
Best Glow in The Dark Dog Collars
        1. Illumiseen LED Dog Collar
I love this collar, the bright colours alone would help visibility and it has the lights to match.
The collar should allow for easy identification at night with all the colours on offer!
There are also matching glow in the dark leashes to accompany this stylish collar.
It has two LED strips sewn into sturdy and durable materials and with a lifetime warranty this collar is made to last.
The rechargeable battery allows for up to five hours of use from a single one hour charge and it offers a range of modes from steady to quick flashing to suit all times and needs.
Furthermore with over 3000 five star reviews, it is definitely a popular choice.
This collar comes in a range of sizes, and within this they are adjustable so most dog owners are likely to find a perfect fit.
The smaller sizes of the collar are thinner than the larger counterparts but they may be a little thicker than your usual collar, but with free returns, if you do believe it is a little wide for your small pooches neck then you can always send it back and look for a better size.
The battery is encased in plastic and sewn into the fabric, perfect for weatherproofing, but if your dog loves swimming remember to take it off beforehand as it is may not survive a dip.
An added bonus with this collar is that the company offers many discount codes on their page so make sure you take a look by checking the price below!
2. Blazin' Safety LED Dog Collar
This collar claims to make your dog visible for over 350 yards which is equivalent to the length of three football pitches!
So there should be no more worries about losing your pups whilst out on a night walk.
This collar uses a simple lithium ion battery to charge from any device giving up to eight hours of illuminated use.
Made of strong nylon, thick buckle and lifetime guarantee this collar is also made to be the only glow in the dark collar you need.
There is one strip of lights in a more dotted pattern offering a softer look, but is also narrower and therefore may be more suitable for the daintier breeds
However this collar is slightly heavier than the illumenseen LED collar and is not waterproof.
Similarly to the previous collar, it offers a steady light and strobe effects, a choice of colours and easily changed by the touch of a button.
Again the collar has good reviews.
3. BSeen LED Dog Collar
This collar is perfect for those on a tight budget at under £10, at the time of writing this, that is!
If you are unsure as to how much you will use these sorts of collars then this is a perfect first collar for you.
This glow in the dark collar offers much the same as its more expensive competitors.
It can change between a steady light and slow and fast flashing at the touch of a button and is rechargeable.
It's available in three different sizes, covering a large range of neck sizes from 36cm to 62cm.
Like with most products, the cheaper option usually comes with a few limitations.
Firstly, this collar only comes in two colours; neon orange or neon green, both of which are bright so are perfectly functional and great if you love these colours anyway.
Secondly, it takes longer to charge than some of the other options, but the battery does last for up to 12 hours on a slow flash and three hours on a constant light.
Lastly, this collar does not have a cover over the charging port and does not mention that it is water resistant, so I would suggest not using this collar in heavy rain or if your dog loves rolling around as dust and dirt may block the charging port.
The collar does come with a 60 day guarantee which is good for an inexpensive collar and a 24 hour email customer service response so any issues can be resolved.
This likely means it is a very good value collar and even if it does not last as long as the others, for this price you can always get a spare.
4. Glowdoggie Leuchtie 2018 LED Safety Collar
If your dog loves to swim or roll in bogs then this definitely is the glow in the dark collar you will need.
It is completely waterproof unlike the other options which are only water resistant.
It offers a steady light for up to 80 hours from two AAA batteries.
The collar is built to last from Germany and comes with a two year guarantee as well as ongoing customer support with repairs.
This collar also comes with a motion sensor so no switches are required so there is no risk of your dog scratch or knocking the switch and turning it off.
It will automatically turn on when on your dog and it will turn off automatically when placed on a surface after 45 seconds.
It is available in various sizes and colours to suit all needs and the specifications of this collar are extremely good, the collar uses five Superflux LEDS which have a shine life of 150,000 hours.
The only difference with this collar is that it is not rechargeable and you will have the change batteries.
You will also not be able to attach your lead to this collar, but it does come with a nylon clip so you are able to attach this to your normal dog collar.
This is one of the more expensive collars but it is completely waterproof and has a motion sensor, so this does have a lot of additions.
5. BSeen LED Dog Collar Ring
Another inexpensive and effective solution to night time walkies is this glow in the dark collar.
This collar is particularly good for those prone to a little nibble as the malleable ring has no circuit through it so if your dog is prone to biting, the collar will still function as long as the battery and LED's are in tack.
The band is also narrow and malleable and therefore more suitable for smaller dog breeds as well as large ones as it isn't as wide.
The tube is originally 70cm long but can be cut to size so will fit all manner of dogs' shapes and sizes.
The collar, like many of the others is rechargeable so no need for replacement batteries and can be charged by a USB charger, which would provide the power for both flashing and steady light modes.
You are able to choose from a four colours; pink, red, green or blue.
It is not suggested that this collar is water resistant so I would avoid using it in heavy rain but for this price you could get a few spares without breaking the bank.
There is also a multibuy discount on this collar, which is definitely worth a look at this price.
6. Davis FurEver Brite Collar
<
Always forgetting to charge your phone let along a dog collar? Then this is the collar for you.
This collar requires no electricity what so ever.
It cleverly uses a high-tech phosphorescent glow pigment which can be charged by both indoor and outdoor light.
Another good aspect of this collar is that because it has no electrical component it is waterproof too.
The collar itself is made of malleable silicon instead of nylon fabric.  There are two sorts for dogs with a larger than 7" diameter neck and due to the nature of the pigment only comes in a green colour.
What I do like about the design of this colour is the cute paw print pattern on it and comes with a free ID tag.
The ID tag does not appear to be very long lasting but it is a nice touch.
Like some of the other collars, it's recommended using this in addition to your regular leash and also suggests that if you cut the excess ends off that you use a hand lotion or lubricant to help you slide the ends back through the buckle.
Do not expect this collar to be as bright as a LED lit collar as it is the only true glow in the dark collar.
This is ideal for the use round the house. Save you tripping over your dog and alerting the whole household of your midnight snack!
What to Look For With a Glow in The Dark Dog Collar?
These are just my top picks, but other collars are available and these are my top tips to help you make a decision that you and your pup will be happy with.
Ensure that if you plan to use it instead of your normal collar that it is strong enough to do so. If you take off your normal collar ensure the glow in the dark collar has a tag attached to it for identification of your dog should the worst happen and they get lost.
Make sure it will fit properly. We suggest measuring your dog's neck a couple a times to make sure it's the correct measurement. It may be worth getting a size up if your necks measurement is close to the upper limit.
You should be able to fit two fingers underneath the collar all the way round but also if you are attaching the leash, ensure it is not too baggy so that it will not slip over your dogs head should they reverse.
It must not annoy you or your dog. Find the balance between being seen and not being too bright. This is personal preference and trying a few products should allow you to work out what's best for you and pup.
If you're after a LED collar make sure if there is a constant light option for when you no longer want a flashing light. Strobe lighting has a time and place!
Consider what is important to you. If you tent to take your dog on short walks round the block then the cheaper collars will likely meet all of your needs, however, if you like a good long hike then you might want to invest a bit more into a collar.
Things to consider would be battery life, level of water resistance, and the durability of the collar. Many collars come with USB cable so may be compatible with a portable phone charger but it may be easier to replace batteries on very long trips but again this is all personal preference.
Final Thoughts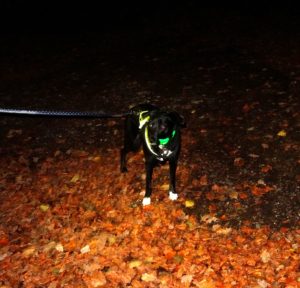 A glow in the dark collar is a must have safety device, but which one is right for you is completely up to you.
We hope you found this useful and hope that whatever you decide will keep you and your canine best friend happy and safe.
If you have any questions or so extra information you would like others to know about please leave a comment and share this post!
We would love to hear about your experiences with glow in the dark collars.