Nothing can be more exciting than getting a new puppy. Well, for me at least and I'm sure for plenty of you out there too.
Hi, my name's Irena and I have five dogs, all of which I've had since they were puppies. Four I've had from birth as I adopted their pregnant mum, and the other was dumped near my house when he was just around three weeks old.
As well as it being an exciting time, I'm sure that many of you will be filled with a certain amount of trepidation, especially if it's the first time you've ever had a puppy.
There's so much to think about. How do you house-train him, where's he going to sleep, how do you stop him from chewing, and so the list goes on.
However, the most important thing to think about is his nutrition. You will want him to grow up healthy and strong, but how do you decide on what to feed him?
You go to the pet store or you look on-line and there is such an array of puppy food out there which can be very confusing. Which do you choose? Well, I'm here to help you go through the process of feeding a new puppy.
Tips for Feeding Your New Puppy
Ideally, a puppy should stay with his mother until he is at least eight weeks of age. Mother's milk provides the best nutrition that a puppy can get and it also provides antibodies so that your puppy can fight disease.
When a puppy is between three and four weeks of age, it is time to start weaning him slowly, allowing him to still drink his mother's milk as well.
I had no problems at all weaning my puppies. As soon as they saw the food, they went right in there and gobbled it all up. Puppies are so much easier to wean than kittens, who can be very picky.
It was a different story for my motherless three week old puppy. I started off with milk re-placers and then weaned him onto puppy food, adding rice and sheep's yogurt. It all seemed to work as he now is a strapping 60 pound ball of fur!
If you are weaning a puppy, take is slow. Don't give them enormous portions, but let them feed from their mother as well until they are about eight weeks of age.
How Often Should You Feed Your Pup?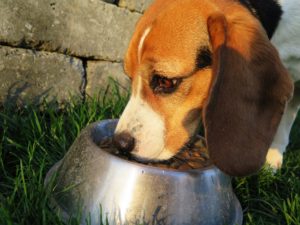 Puppies have small stomachs, so don't give their entire daily allowance in one go.
Three or four small meals a day works best.
It is easier for them to digest and you also won't get sharp peaks and falls in their energy level.
At around six months of age, you can change to two meals a day if that is more convenient for you, but continuing to give them three meals a day is perfectly acceptable.
Switching to Adult Dog Food
Puppy food is high in calories because they grow very quickly, so you will want to switch to adult dog food when your dog starts to reach maturity.
The age a dog reaches maturity varies. Generally, small breeds up to about 30 pounds mature between ten to twelve months, medium sized dogs up to 80 pounds between twelve and sixteen months, and large breed, up to two years.
When introducing adult food, take it slowly. Start mixing a little adult food with the puppy food and keep increasing the amount of the new food until they are only eating adult food.
This can take a couple of weeks.
Foods to Avoid
Meat should be the first ingredient in the puppy food that you choose. Avoid ones that only offer meat by-products and useless grain fillers like wheat, corn, or soy.
Only feed your pooch puppy food until he reaches maturity. He won't need the extra calories once he is an adult.
You don't want your dog to get chubby. You should be able to feel, though not see the ribs, and looking down on your dog you should be able to see a waist. If not, you are probably over-feeding.
Nutrition for Puppies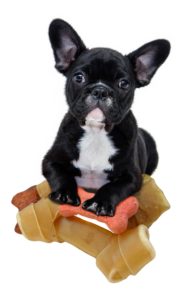 Babies don't eat the same food as adults. In the same way, puppies are not miniature dogs. Special nutrition for both babies and puppies is required.
Puppies can be sensitive when it comes to their food. Cheap versions of puppy food can contain by-products, grains like corn, wheat or soy, and additives which can upset their delicate stomachs.
It is always better to pay a little more when feeding your puppy. Look at the ingredient list and make sure that protein is high up the ladder.
The first thing a puppy needs is more calories than an adult dog. This is to fuel their growth and energy levels.
Puppies need more amino acids than an adult dog, as well as more vitamins, minerals, and the all-important protein. They even need more fat in their diet.
If puppies eat food destined for adults, they could be in danger of nutritional deficiencies and all sorts of illnesses could develop.
While protein is very important for puppies to have so that they grow well and develop strong, lean muscles, certain types of omega-3 fatty acids are essential.
Omega-3s encourage a shiny coat and healthy skin, as well as helping with brain and eye development.
Puppies need vitamins and minerals in their diet. Selenium and vitamin C are beneficial antioxidants which help to develop the immune system.
Calcium and phosphorus are needed in the right levels for strong bones. A good puppy food will assure this is being met.
Different Types of Puppy Food
There are two types of food which you can feed your puppies; wet and dry.
Dry dog food is known as kibble and is cooked at a low temperature to remove all the moisture. It comes in smaller bites for puppies as their jaws aren't as big as an adult dog's.
There are a lot of advantages in feeding dry puppy food. For a start, it contains more protein than wet food. It's also more economical, even if you buy premium brands.
However, on the negative side it is dry and if your pups aren't drinking enough, it could lead to dehydration.
Always check the ingredients when you buy dry food as there could be a lot of fillers in there. Try to go for a grain-free variety.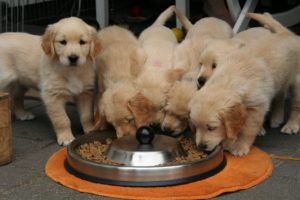 Wet food, on the other hand is jam-packed full of moisture and will keep your puppy hydrated whether or not he is drinking much water.
The disadvantage of wet food is that there isn't as much protein as in dry food, mainly because of the high moisture count. However, it won't contain many empty fillers.
Another disadvantage of wet food is that it does work out more expensive and can spoil easily. Dry food can last for weeks in a properly sealed pouch.
Ideally, your pup should have a mixture of both wet and dry food as then they get a complete range of nutrients. This was what I did with mine and they grew up big and strong. In fact, they still get a mixture of both and they eat it all up.
What to Look For When Buying Puppy Food
The size of the puppy is important. Large breeds grow more slowly so don't need quite as many calories as smaller breeds. It is advisable to choose puppy food especially formulated for large dogs.
Large breed puppy food has the correct amount of fat, calcium, and phosphorus to stop them getting joint problems later in life.
The next thing for you to consider are the ingredients. Always check the labels to make sure that meat or fish is the first ingredient. Go for grain-free food if you can.
If your budget allows it, avoid cheap puppy food as there will be fillers in there with no nutritional benefits. They will probably contain poor quality meat, animal by-products, and chemical preservatives, none of which are good for your pup.
In addition, make sure that the food you are choosing has the AAFCO sign of approval on it. They set standards for both animal feed and pet food in the USA.
The next thing to consider is the flavor of the food you are buying. Dogs aren't as fussy as cats, but some may prefer one different flavor to the other and you can only find this out by trial and error. My pooches will eat anything which is great as I can chop and change what they are eating with no problem.
How do You Know if Your Pup is Doing Well?
It's often true that you know your pup best! Therefore, all you have to do is look at him. If he has a shiny coat, healthy looking skin, bright eyes, lots of energy, and is at a healthy weight, you are doing everything right.
Perhaps you are feeling a little bemused with the information I have given you. It's a lot to take in and you will want to do the best by your new pup. He may just seem like a lovely ball of fluff, but he needs to be fed well so that he grows up healthy.
If you ever have any concerns about you pup take them to see the vet. They will be able to provide assistance!
Anyway, below I will give you our choices of top puppy foods out there. Why not give them a look!
Best Dog Food for Puppies
        1. Blue Buffalo Life Protection Formula Natural Puppy Dry Dog Food
This dry food is my top choice and I think it is a winner. For a start, it has real meat as the first ingredient in the form of deboned chicken.
This is a high-quality protein and the kibble is enhanced by chicken meal and egg, both also good sources of protein. Protein helps to build strong muscles which is what you want for your puppy from a food source.
Instead of empty fillers like corn, wheat, or soy, this dry food contains whole grains, vegetables, and fruit, all good for the digestive system of your pup.
You will want your pooch to have normal bowel movements, and while we're on the subject, take him outside after every meal to train him that's when he goes to do his business.
There are important fatty acids in this puppy food, DHA and ARA, as well as choline. They are all found in mother's milk so are obviously good for your pup. Their purpose is to help with cognitive learning and retinal function.
Blue Buffalo foods have a special ingredient called LifeSource Bits. They are a blend of antioxidants, vitamins, and minerals selected by holistic vets and animal nutritionists. They help to support a healthy immune system and oxidative balance.
Healthy bones and teeth are supported by calcium, phosphorus, and other essential vitamins. Omega-3s and 6s encourage a healthy skin and coat. There are antioxidants for a healthy immune system.
The kibble is much smaller than in the adult's version of this food. After all, you want those tiny mouths and jaws to be able to crunch away at it.
2. Purina Pro Plan FOCUS Classic Entrée Wet Puppy Food
We're now going to take a look at a great wet food for puppies, Purina Pro Plan Focus. It is jam-packed full of nutrients that your pup can't help but thrive on it.
It has real chicken as the main ingredient, not by-products which could include anything nasty like hooves, eyes, or skin. There are no empty fillers like corn, wheat, or soy. Real meat helps to develop lean and strong muscles. Your puppy will grow, but will maintain a healthy body weight.
This food contains highly digestible rice, which is so much better than the empty fillers. The formula, which contains prebiotic fibers, helps to maintain intestinal balance and allows your pup's digestive juices to flow.
In addition, there are plenty of Omega-6 fatty acids which encourage healthy skin and a glossy coat. The DHA fatty acid helps with cognitive function and is good for the eyes.
This wet puppy food has been reinforced with calcium which helps to strengthen your pup's teeth and bones. Add puppy chews to the diet and your furry friend will be given a real start in dental hygiene.
There is just the right amount of complex carbohydrates in this formula to keep your puppy playing all day. These carbs are sourced from healthy fruits and vegetables, not grains.
To top it all, there are no artificial flavors, colors, or preservatives used so what could be better for your puppy? This is an all-round excellent choice of canned food.
3. Hill's Science Diet Large Breed Puppy Food – Lamb Meal & Rice Recipe Dry Dog Food
Large breed puppies need a different balance of nutrients than smaller dogs to ensure that they grow up healthy. This large breed puppy food fits all the requirements.
This is a dry food which is filled with wholesome protein in the form of lamb meal, and good carbs in the rice. There are no empty grain fillers. This all combines to help strengthen your pup's joints and muscles. Joint and hip problems can be quite common in large breed dogs so it's a good idea to give them this head start.
In addition, this puppy food contains natural sources of glucosamine and chondroitin which also promote healthy and strong muscles and joints.
Bone growth is very important in large breed dogs so there has to be the correct amount of calcium in their food to support this. Hill's Science Diet fits the brief perfectly.
There are plenty of natural DHA omega fatty acids in this puppy food which comes from fish oil. This helps with healthy brain activity, learning ability, and good eye development.
Your large breed pup's immune system will be strengthened due to the blend of antioxidants and vitamins C and E.
In addition there are no artificial colors, flavors, or preservatives used, which is an added bonus for your pup's health.
This product is formulated for pups aged up to one year and who will weigh over 55 pounds.
4. Hill's Science Diet Puppy Food
Let's take another look at a wet food for puppies. It's another Hill's Science food which should indicate to you what a great brand they are.
This food should certainly please your pup. It is in the form of a stew with lots of delicious gravy for him to lap up. Chicken is high up in the list of ingredients, together with liver, and brown rice.
With this mixture, your pup will be getting the right amount of protein for strong, lean muscles, and the right sort of carbs. In addition to the rice, there are healthy vegetables including peas and carrots, all of which is good news for your puppy.
The vegetables contain fiber and this ensures that your pup's digestive tract works well. You don't want to have problems in this regard, either constipation or diarrhea.
The kibble is the right size for your pup's small mouth and teeth and it also helps with oral health. It's always good to start early with your pup's dental health especially as their adult teeth start appearing at around 4 months.
5. Nutro Puppy Wet Dog Food
Nutro Puppy Wet Dog Food comes in little trays which is just the right size for your pup's meal. It's much better than buying a big can which might spoil before you've had a chance to use it all.
This wet food is in a stew form which is always a good idea for puppies as they might not drink enough water.
It is jam-packed full of beef and vegetables which gives the right amount of protein to maintain strong muscles and fuel playtime, and the right type of carbs and fiber to keep your pup's digestion working at optimum level.
In fact the first three ingredients in this food are beef broth, beef, and beef liver, all of which are strong sources of protein. In fact the protein and fat ratio promotes healthy growth.
No by-products, soy, or artificial flavors, colors, or preservatives have been used in this food which will help the health of your puppy.
Finally, there are plenty of antioxidants that will promote healthy skin, which doesn't flake, and a glossy coat.
6. Royal Canin 1 Count Canine Health Nutrition Puppy in Gel Canned Dog Food 
This wet puppy food is jam-packed full of protein, which your little ball of fur needs to grow and develop strong muscles and joints. There's chicken, pork, chicken liver, and salmon, all of which gives your pup a balanced diet.
The fish content has plenty of omega fatty acids which help to give your puppy a shiny coat and healthy skin.
There are plenty of nutrients in this food, all of which contribute to your pup's healthy growth and development. Vitamins C and E, as well as taurine help to establish a healthy immune system, while beet pulp helps with the digestive process.
This food can be served as a full meal or as a topper for kibble. Personally, I think a mixture of the two is best as it ensures that your pup is getting all the essential nutrients as well as enough moisture to stop dehydration.
Royal Canin canned food can be given to small breed puppies up to the age of 10 – 12 months, and for larger breeds until they are around 15 months. Then it's time to look at introducing adult dog food.
7. Nutro Wholesome Essentials Dry Dog Food
This dry puppy food has farm-raised chicken as its' first ingredient which is nothing but good.
The amino acids in the meat will give your pup the opportunity of developing strong muscles and he will have his higher metabolism satisfied.
There are plenty of fatty acids and zinc in this puppy food which will help him to get a glossy coat and healthy skin. It has DHA, a fatty acid which promotes healthy growth and development.
The great thing about this puppy food is that it hasn't been prepared with any GMO ingredients, no by-products, no fillers like wheat, corn, or soy, and to top it all, no artificial colors, flavors, or preservatives. Your pup doesn't need any of this and this food delivers.
Nutro Wholesome Essentials is especially formulated for small dogs. It has the right amount of protein, fat, and carbs for optimal health in small breed pups. Large breeds have different needs so choose a food specifically for them.
8. Hill's Science Diet Puppy Food Bundle
I couldn't leave without mentioning this amazing package. Buy this and you have just about everything you need for your pup's fist days with you.
It will make bringing your new pup home so much easier. All you'll need in addition is a dog bed.
This package includes a bag of healthy development dry dog food, a 13 ounce can of puppy food, soft and chewy training treats, a tennis ball toy, a tug toy, and a poop dispenser.
Both the dry and wet food contain chicken meal and barley. The protein in the chicken will give your pup plenty of energy and will encourage strong and lean muscles. The barley is a healthy carb and it contains fiber which will help your pup's digestive system to work properly.
The food has the right nutrients, antioxidants, vitamins and minerals which all support healthy brain and skeletal development.
Once your pup has eaten, you will be able to play with him with the toys included in this package. Throw the ball for your pup to catch or have tug-of-war with him. He'll love it and it will strengthen the bond between you two.
This package is geared for pups up to one year of age. If the food goes down well, you can buy it separately.
Final Thoughts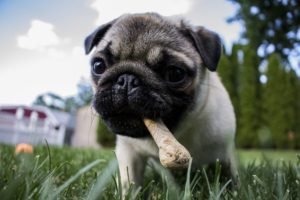 Puppies need special puppy food. They need more protein, calories, and fat than an adult dog and I have tried to point out some good foods for them, both wet and dry.
In an ideal world they should have a combination of both as then they will be getting a complete nutritional meal.
Puppies need to have protein, so look at the ingredient list on the food you buy. Ideally it should have a protein as the first ingredient and you will find that a good dry puppy food will have this.
However, when you come to wet food, water might be the first ingredient as it adds moisture to the meal. In this case, make sure that a protein comes up as the second ingredient.
Be sure to buy your pup a complete food, not just a mixer as this won't have the nutrients he needs. Check the label and see if the food has plenty of vitamins and minerals in it.
One other thing to note is that if your pup isn't eating all that is put down in front of him, you are probably giving him too much. Dogs are known for gobbling up their food, but if your pup isn't eating everything, reduce the portions while checking on his weight, skin condition, and his energy levels.
Hopefully, I've given you a starting point for when you bring your new pup home with you. I have enjoyed bringing up all my puppies and I hope you will too.