As a dog owner I know how much fun it is to take my furry friend out for a trip in the car.
Bentley enjoys looking out of the windows and I love seeing him so happy. It's a great way for us to bond and is a lot of fun for both of us.
Unfortunately, taking my pooch out in the car also means that the back seat gets trashed.
As dog owners, I think you will be able to relate to this.
I never worried too much with the older car, but when we bought the newer car we really wanted to keep it looking nice, as well as smelling good.
Something had to be done about the dog in the back seat.
We live in Spain, so dogs must travel in the back of the car. The seat was getting ruined with his dirty paws, not to mention slobbering.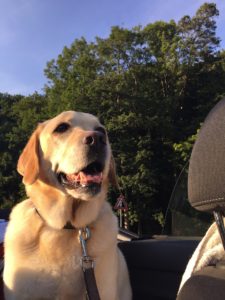 Not that Bentley is a slobbery type of dog, but the back seat was not a place for anyone to sit. With the new car we had to make another plan for the back.
I tried using a few old towels to keep the seat clean, and these worked in the beginning.
I even tried a thick old blanket which absorbed the moisture – as well as the smells – and soon the car smelled as bad as a damp dog!
Towels and blankets will work for a short time, if that's the last resort for you, but in the end, Bentley destroyed them by chewing them and dirtying them.
Really, using them is far more trouble that it was worth. Neither could I keep them in place, they would slip and slide along with the dog, making it somewhat traumatic for all of us.
Finally, I decided to look for something more professionally made, something that did the job it was designed to do.
I started to check out seat covers for the back of the car, because that's what I needed.
There are hundreds of them!
All shapes and sizes, for all makes of car. Quite confusing, in fact.
While buying the ideal seat cover, I've learned a few things.
You can start with the cheap ones, and they will work at first, so that's a good thing.
Unfortunately, they won't last long, neither will they be perfectly waterproof. Buying cheap is throwing good money after bad, as far as I am concerned.
I've also found that car seat covers are not really that expensive, compared to many other things we buy for our pooches.
So, it pays to choose a good one and stay away from the very bottom of the range covers.
I also found out about different styles of seat covers. You should make sure that you can sit your dog up front with you before getting a front seat cover.
Styles of Car Seat Covers
There are several styles of car seat for dogs. They depend on the type of vehicle you use to travel with your pooch. They also depend on the regulations of where your dog must sit while travelling.
Hammocks
I think that these are probably the most popular covers.
They fit all the way from the top of the back seat to the top of the front seats, so there is no possibility of your pooch accidentally landing in the front seat.
Often, they come with side sections to protect the car doors, and these are a good idea because – as every dog owner knows – our dogs love to look out of the window.
Unprotected door sides leave themselves open to scratches and claw marks. Hammock covers often come with a section in the middle where they can be zipped open, so can take a passenger as well as a dog on the rear seat.
Bench type covers
This covers the bench part of the back seat, normally it does not cover the backrest part. These covers fit the bench very snugly and do not move around.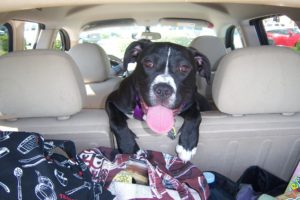 They are great for the dog who does not try to see out of the back window, so are good for older dogs who tend to lie still while travelling.
For those of us with younger, more energetic dogs, it may be better to consider the hammock style of cover.
Bucket seat covers
Often these covers are specially designed for the front seat of a car with bucket seats.
They are great for those dogs who sit well-behaved in the front seat while they travel.
As dog owners, we need to be sure that our dog is not going to try to get onto our lap while we drive before we have him sit up front.
If your car has airbags you should never travel with a dog in the front seat. This will be very dangerous if you are involved in an accident, and your dog may possibly be killed when the airbag deploys.
Often bucket seat covers will fit cars with rear bucket seats and are suitable for those dogs who do not take up the entire back seat or run from side to side to look out the windows.
Cargo seat covers
These are designed to be used in the cargo area of a car or SUV. They keep a pooch safe in the very back, leaving the rear seat for the kids or visitors.
This means that the back seat is always clean and dry, while the back of the vehicle contains the pooch and all that he brings back from a walk.
If you plan on getting one of these, make sure that it comes with a flap to go down out of the back of your car.
This will help your dog from scratching the back when he jumps in and out. It will also mean the back is not slippery in wet weather so less chance of your pooch slipping and hurting himself.
You will find that cargo seat covers are also very useful for offloading muddy boots and shoes – unless your dog enjoys chewing them!
Features of Good Car Seat Covers
I've found that there are some things to remember before buying a seat cover.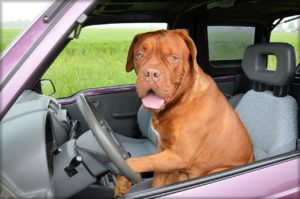 No matter what the size of the dog is, he still enjoys rolling in 'that stuff', paddling through puddles, and generally being boisterous while travelling with his favourite human!
Prevention is better than cure in these instances, and a clean car is worth the time taken to install a cover before we take our furry friends out with us.
Durability
Look for a seat cover that is durable. Don't bother with cheap covers, you will find that they are shredded quicker and fall apart rapidly with a dog all over them. Covers which are double stitched are better, they will withstand rough use and a thick fabric won't disintegrate.
Quality
The saying that you 'get what you pay for' has never been truer when it comes to a back-seat cover for our dog. If you buy that cheap cover, you will end up spending double as you'll have to buy another one. In the long run, bargain basement covers will need to be replaced sooner.
Waterproof
My dog Bentley loves water! Not surprising as he is part Spaniel. It's a joy to see him in the ocean and a real treat for both of us.
But…water is wet, and he stays wet for a long time, even after a towel dry. Your seat will be soaked by the time you get home.
Worse, the damp dog smell will linger long after your fun day at the beach. If Bentley gets wet he will dry himself off wherever he can, and if the back seat is the place where he is, then that will be his towel.
The seat cover needs to be waterproof to keep the car seat dry.
The Many Benefits of Seat Covers
By using a seat cover, we can easily reduce the dirt and hair that get into our car seats.
Every time our dog gets into the back of the car he will shed and leave hair and dirt which will become deeply ingrained into the upholstery.
They also help to prevent stains. No matter what we do, whenever our dog climbs into the car, he will leave dirt which will eventually stain car fabric.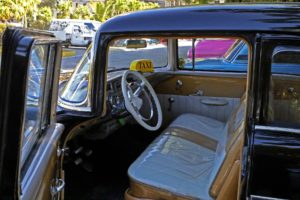 Additionally, he will leave smells on the fabric which may be difficult to get rid of.
A good quality seat cover should be made of non-slip fabric, which will stop our pooch from slipping around as we drive.
As dog owners we know that dogs are notorious for standing up to look out of the windows and slipping around in a moving car can injure him. A seat cover will give him a more stable surface to stand on.
They also offer more room than a crate. Even if you crate your dog at home, you may not want to do this on your car back seat.
Having the entire back seat for himself gives your pooch more room than his crate. There is always a chance that heaving the crate in and out will damage the interior. A seat cover will not do this because it is soft and pliable.
Also, not only is a seat cover lighter than a crate, it is also easier to transport, easier to wash afterwards, and easier to store when not using.
A crate will need to be assembled either in the car or before you put it in, and this takes time. This means that outings must be planned in advance, and that takes the fun away from impulsive outings, which are often the best times with our pooch.
So, What's the Best Fabric for a Seat Cover?
Look for fabric that has been waterproofed.
The cover should be 100% machine washable to make things easy for you (or whoever does the washing).
Sturdy and slip-proof is important, for the safety of your pooch.
Also make sure to check out environmentally friendly fabric that is dog safe even if he does have a go at chewing it.
Canvas which is a blend of sturdy cotton and polyester is normally strong and soft. It is also machine washable.
Duck weave is a cotton and linen blend also works similarly to canvas fabric.
Finally, Tweed fabric of wool and cotton blends is soft and durable, as well as being flexible.
The Best Seat Covers for Your Dog
So when choosing which dog cover to go for, it's easy to get confused.
I didn't really know what to look for, so hopefully the above information has been of use to you!
Now i'm also going to go over a few options that I've found online below. Each is a great option but offer slight differences.
1. Vailge Dog Car Seat Covers
This car seat cover is designed to cover the back seat of most standard cars and SUV's. It is longer than many others, being 60" in length. It is 56" wide and comes with side flaps to protect the doors of your car, as well as the front and back.
This is a split zip hammock type cover which allows you to use the full length, or only half if someone needs to sit next to your dog.
This car seat cover is 100% waterproof, having two waterproof layers so less chance of water seeping through to your car seats.
You will notice that the seat cover is non-slip, so your dog does not slip when you turn a corner. Also, the underneath is made from non-slip fabric so the whole hammock stays firmly in one place while you travel.
Should you need them, the hammock comes with Velcro openings for seat belts.
The seat cover is easy to install in the back of your car and just as easy to remove, with quick release clips. With one snap the buckles can be secured to the headrests.
This seat cover is machine washable by using the 'gentle cycle' and is guaranteed to come up looking as smart as the day you bought it.
2. 4Knines Dog Seat Cover without Hammock
You will notice right away that this seat cover is heavy duty. It is also waterproof and designed to keep your car seats in pristine condition. The cover fits beautifully and covers the entire back seat, with Velcro openings for belts and child latch systems.
Even large dogs with claws will be no match for the durable fabric. The cover is colourfast and free from AZO dyes. There are also no chemicals such as lead, arsenic and mercury in the fabric or waterproofing.
The top layer of the cover is quilted and non-slip, with the backing also being non-slip to keep it firmly in place during the drive. The backing is waterproof to prevent seepage.
The cover is completely colour-coordinated with the colour of your car, and comes is stylish grey, black or tan, for the discerning dog and owner.
You can install the cover in a matter of minutes using the quick release clips and reinforced headrest straps. Whichever way you choose to clean the cover – use a hosepipe, wet wipes, or washing machine, this cover comes up looking brand new every time.
4Knines are so confident in their product that they offer a 100% satisfaction guarantee and lifetime warranty, which means that you can buy this and use it with confidence.
Rear Seat Covers with Seat Belt Holes
Before buying a rear seat cover for your car, you should check the rules of the state you live in.
This is also important if you travel across states. Make sure that you are obeying the rules of all the states you drive through.
Sometimes it is easier to settle your pooch in the back for the whole trip, rather than changing him around and confusing him.
Be aware that in some countries the dog is not permitted to travel in the front seat either and must be safely secured in the back.
Neither should the dog be able to reach all the way to the front seat in case he distracts the driver. It pays to make sure of these regulations before setting out on a journey.
3. Sunshines Union Dog Seat Cover
You'll notice right away that this seat cover comes made in one piece of fabric, instead of being stitched together in parts. This means that there are no stitches to break or seams to rip apart, so the cover is sturdier.
The cover is 55.11" wide and 59.05" long, so will fit most standard cars and SUV's.
The fabric is 100% waterproof and can be quickly wiped with a damp cloth, should there be any 'accidents' as you travel.
The cover is stable and non-slip, having a net on the back to keep it firmly in place. There are a further two anchors to keep it secure, as well as covered flaps for the seat belt attachments to come through.
The also cover comes with an additional seat belt for your dog.
There are two side flaps to protect the doors of your car. These close with zippers so they stay in place while you travel.
The zippers can easily be opened to let your dog out. In the middle of the cover there is a zipper, so the cover can be folded to allow a passenger next to your dog.
Easy to install, easy to remove, and easy to clean, you will agree that the cover saves your car seats and keeps your furry friend safe as you head out on your adventures.
Final thoughts…
I've learned that there are many good reasons for having a car seat cover for my dog, not least is his safety. Just to know that Bentley is safely belted into the back seat makes travel better for both of us.
He can still stand and look out of the window, but he can't get across to the front and onto our laps.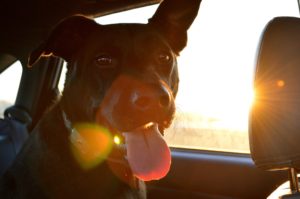 It also means that the car smells as fresh as the day we bought it, not like a damp dog. We can have people ride in the back without seeing them covered in dog hair and dribble, so the embarrassment factor is gone now.
I've also realised that cars are all different sizes and shapes, some have arm rests or extra wide benches, so it's a good idea to buy a cover which is slightly larger rather than smaller.
Just knowing that Bentley is safe when we travel, and the car will stay as nice as when we bought it makes for stress-free outings with our furry friend.
I hope that you've found some facts about seat covers to make your choice easier.
They are a really good idea, easy to install and keep your car in good condition!