Hi there, my name is Irena and I have three cats, Macbeth, who's thirteen, Hamlet who's six and Dimitris who's two.
Hamlet and Dimitris love their cat beds, but Macbeth won't have anything to do with his. He prefers to sleep on work surfaces and nothing I do will persuade him to do otherwise. Still, two out of three isn't bad.
Cat beds come in all sorts of shapes, sizes and colors. Your cats won't mind what the color of their beds is so choose one to match your décor.
Some beds come with high sides, others with hoods and others have low walls. In this case your cats may have a preference.
How to Choose the Best Cat Bed
Size
The most important factor in choosing a cat bed is getting the right size. You don't want to get one that is too big as most cats like to feel secure and cozy.
On the other hand, don't choose a bed that is too small as your cats probably won't use it. It isn't comfy to have your head hanging over the side of the bed.
To be sure that you are getting the right size, measure your cats from their heads to the base of their tails. Add on a few inches and you'll be able to buy the perfect cat bed.
Perhaps you have 2 cats who like to sleep together. In that case, measure their widths as well. If you have kittens they will probably all want to sleep together.
Ease of getting in and out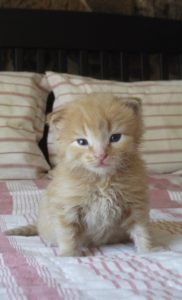 The next thing to consider is how easy it is to get in in the bed. If you have older cats or kittens, don't get a bed with high walls as your cats will struggle to get in.
Get a bed with low sides or one which has high walls, but a lower entrance.
However, adult cats might like a bed with high sides or a hooded bed as this creates a den-like appearance which makes cats feel secure.
Type of fabric
The type of fabric the cat bed is made out of in also important. You are best going for natural fabrics like cotton or wool as they are comfier for your cats rather than synthetic materials.
However, some synthetic fabrics are hypoallergenic so if you find that your cats are allergic to natural fabrics, this will be the way to go.
Machine washable
Choose a bed which is machine washable. Like humans cats get dirty so you will need to wash their beds. Some beds have removable covers which makes life easier.
By washing their beds you can keep fleas at bay and combat allergies as well as eliminating nasty odors.
Heated or not
Another choice to be made is whether or not to get a heated bed or not. Cats like to be warm; mine are always sitting by the radiators in the winter.
There are quite a few different types of heated beds to choose from; ones powered by electricity, some you just heat up in the microwave and others trap the body heat of the cats.
Heated beds are very useful if your cats have joint problems like arthritis and there are special ones just for this purpose.
Where is the Best Place to Put Your Cat Beds
So you've bought your cat beds. Now comes the decision as to where is best to put them. It's not unusual for cats to take one look at their beds and then walk away in disdain only to jump into an empty box.
Well, the first thing to do is put the beds in their favorite sleeping places. Perhaps put a few treats in the bed to encourage them to use the beds.
If they have favorite toys, they too could go in the beds. Perhaps spray a little catnip in the bed. They won't be able to resist going in. Always praise your cats when they do go in the beds and give them lots of strokes.
The place where their beds are should be warm in the winter and cool in the summer. If they feel comfortable they will be keener to use their beds.
The place should be quiet and not situated somewhere like next to a tumble drier. If you have more than one level in your house consider getting beds for each level so that they can be comfortable wherever they are.
Top 3 Best Cat Beds for Kittens
1) Iaamei Cat Bed House, Cat Tent Bed
This cat bed is perfect for kittens as it is small and enclosed so your kittens will feel safe and secure.
The outside and bottom of the bed is made from water-resistant polyester so you don't have to worry if your kittens have an accident.
The inside of the bed is made from soft plush which is very comfortable. There is a raised rim, but it's not too high so your kittens shouldn't have a problem getting in and out of the bed.
The raised rim has the advantage of creating a secure environment for your kittens. There is a removable plush cushion which can also be used as a bed.
In the summer you can remove the cushion to stop your kittens getting too hot. There is a bamboo mat on the bottom which is very cooling. When winter comes, put the cushion back in.
It works as a self-warming bed so your kittens will be very cozy. The igloo folds down so it can also be used in this way as a bed.
The bottom is non-skid so you don't have to worry about the bed flying all over the room when your kittens jump in. The bed is easy to clean.
Just put it in the machine on a cold wash and hang out to dry on the line. Don't tumble dry it as it could shrink. It is best to wash it every 2 weeks.
2) Frisco Foldable Canopy Cat Bed, Sandy Beige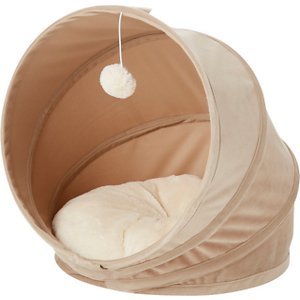 This bed is made both for sleep and for play which is ideal for kittens.
It is a hooded bed so is very cozy and it also has a soft toy ball which your kittens can play with after they have woken up from a snooze.
It has a low rim so it's easy for your kittens to get in and out of it. There is a removable cushion which can be washed in the machine so your kittens will be able to have a clean environment.
The bed is made from a silky soft fabric so it will be very comfortable for your kittens. The frame of the bed folds down so if you are travelling with your kitties it's easy to take the bed with you.
3) T. Manufacturing Mysterious Mini Kitten Kuddler Cat Bed
Now this bed is ideal for kittens as it's tiny; less than 10 inches long. It is made out of soft polyester which absorbs and holds heat so your kittens will be nice and warm throughout the cold days of winter.
In addition it traps dust, flea dirt and dander. It can be machine washed, but don't tumble dry it.
Just hang it out on the line. It's fun for your kittens as it unfolds into a play tunnel.
They will be able to play to their hearts content and then relax in the bed.
It is made out of recyclable materials so you are being environmentally friendly if you buy this bed. It is also non-toxic and non-allergenic.
Top 4 Best Large Cat Beds
1) Cat Bed Round Pet Bed for Cats, Kittens, Puppies and Small Dogs
This cat bed is 18 and a half inches long so will be the right size for your large kitties up to 15 pounds in weight.
It has a raised rim which won't be a problem for your large cats getting in and out.
This also creates a sense of security and a comfy place for your cats to lay their heads. The bed is very comfy and soft.
It has a plush interior and a faux suede exterior. Because it is so soft it will give relief to cats that have arthritis.
You can wash the whole bed in the washing machine, but it does also have a cushion cover which you can remove for washing.
It has a waterproof bottom so if any accidents occur it won't be too much of a problem.
The bed is an attractive addition to your home as it has 2 ears so looks like a cat. There is also a soft ball toy for playtime.
2) Petfusion Ultimate Lounge with Solid Memory Foam Dog and Cat Bed
This bed comes in sizes from small to jumbo so it won't be difficult to find one that will fit your larger cat.
It has a memory foam base which is very comfortable. The large and extra large beds have 4 inches of memory foam while the jumbo has 6 inches.
There is a waterproof liner which is useful if your kitties have accidents. The cover is anti-tear and can be removed and put in the washing machine.
It has polyfil bolsters which give extra support. They are recyclable which is an added bonus. The cover is made out of cotton and polyester twill and is very soft against the skin of your cats.
3) Aspen Pet Self Warming Beds
At 19.5 inches, this bed is perfect for your large cats. It has a plush corduroy exterior which is great for cats who like to burrow.
There is faux lambswool in the interior which will be very comfortable for your cats. A great advantage of this bed is that it is self-warming in the same way that space blankets are.
The interior layer reflects the heat from your cats and so keeps them cozy and warm throughout the winter.
The bottom of the bed is non-slip so it stays where it's put and you won't see your cats hurtling through the lounge in their bed!
The bed doesn't weigh very much so it is easy to take it with you when you travel.
It's not machine washable, but you can wash it by hand so your cats won't have to sleep in a dirty bed which will attract fleas.
The bed comes in 3 different colors so you are bound to find one that suits your décor; brown/cream, navy/cream and red/cream. You can also get the bed in different shapes to this round one.
4) K & H Pet Products Self-Warming To Tone Lounge Sleeper Pet Bed
This bed is 20 inches long so there is plenty of room for your larger cat. It's available in 3 colors so you are bound to find one which fits in with your furnishings.
This is another self-warming bed which is made for use inside, not out in cold winter temperatures.
The pillow has a layer of insulation which gives out warmth which comes from your cats' bodies.
The outside of the bed is made from poly-cotton while the inside is made from fleece which is very comfortable for your cats.
The bottom of the bed has non-slip fabric so the bed will stay put. It is very ecofriendly as it is filled with polyfil which comes from recycled plastic bottles.
The bed can be washed in the machine with cold water. Hang it out to dry or dry it in your tumble dryer on a no-heat cycle.
Top 3 Best Cat Beds For Older Cats
1) Pedy Pet Bed, Orthopedic Cats & Dogs Self-Warming Plush Cushion Bed
Here is a bed made especially for older cats that have joint problems. It is round and cozy, offering protection. Your cats won't fall out of this bed and hurt themselves.
The bottom is waterproof so little accidents your older cats may have shouldn't be a problem.
The bottom is also non-slip so your cats will stay put once they get into the bed. The bed is made from hypoallergenic materials so your cats should remain allergy free.
The outer fabric is PV velvet which is environmentally friendly so you can rest assured that you are doing your bit for the planet.
This bed will support cats up to 25 pounds so is suitable for your larger cats as well. You can hand wash this bed or machine wash on a cold cycle. Hang it out to dry on the line.
2) Furhaven Faux Sheepskin Snuggery Orthopedic Dog & Cat Bed
This is a very different type of bed which is made for cats who like to snuggle. It is like a blanket although it does have a plastic hoop to keep the top up if you want.
It has an orthopedic foam mattress which helps with joint problems in older cats.
The bed is made out of soft material which is very comfortable for your cats and it's fully lined with faux sheepskin which will give your older cats lots of warmth.
You can remove the cover and wash it in the machine on a cold wash. Hang dry. The bed comes in 2 sizes, 26 inches and 35 inches so it will suit larger cats who like to burrow as well as elderly cats.
3) Furhaven Comfy Couch Orthopedic Sofa Dog and Cat Bed
This bed looks like a sofa so your elderly cats will be living in the lap of luxury. It comes in all sorts of colors to suit your décor and many sizes so it will fit any size of cat.
The bed has orthopedic foam which will help if your cats have arthritis. The sides are bolstered so your cats won't be able to fall out of the bed.
The inside of the bed has plush faux fur which will be very comfy for your older cats. The base is water-resistant and is easy to spot-clean.
When it comes time to clean the bed there is a removable zippered cover which is machine washable.
Final Thoughts: Best Cat Beds for Kittens, Large and Older Cats!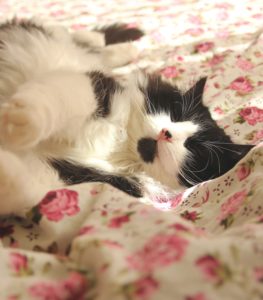 I bet you didn't think that there were so many different cat beds out there. I certainly didn't until I started looking into them.
The most important thing to consider is the size. If it's too big your cats won't be cozy and warm. If it's too small they won't be comfortable if they're hanging out over the sides of the bed.
Make sure that the sides aren't too high if you have kittens or older cats as you don't want them to struggle to get into their beds.
It would probably put them off going in them anyway. Make sure that the material used is comfy for your cats as again they won't use it unless it is comfortable.
Also choose a bed that is washable as cats are very clean creatures and won't like a dirty bed. Now, I'm off to see if I can persuade Macbeth to use his bed!
More Cat articles:
Top 10 best indoor Cat litters for effective odor control
Top 12 best Cat trees and scratching posts for large cats