If you own a ferret, then you know that, while their personalities are unique and differ, one thing's for sure for almost all ferrets: they love to play.
Whether they're dooking, burrowing, or running around your house, ferrets love being active and having fun. They also love exploring new places.
Investing in a playpen will allow your ferret to roam about and play whether they're inside or outside without you having to worry about them going so far.
However, playpens aren't created equal, and it's important to choose one that fully meets your ferrets needs. In order to help you pick the best playpen, here's a guide to the top 10 best playpens for ferrets.
Why Should you Buy a Playpen for Your Ferret?
There are a few main reasons why playpens are a great investment to consider for your ferrets, even if you already have them a nice cage.
Fun
Like mentioned above, ferrets love being able to be active and move about freely. They love to explore and dig and play. A playpen will give them this freedom while also keeping them in one area.
Ferrets can get bored pretty quick if they're left in just one new place with no new smells or sights.
A bored ferret is a sneaky ferret, and you may catch them trying to escape if they haven't been out for awhile.
A playpen will allow you to move them to different locations often while also keeping them safe.
Whether you want to place them in a new area in the house or in the yard, having a playpen will give your ferret the freedom to explore, without leaving them fully exposed to their environment.
This is especially true if you invest in accessories such as canopies which will provide shade and protection from birds.
Safety
Safety is one of the biggest reasons to invest in a playpen. While ferrets are strong hunters, they're still prey to many large mammals like coyotes, bobcats, and badgers as well as birds like hawks and eagles.
They also may run away if let out. A playpen will allow you to still give your ferret freedom without having to worry so much.
However, while constant supervision isn't required, you still need to keep an eye on your ferret.
Never leave them unattended in a playpen, especially for long periods of time.
Now since you know exactly why a playpen is a great investment for you and your ferret, to help you pick the very best one, here are the top 10 best playpens for ferrets.
Top 10 Playpens for Ferrets
1) Tespo Pet Playpen
This easy to install playpen has become quite popular with social influencers due to the minimalist aesthetic of the translucent panels that allow up to 20 square feet of space for your ferret.
The panels can be rearranged, allowing you to adjust the size and shape of the playpen so that it will fit in any environment.
It also has an anti-slip mat pieces to help keep everything in place once you have it set up while also protecting your floors from scratches.
The only thing to keep in mind when purchasing the Tespo Pet Playpen is that the corners feature small gaps that an especially cunning ferret could escape from.
However, this is an easy fix as you can purchase stakes that will secure this area.
You will also need to make sure that you properly utilize the included zip ties to secure your playpen, otherwise it could easily fall over and allow your ferrets to escape.
2) Marshall Small Animal PlayPen
The Marshall playpen is a popular option for all small rodents – everything from rabbits to chinchillas to, you guessed it, ferrets!
It has an easy assembly with no tools required, meaning that setting it up and taking it down is a hassle free job.
The barred panels create over 12 square feet of play space for your ferret while also allowing for adequate air flow.
You can also purchase a matching playpen mat and matching cover to make traveling and long term setups more comfortable for your ferret.
It also has plenty of room for anything your ferret may need, such as a litter box, bowls, and toys.
While most praise this playpen as highly secure and extremely safe, some reviewers have said that their ferrets have been able to learn how to work the locks and latches.
In these cases, the owners said that using zip ties or other locking mechanisms have solved the problems.
3) Ware Clean Living Small Animal Playpen
This playpen is made of 8 large panels constructed out of chew proof and waterproof wire to ensure the safety and security of your ferret while they are playing.
If you're concerned that this won't provide enough space for your ferret and all of their belongings, don't worry – you can connect multiple Ware Clean Living pens together to increase the amount of available space so you can include your ferret's toys and equipment.
You can also purchase a matching canvas piece which can be used either as a mat to protect your floors or ferret's feet outside or as a covering to provide shade and protect your ferret from the elements.
This pen is better for inside, as, with enough effort, your ferret could climb out and escape.
However, if you plan on using it inside and with supervision, such as when you are cleaning out their main cage, then this is a good, inexpensive purchase.
4) MidWest Homes for Pets Small Animal Pen
This small, inexpensive pen is perfect for playing and exercising small animals such as ferrets, gerbils, and even rabbits.
This pen is made of six epoxy-coated panels made of durable bars that provide just enough room for your ferret to roam and play.
It has a quick and easy assembly with no required tools, and, when it's time to put it away, it folds flat to make storing and traveling convenient and easy.
This playpen, at 6 square feet, is on the smaller side, however, so if you're looking for a play pen for multiple ferrets, you may want to consider an upgrade.
This playpen also comes with a 1 Year Manufacturer's Warranty. While this playpen can be used inside or out, due to the height of the walls, it is important to keep an eye on your ferret to make sure that they do not climb or jump out.
5) ToysOpoly #1 Premium Pet Playpen
This spacious playpen offers full security and safety while also allowing your ferret to roam and play.
Built like a tent, it contains zipped entries and a floor and ceiling to protect your ferret from the elements if you choose to put them outside.
The mesh panels allow them to smell and interact with their world, even if they are confined. The only thing to keep an eye on is the reduced ventilation.
While the mesh panels do allow for some air flow, it is still important to monitor your ferret's condition.
Make sure your ferret has adequate water, and don't allow them to stay outside in extreme temperatures for a prolonged amount of time.
6) Idepet Small Animals Cage Tent
The Idepet small playpen is another fully enclosed, tent-like playpen, but, due to the mesh design of this one, it offers a different amount of both debitliation and protection.
This playpen is mostly constructed of mesh, keeping your ferret confided and safe while also offering adequate ventilation. However, due to the fact it is mostly mesh, there is not as much shade offered.
Setup and clean up is easy thanks to the convenient tool free design that allows for easy folding.
It is important to remember that this playpen, like all mesh or canvas playpens, is not chew proof.
This means that, if your ferret has a tendency to be a biter, you may want to choose a wire or plastic cage instead.
7) PawHut 87" x 41" Outdoor Metal Pet Enclosure
The PawHut Outdoor playpen is more of an enclosure than a playpen.
Designed to resemble a chicken coop, this large playpen will keep your ferrets – and other smaller animals such as hamsters, chinchillas, rabbits, and even chickens – safe and secure while they enjoy some fresh hair and sunshine.
The galvanized metal frame is sturdy so that you don't have to worry about damage or maintenance, but it is also light enough that you can move it around should it need to be relocated.
The large door makes cleaning and interacting with your ferrets easy, and it's spacious enough that you'll have plenty of room for everything they could need.
8) Pet Camping Tent Playpens
This popup mesh tent is perfect for supervised play sessions outside with your ferret.
Fully enclosed with mesh with a mat bottom, this playpen is perfect for keeping your ferret ventilated while also allowing them to enjoy outside or the inside of your home.
Assembly and putaway is extremely easy, with no tools required. Like with all tent-based playpens, make sure to keep an eye out for your ferret when using this playpen.
The mesh is not designed to fight off the sharp teeth of nibblers, and, while your ferret will be ventilated with plenty of fresh air, the mesh does not protect them from sun exposure.
9) PETMAKER Portable Pop Up Pet Play Pen with Carrying Bag
This tent style playpen is available in two colors – either blue or pink – and is designed so that you can wash it with a damp cloth.
It compresses easily and fits into the included carrying bag, which is described by one consumer to resemble a large laptop bag, so that traveling with your ferret is a breeze.
The door can roll up and stay held by velcro, meaning that this playpen also makes a great enclosure or resting spot for free-roaming ferrets.
10) KOUSI Small Animal Pen Indoor Fence
This sturdy indoor playpen is made of 12 clear plastic panels that are fully customizable, allowing your ferret to roam and play anywhere.
Assembly is hassle free, and you can even combine multiple KOUSI playpens for a large space and more customization options.
It's waterproof and the stainless steel parts are rust resistant, so you don't have to worry so much about wear and tear or regular maintenance.
The sleek, minimalistic design also makes sure that this playpen isn't an eyesore, so you don't have to feel bad about leaving it up all the time, even when your ferret isn't playing in it.
Top Pick
Taking price, craftsmanship, versatility, and safety into consideration, it's obvious that no playpens are created 100% equal.
Keeping that in mind, my top pick for ferrets playpens would have to be the Tespo Pet Playpen.
Since this pen is designed for a multitude of small animals, including puppies or small breeds of dogs as well as other rodents such as gerbils, rabbits, polecats, and hamsters, I think it is the best designed to house ferrets in the most secure way possible.
I also feel like the fact that the size and shape of the cage can be changed is extremely useful, especially if you plan on moving it often.
The clear paneling keeps your ferret safe while also making them feel like a part of the family, and, even though it is not the most inexpensive option of this list, it is still budget friendly.
Final Thoughts: Best Playpens For Ferrets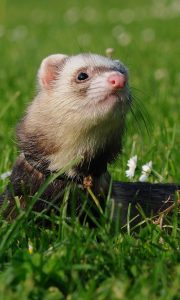 No matter which playpen you end up purchasing, investing in one that is made of quality materials is important to make sure that your ferret stays as safe as possible while playing and exploring.
Playpens that feature extra accessories such as canopies to provide shade are also something important to consider, especially if you live in warm, sunny places or plan to leave your ferrets outside for a long time.
Playpens are an investment in your ferret's happiness and overall well being, and, while they may be able to tell you, they'll certainly be thankful for the freedom to run and play just like they do in the wild!
Check out more about Ferret below:
What do Ferrets eat in the wild
8 different Ferret colors and patterns