Getting a new pet is an exciting time for anyone. You are bringing a new companion into your home that is sure to bring you love and joy!
However, when you bring a new pet into your life it is so important to make sure you have everything you need to give your new friend a happy, healthy home to thrive in.
Hi pet parents! My name is Bri, and I am a proud dog mom of my rescued American Bulldog and Pitbull mix, Bruce.
While I consider myself a (crazy) dog person, dogs are definitely not the only pets that make life better (although they're still my favorite).
New pets come in all shapes and sizes, furry, scaly, feather, or slimy, they each bring something special to their owner's home. One very common furry little friend is the ferret!
Ferrets may not be for everyone (definitely not for me since Bruce likes to chase little furry friends), but they do make great pets for the right person.
Ferrets are extremely affectionate and are well known to bond quickly with their owners.
They are a playful, mischievous creatures who require lots of human interaction and play time to stimulate their curious little minds.
Like any other new pet, ferrets have special requirements to make sure they're in the best environment. To make your home ferret friendly, you will need:
A carrier
A cage
Food and treats
Nest box
Hammocks or sleep sacks
Food dish
Water bottle or bowl
Litter box with litter and scooper
Separate play pen
Let's get into the best products and setups for your new ferret!
Best Carriers for Ferrets
A common mistake people make when getting a new pet is not purchasing something to take it home in. Usually this can be resolved by simply holding the pet, but this may not be the best idea with a ferret.
Ferrets can be skiddish around people they don't know and have pretty sharp little claws. Plus, the stress of moving to a new environment can be scary for them.
It is best to take a carrier with you when you go to pick up your new buddy. These can also be used in the future, when moving your ferret around!
There are several different pet carriers that would work for a ferret. You want something small, so they aren't bouncing around in the carrier, but large enough that they have some wiggle room.
Let's take a look at some of the best carriers for these little guys (and gals):
      #1 The PetAmi Premium Pet Carrier.
This is a backpack style carrier that is perfect for transporting small animals like ferrets.
It includes ventilated sides so your pet gets fresh air and can see what's going on around them.
Plus, the inside is padded for comfort and includes a collapsible water bowl.
Another unique addition to this carrier is that it includes a little strap on the inside that you can attach to a collar or harness as an extra safety precaution incase your pet were to escape.
The carrier is about 11.5 x 9 x 16 inches, giving plenty but not too much room. It also has a solid base to support your pet.
      #2 Premium Airline Approved Expandable Pet Carrier by Pet Peppy.
Wanna spoil your ferret? This carrier would give Cinderella's castle a run for its money.
This awesome little carrier has two expandable sides to give your ferret extra room to run around.
They zip down from the outside, and none of the zippers are accessible from the outside so you don't have to worry about your pet wiggling their way out.
is also a ton of storage in this carrier for toys, treats, water, or food.
      #3 PetAmi Premium Airline Approved Soft-Sided Pet Travel Carrier.
This cute little carrier is perfect for any pet the size of a small dog or smaller.
Its duffle bag style makes it super easy to carry and comes with ventilated sides for your pet to enjoy fresh air.
Plus, there are two sets of handles so you can carry it however is most comfortable for you.
There are safety buckle zippers and a safety strap inside to make sure your pet stays securely and safely inside the carrier.
It's also airline approved, so you can take your ferret wherever you go!
Best Cages for Ferrets
Once you get your new friend home, he's going to need somewhere to sleep. A cage is vital to any small animal, and ferrets are no exception.
When looking for a cage, you'll want to make sure you get one that gives your ferret plenty of play room. Also, you'll want to consider how much stuff you'll have to put in the cage, such as water bowls and a litter box.
There are countless options when it comes to ferret cages, including your standard single level metal cage, and even some multi-story cages if you really want to get fancy.
No matter what cage you get, remember to keep your ferret's cage clean and dry. This is vital to their health! Let's see some of the best cage options for a single ferret home:
      #1 Yaheetech Ferret Cage.
Holy cow… or ferret… this cage is the Ritz for furry friends! With six levels, your ferret will never get bored in this cage.
There are three doors, all at different heights for easy access to your little fur ball.
The iron frame is durable and sturdy, standing at 51 inches high.
     #2 Living World Deluxe Habitat.
If you're looking for something a little subtler but still high quality, this is a great option.
This cage comes with a balcony with an access ramp, a food dish and a hideaway space under the balcony to help your ferret have a safe space to hide in when they need to.
My apartment doesn't even have a balcony. This is luxury people!
The extra-large cage size is recommended to give your ferret lots of room to run around.
      #3 AmazonBasics Pet Habitat.
This is another smaller, but great option for a ferret home.
This one also comes with a ramp to a balcony and a hideaway space underneath.
Plus, you get a water bottle and a non-tip food bowl!
No tools necessary for assembly makes this little home easy to build – a no brainer!
Best Food and Treats for Ferrets
Obviously, food is essential (if you ask Bruce, so are treats!). Ferrets are carnivores (meat eaters) and rely on a high protein diet.
Many ferret owners recommend treats like scrambled eggs, raw chicken, beef or lamb, and even frozen mice (uhhh no thanks).
However, if you prefer to feed your ferret kibble food and treats, there are plenty of options!
      #1 Wysong Ferret Epigen 90 Digestive Support.
This is a dry ferret kibble with natural ingredients and nutrients to keep ferrets happy and healthy.
The first couple ingredients on this food are chicken meal, organic chicken and chicken fat – yes please!
These healthy ingredients are high in protein which is just what a ferret needs.
    #2 Marshall Bandits Premium Ferret Treats.
This multipack of flavored treats is great for little ferrets.
Once again, the first ingredients include chicken and chicken fat.
High protein is key, and these treats have it!
      #3 N-Bone Grain Free Chicken Soft Ferret Treats.
I love natural options for my dog, and ferrets are no different!
This treat is made of great ingredients, such as chicken (first ingredient) and sweet potatoes (second ingredient).
If you're anything like me, it's not enough to just feed my pets – they need treats too!
Best Cage Accessories for Ferrets
There are countless options for decking out your ferret cage. Some of the essentials, however, include a water bottle, food bowl, sleep sack, and litter box.
These are basic essentials to give your ferret a happy home.
Let's look at some options:
   Best Water Bottles for Ferrets:
Pretty standard here, but there are a couple different options that will work well.
       #1 Choco Nose No Drip Bottle.
Here we have a mini water bottle that's the perfect size for little ferret faces!
The bottle has a "user friendly" screw on bracket, which makes for simple and easy installation!
This is a great water bottle option to keep your ferret hydrated.
      #2 RentACoop No Drip Water Bottle.
This is a small water bottle that is leak-proof and attaches right to the side of the cage!
The design makes refilling the water bottle easy.
   Best Food Bowls for Ferrets:
Most cages come with a food bowl, but if you buy one that doesn't or just want a different one, here are some great options:
      #1 Mkono Plastic Cage Feeder.
This cute little bowl is perfect for ferrets and comes in cute colors!
It attaches to the side of the cage, so you don't have to worry about messy spills.
Can someone make a no-mess dog bowl please!
      #2 Living World Lock and Crock Dish.
Aaaand again – great choice here!
Also attaching to the side of the cage, this bowl is a convenient way to keep your ferret food in place!
The dish itself is made from a resistant, chew proof plastic, which is also dishwasher friendly.
   Best Sleep Sack's for Ferrets:
Guys. I want a ferret.
They make the CUTEST hammocks and sleep sacks for ferrets it's too much to handle!
Take a look:
      #1 Ferret Nation Accessory Kit 3.
After seeing this, I now need a ferret. This is the coolest little set up!
It has a blanket, a little hide and seek tunnel, a "cozy cube" and a hammock.
The hammock and cozy cube attach securely to the top of the cage so your ferret can hang and relax.
These ferrets are living the dream!
      #2 Marshall Pet Turtle Tunnel.
Do they make this big enough for my dog cause yes please!
The "shelf" is made from a soft and cozy fabric and can easily be added to most cages!
Give "Toby the Turtle" a look!
   Best Litter Box for Ferrets:
First off, it's awesome that ferrets can be litter box trained!
Let's look at popular ferret litter boxes:
    #1 Ware Manufacturing Plastic Scatterless Lock-N-Litter Small Pet Pan.
It's a durable, stain and odor resistant material that locks to the side of the cage to prevent your ferret from overturning it.
It's easy for you to clean and for them to use!
      #2 Interpret Limited Superpet Hi-Corner Litter Pan.
This litter box comes in fun colors and is super basic and simple.
It also attaches to the side of the cage, so "hopefully" no messes!
The litter pan is made from plastic and in the US.
Best Toys for Ferrets
Ferrets are very playful and love to chase and play with toys.
Here's some great ferret toys to keep them busy:
      #1 Pet Pizaaz Wool Ball Toy.
These are so simple but perfect for playful ferrets.
A 6 pack of small, wool felted balls that are safe and natural.
They have an interesting pattern, which should keep your ferret entertained!
      #2 Niteangel Small Animal Activity Toy Rope Net.
This will keep your ferret healthy and entertained!
This rope net can be attached anywhere in the cage to allow your ferret to climb around on!
You could even get a couple and make a rope bridge across your ferrets cage.
Best Playpen for Ferrets
It's always good to take your ferret out of the cage to let them have more room to play. This is also a good chance for you and your ferret to bond.
You should always take caution when having a small animal roaming free in the house because it's easy for them to get lost, so playpens are a great solution.
Here are some great playpen recommendations:
      #1 ToysOpoly #1 Premium Pet Playpen.
This is a fantastic playpen for small animals.
It can be placed in a large room or even taken outdoors!
This playpen has zipper doors, large ventilated sides and plenty of room to run around with all their favorite toys!
      #2 Ruff 'n Ruffus Portable Foldable Pet Playpen.
This playpen is another great, portable option for your ferret.
It comes with a carry case and a portable food bowl making it perfect to travel with!
This playpen can also be used in or outside.
Final Thoughts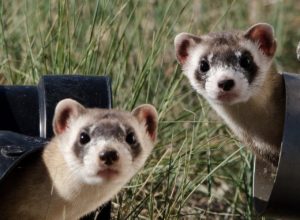 No matter how much you want to spoil your ferret, there are hundreds of options to help you do so.
I hope this information helps you create the perfect home for your new fur baby!
If you have any questions, or comments, please fell free to leave them below.
Happy pet parenting!