I kid you not; I remember the first time that I saw a ferret on a leash. I was walking along a paved path by a lake in Coeur'd Alene, Idaho, and I came across this long, thin, catlike creature, only it wasn't quite a cat.
At that time, I had no idea that a ferret could be a pet, especially a pet that could be walked on leash like a puppy. How cute!
Years later, I had a sister-in-law who kept ferrets as pets, and by that time I was better adjusted to the idea.
What shocked me, however, was that every time I would go to said sis-in-law's house, her ferrets would either sleep soundly for hours or be out of their cage and into everything…everything!
All the nooks and crannies in the house were their hiding places and all the furniture and ledges were their climbing walls. I never knew where I would find one.
I could always count on there being something new for the ferrets whenever I'd visit as well – a playpen, a ball pit, a hammock, tunnels set up throughout the house, and lots of little balls and rolling around.
Actually, I had seen similar activities for cats and gerbils, but the ferrets were equally adept at all of them. These furry friends are super intelligent, and when they are not sleeping for hours on end, they are busy.
Keeping Ferrets Occupied and Challenged
If you're going to have a ferret as your furry little sidekick, you'll need ways to keep them occupied, to challenge them (their brains want to work), and to keep them out of mischief.
Yes, you will need to ferret proof your home and hide anything that you value. They will run off with your watch, earrings, and anything else they can get their claws on.
They absolutely will dig in your houseplants, and if there is anything squishy and small enough to fit in their mouths, you can count on them swallowing it.
Have you ever beamed a laser or flashlight on your floor for a cat to chase? Ferrets will do that too. The challenge of chasing and catching the light is always an exciting one.
Ferrets are Smart Sidekicks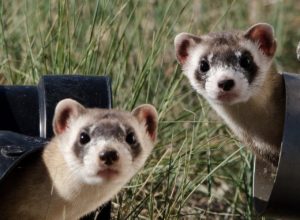 Ferrets are intelligent. Let's just be real – they could figure out a maze faster than I could, and I consider myself to be pretty clever.
They are inquisitive, which is captivating to watch. Watching ferrets play is a treat for us human folk; however, they are challenging.
Our pets may entertain us, but we cannot forget about entertaining them. They like to run around, exercise, and be challenged. Ferrets are active, and they love to play.
They might even want to you carry them around with you or take them for walks. Just don't let them get away.
Because ferrets are intelligent, they can get easy bored if they are not getting the necessary stimulation, or if they play with the same toys over and over gain.
Keep a variety and toys for your ferrets, and when they get bored of one, put in away and bring out something new to keep their minds working.
Not all Ferrets are Alike
My sister-in-law's ferrets were opposite of each other.
One was so playful and a great companion, but the other did not want to be bothered, and he would bite or scratch if someone tried to pick him up. He also slept much more than the other.
Ferrets do require a bit of training, and sometimes they are able to occupy themselves more when there are two or three of them.
Activities to Avoid With a Ferret
Before I look at the best entertainment and toys for ferrets, I should address the worst. First and foremost, you will want to ensure that your ferret is safe. If your ferrets are going to be out and about in your abode, be sure to supervise them.
If an item is small enough and squishy enough to end up in your ferrets mouth, it will end up in your ferrets mouth, and then it could potentially get lodged in your fur baby's gastrointestinal tract and lead to obstructions.
Make sure the play area is picked up and that all unsafe items are put away. Ferrets also like to dig and chew, so if you have a pair of shoes or socks that you want to remain intact, they should be hidden as well.
You Have a Ferret: Now What?
Now you have a ferret, or you're considering bringing one home, but you're wondering what to do to keep it entertained that won't involve them running off with your possessions and tunneling into whatever small space they can squeeze into.
You also want to know how you can provide them with stimulating activity and exercise while giving them a cozy nook to snooze in. You are going to want to invest in some entertainment for the ferrets.
The good news is, many of the items that you'll find for cats, dogs, rats, and guinea pigs are also great for ferrets, and the ferrets will pretty much sleep anywhere.
Ferrets natural instincts are digging, tunneling, hunting, and sleeping. Toys that will stimulate them in these ways will be the most interesting for them.
Five Best Toys for Ferrets
        1. Marshall Pet Products Super Thru-Way
This item is about as simple as they come, but this tunneling toy is a must have for a ferret owner.
The tunnels are see-through, so you can even watch your ferret work its way from one end to the other.
This product is durable, is made with high quality materials, and it expands up to 15-feet for ferrety fun.
These tunnels are flexible enough that you could even attach a couple of them.
Watch your ferret travel through this tunnel, and simply use Dawn dish soap to clean it.
2. Ruff'n Ruffus Portable Foldable Pet Playpen
This is one of the items that my sister-in-law had, and her ferrets loved it!
She could sit and watch them play (throw in a few toys for extra fun) or go do some chores without having to worry about the ferrets getting into everything.
This also includes a bonus carrying case (ferrets love to be carried) as well as a collapsible travel bowl.
It is water resistant and can be used both indoors and outdoors, which means you can even take your ferret to the park or in your backyard.
Ferrets spend a lot of time in cages, but this item can be used as an exercise kennel and is fantastic for traveling.
The playpen has a zippered door for easy in and out access and a removable, mesh roof. There is also no assembly required, which is always a bonus.
3. Marshall Pet Products Pop-N-Play Ferret Ball Pit Toy
Now this toy is my personal favorite, and it would provide hours of entertainment for our furry ferret friends.
Ferrets love to jump through holes and tunnel through balls. This is a fun and interactive toy for one ferret or multiple ferrets.
The Pop-N-Play Ball Pit comes with 35 colorful balls, but you can also purchase extra ball packs for even more fun.
This item folds flat and is easy to store, plus you can attach it to furniture with its included Velcro tab, preventing it from tipping.
To add even more entertainment, purchase a thru way tunnel and attach it to the pit. Ferrets will have a great time chasing each other through this wonderland.
4. Ferret Nation & Critter Nation Accessories Kit
We have established that ferrets enjoy climbing, tunneling, hiding, and sleeping. With this toy, they can easily do all three!
This is a four piece accessory kit that includes one Cozy Cube, one Busy Body Blankie, one Hide and Seek Tunnel, and one Hammock Hideaway.
Talk about fun and convenient! If you already have the Ferret Nation or Critter Nation Habitat, these accessories are easy to install.
The Cozy Cube and Hammock Hideaway can be securely fastened to the panel of the habitat using the attached sturdy clips.
Each piece in the kit is made with machine washable fabric that comes in purple and teal. With the cozy lounging accommodations and play areas, your ferrets will feel spoiled.
I love how the hammock and cube can be attached to the top of the cage for ferrets to climb in and out of. The Cozy Cube even has a little peek-a-boo door.
5. Niteangel Small Animal Activity Toy, Rat and Ferret Cotton Rope Nets
It might look simple, for an adventurous ferret, this toy is heaven. This is a great item for keeping your ferret exercised and entertained.
It comes in either green or purple, and you could use a couple rope nets for extra fun.
The cotton rope net is sturdy, thick, and durable and has six clips that can attach to each corner so that it can be hung in a variety of positions.
It can be used as a hammock, a climbing ladder, or even racing for a couple very intelligent ferrets. Attach two or more of these and create a fun rope bridge.
This toy encourages fun and activity for your ferret, which they need. It's 13.4 inches in length and 8.3 inches in width, which is a pretty good size for a ferret, but I think I would connect a couple for more excitement.
This item can also be machine-washed, and I would recommend tumble-drying on low.
Final Thoughts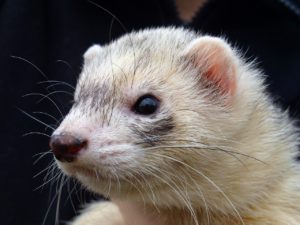 If you already have a ferret, you have probably noticed that they demand a lot of attention when they aren't napping.
If you don't already have a ferret, be prepared to plan for plenty of playtime. These animals need activity, and they will get bored without the proper stimuli.
Maybe you still aren't sure about which toys or activities are right for your little family member – that's fine! Let them run and slide on a slippery surface, or let them nibble at your toes.
If you have an old pair of boots, let them play with the laces or crawl inside, or you can even build them a maze if you're up to it.
While you're working on keeping your ferrets occupied, they'll entertain you for hours.
If you have any questions or comments, please feel free to leave them below!