When you look at a picture of ferret, weasel, and mink together, it can be difficult – if not impossible – to tell the difference.
They all have similar fur types and colors, as well as nearly identical body types.
In order to help you learn how to tell the difference, here are the qualities that make each of these members of the mustelid family special.
Mink vs Ferret
Ferrets and minks share many more characteristics than minks do with weasels.
For instance, both of these mustelids enjoy swimming, though minks live aquatic lives while ferrets prefer to spend their lives in the wild by the water rather than in it.
The main difference between ferrets and minks are their temperaments and places in human lives.
Both are domesticated, ferrets more so than minks, however. Where as ferrets are regarded as pets – some can even be trained to do tricks or use litter boxes!
Minks are regarded more closely to livestocks due to the fact they are kept in cages or small enclosures and bred for their soft, luxurious fur and useful oils.
They also have very different diets. Where minks like to go for larger prey such as piglets, snakes, and birds, ferrets are content with smaller animals such as insects and chickens.
Minks also like to truly eat their prey, while ferrets tend to mostly drink the blood of their caught prey.
Ferret vs Weasel
When it comes to comparing ferrets to minks and weasels, telling them apart from weasels is the hardest part.
Both animals are a part of the mustelid family, but ferrets are part of a subspecies that are derived from polecats. They are also both listed as endangered species in the wild.
Both animals have long, lean bodies and are extremely swift. However, upon closer inspection, you will notice some physical differences between ferrets and weasels.
Weasels have shorter bodies and longer tails with reddish-brown or brown coats and a white underbelly, compared to ferrets who have darker coats with less white.
Weasels have an average length of 5" to 18", though their tails can grow up to 13" long; ferrets, on the other hand, can grow up to 24".
You'll find the most differences in their behaviors and diets, however.
Ferrets, who have been domesticated for thousands of years, can be amazing pets who will love to run and play and even communicate with you through a variety of sounds.
Weasels, however, have never been widely domesticated, and they are highly unsocial animals that can be dangerous to other pets and even humans.
In fact, due to their poor temperament and lack of domestication, it's illegal to keep weasels as pets just for these reasons.
When it comes to diets, weasels definitely have the bigger stomachs, preferring to eat animals such as mice, rabbits, and snakes while ferrets, who prefer to drink an animal's blood, like insects and chickens.
Both are quick and agile hunters with a great sense of smell, though ferrets don't have the best eyesight.
Weasel vs Mink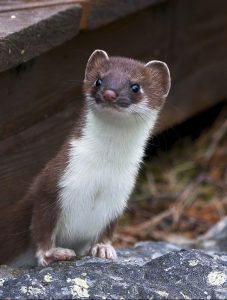 While they look the same at a first glance, there's actually some, well, big, differences between weasels and minks.
Minks can grow up to 30" inches and weigh up to 2.2 pounds while weasels, as mentioned before, only grow up to 13" and weigh only a few ounces.
Despite their length and weight, however, minks are extremely slender, with a long neck and a pointed nose that gives them a long, sharp appearance.
They also have partially webbed feet due to their aquatic nature as well as a long bushy tail.
Weasels, on the other hand, while sharing a bushy tail, long nose, and short legs lack webbed feet.
There's also a big difference in their fur coats. Minks are bred for fur, which is thick and silky and comes in either dark brown or black.
The chin, throat, and underbelly are spotted with white. Like their feet, they've developed a waterproof coat to help them survive in the lakes and rivers where they live.
Weasels lack these waterproof aspects, though their coats can come in similar colors. Some weasels also change their fur color according to the season, with some even adapting a white fur coat during the winter months.
When it comes to hunting, weasels tend to stick to smaller animals, though both weasels and minks are able to overpower and hunt prey that is large relative to their size.
A weasel's diet consists mainly of small mammals, birds, and reptiles while minks are known for hunting, rabbits, piglets, snakes, birds, moles, squirrels, and even muskrats.
Due to their aquatic nature, minks also tend to hunt for many amphibians and insects.
While neither are considered as pets, due to their fur and oil, minks are often kept as a farm animal where they are utilized in the medical, cosmetic, and fashion industries.
Weasels, on the other hand, have poor temperaments and are regarded as pests due to their tendency to steal chickens and eggs.
Final Thoughts: Ferret vs Weasel vs Mink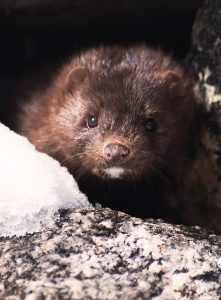 Due to the fact that ferrets, weasels, and minks belong to the same family – known as the mustelid family – they are quite similar in many ways.
However, like all animals, they're unique and have their own behaviors, diets, hunting techniques, and anatomy.
They also have different places in our lives – from beloved pets to livestocks to animals to be wary of.
These differences, with a little bit of experience, will be much easier to notice once you know what you're truly looking for.
Maybe, once you learn the difference between ferrets, weasels, and minks, you can begin to find the difference between other animals in the same family such as otters, badgers, martens, polecats – who just so happen to be the ancestors of ferrets! – and even wolverines.
Until you are able to fully tell the difference, however, be careful handling any animal you can't identify!
The last thing you want is to think you're picking up a friendly ferret when it's actually a weasel!
Thank you for reading ferret vs weasel vs mink, have a great day.