We love our dogs! But there's always that dreaded task… giving them a bath!
They've been out for a long (muddy walk) and you're thinking, "maybe it's time to give them a clean."
But what shampoo will you use? Can I use normal shampoo? Baby shampoo? Specific shampoo for my dog? We often found ourselves wondering if we were using the correct shampoo on our pooch!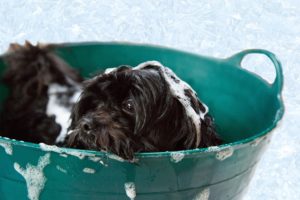 We're going to go over the question: can I use baby shampoo on my dog?
Baby shampoo is often used as an alternative to dog shampoo. Of course, we all know baby shampoo is formulated for young'uns!
Therefore, baby shampoo is designed to be sensitive on the skin and tear-free for the eyes.
But, would you use dog shampoo to bathe your baby? I sure hope not. So why use baby shampoo to bathe your doggo?
Each shampoo is designed specifically for their use.
So, while many natural dog shampoos are available now, they may not be as "natural" as you think.
Many shampoos come prepared with extra ingredients added to combat fleas, not exactly something you want to smother a kid in!
Even if your baby does have fleas, I'm not sure a doctor would recommend bathing them in dog shampoo!
So, does the same concept apply to using baby shampoo for dogs?
Can You Use Baby Shampoo for Dogs?
Can you use baby shampoo for dogs? Simply put, we wouldn't.
Is using baby shampoo for dogs, safe? Well, it can be, because of baby shampoo being the deigned for babies it should be gentle and tear-free.
However, human (baby) shampoo is designed with our PH level tolerance in mind. Human skin and dog skin vary in PH tolerance.
Whereas baby shampoo is okay for a baby's skin, some types of dogs, may not take to the acidity within the shampoo, which may have adverse effects.
Now, while using baby shampoo for dogs is can be an option, it isn't necessarily recommended.
What is Recommended is Dog Shampoo!
Dog shampoos are formulated specifically for dogs. In fact, a dog's coat can say quite a bit about the dog's overall health.
Dog shampoo is designed to help your dog maintain a healthy coat and skin. That's why we always use dog shampoo when giving our dogs a good clean!
Using baby shampoo for dogs may not offer these same benefits.
Since your pet's coat reflects their health using a dog shampoo really is the best choice.
The Best Dog Shampoo
So, the best option when giving your pooch a well deserved bath, is to use a shampoo designed for dogs.
Just like for us humans, there are many options to choose from! Do we want the best smelling? The gentlest? A natural option? Oatmeal? We'll look at different varieties below!
1) Bodhi Dog Gentle Shampoo
Bodhi Dog went above and beyond when they created their gentle dog shampoo.
This dog shampoo is the perfect mixture of gentleness and that familiar smell of soothing lavender oil. Which we all know is exactly what great nighttime baby shampoo smells like.
Having the added lavender oil is especially beneficial when it comes to anxious dogs.
Lavender oil is known for its calming effects. Which hopefully will allow your dog to relax. As well as hopefully leave you with one less battle scratch from the attempted tub escape artist.
The formulation of this dog shampoo is the perfect mix of safe ingredients, which offer many benefits.
The ingredients used are plant-based and has a hypoallergenic formula. Even dogs with extra sensitive skin can enjoy a soothing bath.
Anti-fungal properties can also be found in this dog shampoo. Which is a great resolution if your dog suffers from dandruff.
Vitamin E is another added benefit of this dog shampoo. It's added protection helps strengthen your dog's already beautiful coat.
Aloe Vera is one beneficial ingredient included in this gentle dog shampoo. If you have an itchy dog, Aloe Vera is a great way to soothe and moisturize your dog's skin.
Bodhi Dog's shampoo is a great alternative to baby shampoo for dogs. A great mixture of ingredients that are gentle, detergent-free, and paraben-free.
2) Zymox Enzymatic Shampoo Itch Relief Therapy
Zymox is a popular dog shampoo among pet professionals. Especially veterinarians and pet groomers who really trust the Zymox brand.
With a huge line of products, their natural enzymatic dog shampoo comes out on top.
So, what exactly makes this shampoo a great alternative to baby shampoo for dogs? The list of benefits is huge!
The LP3 Enzyme System, patented by Zymox, has a combination of antibacterial and antifungal properties.
Skin barrier protection. Not only does this dog shampoo leave your dog's coat clean. It also is formulated to act as a natural skin barrier protection. The best part about this? Due to its natural properties, you won't have to worry about your dog's skin drying out or becoming irritated.
No harsh ingredients. Just like the baby shampoo, you won't find any harsh ingredients in this shampoo.
Ingredients made for even the most sensitive skin. Not only is Zymox Enzymatic Shampoo Itch Relief Therapy easy on your pup's skin, but it's also gentle on your nose.
Forget about the overwhelming smell of a perfumed dog. The smell is just as pleasant as if you used baby shampoo for dogs.
Itchy skin relief. Another great benefit of this enzymatic shampoo is the itchy skin relief it offers. This isn't just due to the natural and soothing ingredients this shampoo includes.
You'll find the perfect combination of anti-yeast and antifungal properties. Which help fight two major culprits of itchy skin in dogs: yeast and fungus.
3) Bayer Hylyt Dog Shampoo
The Bayer brand offer a wide range of products, one of which is their Hylyt dog shampoo. Again, this shampoo is designed specifically for dogs.
Bayer Hylyt Dog Shampoo offers some great benefits.
The shampoo offers moisturizing qualities that are designed to leave your dog's coat smooth and shiny!
Essential fatty acids are an added touch to Bayer's Hylyt dog shampoo. Essential fatty acids encourage just the right moisture for your pet's coat and skin.
You'll find soothing properties also help brighten your dog's coat.
Dry and itchy skin relief. Watching your dog scratch all day can almost make you feel helpless. The Hylyt shampoo offers properties that help relieve itchy skin. As well as help moisturize dry skin which is often the culprit of itchy dog skin.
Great Smelling Alternatives to Baby Shampoo for Dogs
Of course, your main reason behind bathing your dog should be to ensure you are taking care of your dog's health.
But, there's no denying it that when we bathe a dog we are hoping for a great smelling dog as well!
We all know how great your pooch can smell if you decide to use baby shampoo for dogs. But, remember that dog shampoo is specifically formulated for dogs. Making dog shampoo the preferred choice when it comes to bathing your dog.
Unfortunately, there are some pretty awful smelling dog shampoos out on the market today. Thankfully there are quite a few options that are gentle and smell great, too.
1) Isle of Dogs Coature No. 10 Dog Shampoo
This affordable option is popular among pet owners. You can even find it in a trendy bottle that you will look great sitting on your shelf.
The Isle of Dogs brand offers a great combination of affordability, itch relief, and great smells that pet owners obviously love.
The pros of Isle of Dogs Coature No. 10 Dog Shampoo are as follows:
Often, we dog owners wish we could get our doggies smelling better. This shampoo offers a gentle smell that should get rid of bad odors.
It doesn't seem like it takes even the cleanest dog long to carry that smelly dog smell again. Coature No. 10 offers a long-lasting, fresh smell.
Evening Primrose Oil is well known as being beneficial for a variety of things. The oil is safe for your dog. As well as beneficial if your dog's skin is itchy or dry.
2) Cody and Odie Natural Pet Shampoo
Dog owners love the Cody and Odie brand. They carry natural pet products. One of their popular products you will love if you're looking for a great smell alternative for baby shampoo for dogs is their pet shampoo.
Cody and Odie's shampoo has a great smell. As well as some amazing benefits.
Not just for dogs. A variety of pets can benefit from the same bottle of Cody and Odie's pet shampoo. Including small animals like guinea pigs.
Lingering pet smells are the worse. Especially when they are back sometimes just minutes after you bathe your pet. Most dog shampoos just mask the smell of pet odors. (Think of the Febreeze commercial.) Cody and Odie go above and beyond by actually deodorizing your pup. Resulting in a fresh smell that lasts much longer than a few hours.
Allergy relief and anti-itch. Allergies cause a lot of skin irritation that often leads to frequent scratching. Allergy relief and a formulation that is anti-itch can be found in this formula. Which will be a great way to tackle the dreaded "dog smell".
Cody and Odie pet products are for pet owners who really want to use only the best and most natural ingredients for their pets.
This alternative to baby shampoo for dogs is everything you should have when you think "natural". Cody and Odie Pet Shampoos are vegan free and gluten free. As well as biodegradable and cruelty-free.
You will love this affordable, long-lasting, fresh smelling, and natural shampoo for dogs.
Best Oatmeal Shampoo for Dogs
For centuries oatmeal baths have been recommended for soothing relief. Oatmeal also plays an important part in helping our dog's skin, too.
When you're searching for the perfect alternative for baby shampoo for dogs you may find that a dog shampoo containing oatmeal may be a great idea. Especially since oatmeal is well-known to have many benefits.
Oatmeal benefits dog skins in many ways. One way you'll find oatmeal beneficial is that it can moisturize your dog's skin. As well as help relieve your dog if he or she has itchy skin.
Here are some of the best alternative for baby shampoo for dogs that include oatmeal and all of its benefits.
1) Earthbath All Natural Pet Shampoo
Earthbath All Natural Pet Shampoo is one of the most affordable options out there. While the price point is great, you get much more than what you pay for.
Earthbath gives you a natural pet shampoo with benefits that the shampoo can definitely back up claims on. Many pet owners and pet professionals trust and use Earthbath All Natural Pet Shampoo on a regular basis.
Below are some more pros of the Earthbath All Natural Pet Shampoo.
You'll find a dog shampoo that is truly natural in Earthbath's line of all natural pet shampoo. It's also 100% biodegradable and cruelty-free.
Of course, this dog shampoo is going to offer a great smell. With the mixture of ingredients, you can't go wrong.
Even us humans know the healing properties Aloe Vera can have on your skin. Especially if you have ever been sunburned before. Aloe vera is mixed in at just the right amount to provide your pooch with added comfort.
Earthbath's dog shampoo formula helps promote healing from where your dog may have damaged their skin due to scratching.
Having a dog shampoo with the right pH balance is crucial when it comes to achieving that long-lasting fresh smell. Ensuring pH balance makes deodorizing and cleaning the dog a breeze.
One popular way pet owners combat fleas is by using flea products that go directly onto the pet's skin. This type of flea protection is called a topical flea treatment. While most dog shampoos quickly wash off topical flea treatments, this specific one won't wash it away.
Final Thoughts
Not all dog shampoos are made the same. Just like how unique each of our dog's are, so is the care they need for their skin and coat.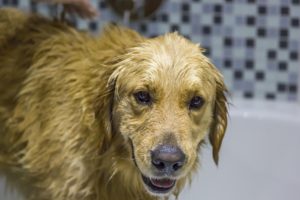 You may find one dog that can take the bites of a thousand fleas and never flinch. While their twin sister is bit by one flea and breaks out into a thousand hives and itches from sunup to sundown.
I was pretty amazed to find out that some dogs never carry around that "dog smell". Maybe my dogs just really like to get down and dirty.
While other dogs you can smell five miles away after they spend half a second outside. The cause behind this goes much further than just the coat your dog carries.
If you want your dog's skin and coat to benefit from all of the benefits a shampoo should offer, stick with dog shampoos.
As you can see, the options for safe alternatives are endless.