Hi, my name's Irena and I know that you all love your dogs as I love mine. Because of this we do everything we can to keep them healthy and happy and most importantly, safe. Losing your dog is very traumatic and you shouldn't blame yourself.
Perhaps your dog was running fast on the leash and you couldn't keep up with him. I know that this has happened with my Sherlock and I've lost the leash. Luckily, he's always come back.
Maybe somehow your dog got out of the yard. A few months ago, my garden gate flew open in the wind and Einstein got out. He was gone for a worrying two days, but did happily trot back after his adventure.
But what if your dog doesn't come back? You just have to hope that someone finds him. Of course, you should have him micro chipped, but this means that the dog has to be taken to the vet to be scanned.
A great back-up plan is an old-school method and that is putting an ID tag on him.
What Should You Put on Your Dog's ID Tag?
The one thing you shouldn't put on your dog's tag is his name. I expect you're wondering why as that seems the most obvious thing to put on.
However, while there are good people out there who want to help return a lost dog, there are some who aren't. These people could use this to entice your dog away.
People without good intentions could sell your dog or ask for a ransom. Even worse, they could use your dog for fighting.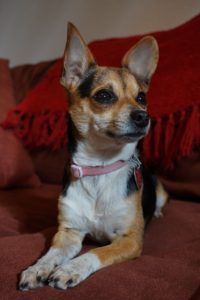 So, what are the right things to put on a dog tag?
The most important thing is your cell number so that people can call you right away if they find your dog. If you have family members who are willing to help, put their numbers on as well.
You might not be able to get to your phone, but chances are that someone else will.
If there's room, put your address. There are people who would just return the dog if he was found in the neighborhood.
It is also useful if you put down if your dog is micro chipped or not. It gives the person who finds your dog an additional way of contacting you, especially if your dog is found a long way from home.
Put down the vaccinations your dog has had, especially rabies.
This will make people feel safer. In fact in some states in the USA you have to put on certain tags like registration and rabies vaccinations.
Perhaps you could also put on a reward offer. Surprisingly not everyone likes dogs, but even these people might be more tempted to return the dog to the owner if there was financial profit.
One final touch is to add a personal message. For instance, "Thanks for finding me. My family will be worried where I am. Please contact them." This should make it more friendly and whoever finds your dog may be more inclined to find you.
You will probably find that you need more than one tag, but that causes no problems except that they may jingle a bit. If it is annoying, you could tape them together using electrical tape.
How to Attach Tags onto Your Dog's Collar
Some dog tags come with a split ring and some an S-hook, either of which can be used to attach the tags to the collar.
Sometimes you have to buy the tags and S-hooks or split rings separately.
Whichever you do, the following guide should help you to attach the tags onto your dog's collar.
Step 1
The first thing you need to do is take the collar off your dog. It will be much easier to attach the tags without the collar around your dog; otherwise he will probably want to jump up on you for cuddles.
I know my dogs would and it would be impossible to put the tags on.
Step 2
The next thing to do is to slide one end of the S-hook through the hole on the tag. If you are fitting more than one, do them all at the same time.
Step 3
Get a pair of pliers and pinch the gap between the end of the S-hook and the center, making sure that the tags can't slide out.
Step 4
Once the tags are all secure, just attach the S-hook to the D-ring on your dog's collar. Only attach the tags to the regular collar, not a training collar such as a choke chain.
If the tags get snagged on one of these, it could cause choking.
Step 5
For extra safety, pinch the mouth of the S-hook again with pliers to doubly ensure that it won't come off the collar.
Step 6 
Replace the collar around your dog's neck making sure that you leave enough space for you to put two fingers in-between the collar and neck so that he can breathe properly
The alternative is to use the split-ring. This is quite simple as you just slide the tags onto the ring as if it was a key ring. Then you fix it onto the D-ring with the same method as with the S-hook.
Now we'll take a look at some tags for sale out there as well as the clips. Hopefully this will give you an idea of what to buy.
Best Dog Tags
1. Divoti Custom Engraved Pet ID Tag w/Quick Pet Clip Combos
Here you get a split ring with a pet clip, and a customized tag.
You can just buy this without the tag if you have your own, but Amazon will personalize a tag for you.
There is also a choice of pictures on the other side of the tag.
It is made entirely of stainless steel which is much better than aluminum. Aluminum wears easily and can't resist alkalinity.
Stainless steel, on the other hand, can endure wear and tear and does resist alkalinity as well as acidity.
2. Lion Royal Dog Tag Clip – Easy Change Pet ID Tag Holder for Dogs
This includes two tag clips together with six split-O rings in three sizes.
You don't get the tags, but you will be able to fit many different thicknesses.
The clips fit D-rings which have a diameter of 0.17 inches or less.
They are easy to put on and take off, making it simple if you need to change the tags.
These clips have been tested on dogs for many activities such as running, jumping, rolling, or fetching and have proved to be secure.
The clips can hold a few tags so there won't be any problem if you want to fit a registration tag, a rabies tag, and one with contact details.
3. Stainless Steel Pet ID Tags, Personalized Dog Tags & Cat Tags
If you already have the clip to attach your tag to your dog's collar, this is a great tag to purchase.
It comes in all different shapes like a bone, heart, or star.
If you are looking for something more simple, go for the round or rectangular shape.
It is made from stainless steel which is stronger than aluminum and it doesn't wear out as quickly.
The tag is laser engraved which is long lasting and attractive.
The great thing is that they engrave on both sides and you can have up to four lines of text on each side.
It comes in two sizes, small and regular, so should suit most sizes of dogs.
4. LuckyPet Durable Plastic Pet ID Tag – Outlasts Aluminum Tags for the Same Price – Custom Engraved
If you are looking for a tag which matches up to stainless steel, try these rugged plastic tags.
They last ten times as long as aluminum tags.
They comes in lots of different jazzy colors like purple and pink, as well as more sober colors such as blue and green.
They can really brighten up your dog's collar.
You can order small, medium, and large sizes so they should suit most dogs.
If you get one too large for a small dog, it could get in the way.
In addition, there are plenty of different shapes on offer such as a bone or a bow-tie.
You get five lines of engraving on the front so you should get most of your details on it.
If not, buy another one as well!
Final Thoughts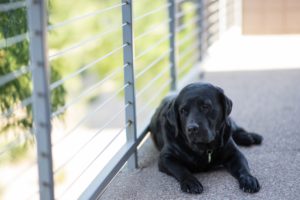 As can be seen, it's not hard to attach a dog tag onto a collar.
It'll take just a few minutes of your time and will give you years of peace of mind.
I hope my few suggestions of tags available will give you food for thought.
Remember that stainless steel or a rugged plastic are likely to last longer than aluminum.
You don't want to have to keep replacing your dog's tags because the engraving wears off.
As a final thought, remember not to put your dog's name on the tag as it could lead to them being kidnapped more easily if the culprit knows his name…