While we want our dogs to be with us all the time, sometimes we just need to leave them at home.
My name's Megan and I have an adorable pooch. Unfortunately, he can't come everywhere with me, much as he would like to.
Leaving him free in the house is a disaster! I learned this when he was a youngster, coming home to chewed and destroyed things around the house.
I knew then that it was only a matter of time before he broke something glass and cut himself. Time for anther plan – I looked into a dog house.
My friend has German Shepherd who has his own dog house, so I investigated getting one that size because my own pooch will soon be almost that big.
Why is a Dog House a Good Idea?
Well, there are two reasons to get a dog house.
1) Safety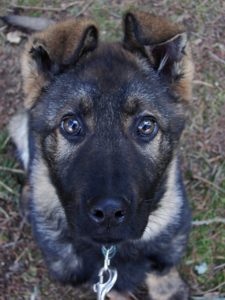 A dog house will keep your dog safe while you are out at work or shopping, or anywhere else where you simply cannot take your dog.
Your house will be in the same condition as when you left it. This means no breakages and no injuries to your pooch.
2) Rest time
It's important that your dog has somewhere he can call his own, a place where he can escape the family and bustle, take a nap, or just escape for a while.
Dog houses also reduce some of the symptoms of separation anxiety, your dog can be housed away from the elements, so you won't be faced with a wet dog when you get home after a rain storm.
Should You Get One?
It's a good idea to get a dog house if you must leave your pooch for any length of time.
It's not a good idea to leave him for great lengths of time because even dogs need to pee, and he may choose to use one end of the crate, but there will be times when your pooch just cannot come out with you.
Sometimes your dog needs to go to 'time out'. Perhaps he gets over excited and needs to be calmed down. Having his own special place will achieve this.
A dog house works well if your dog wants to have some time to himself, so yes, it is a good idea to invest in a dog house for your pooch.
Should I Cover it?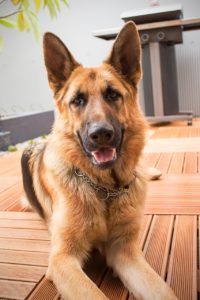 This depends on the dog. Some dogs do not like to be in the crate and covered up, while others may think of it as like a den, which is dark. Your dog will let you know whether he likes it dark or not.
Make sure you cover it with an old blanket in the beginning, in case he decides to chew it. Once you have found out if he likes being in the dark, you can invest in a better blanket for him.
There are also several options to buy a ready-made crate cover which is normally sturdy enough no to be chewed.
If you and your dog like the idea, then have a look on line and see what you can find. He may want darkness at night and light during the day, so get a cover which can be folded up and put away when not in use.
What to Look For in a Dog House
There are several things to consider before you buy your German Shepherd his dog house.
Size
Adult German Shepherds grow to a large size and the dog house needs to be able accommodate them at full size.
Your pooch needs to be able to get in and out easily, turn around, and comfortably stand up in.
You should be able to get his favourite blanket in as well as some toys to keep him occupied. It should not be too big because he may decide to use one end as his toilet area.
Material
Some materials are more durable than others, and this is something that you need to consider. Mostly dog houses are made of wood and plastic.
Think about where you will be keeping the dog house and make sure that it is weather-proof.
Plastic
Plastic is great if the dog house is going to get wet because it will not rot or decay.
Plastic is also hard so difficult for a young dog to chew. Unfortunately, plastic is not well insulated so may not be suitable for cold climates.
Wood
This needs to be treated with non-toxic paint to make sure that it is durable and weather resistant. This will also make it resistant to pests and water.
Although wood offers great insulation against both heat and cold, it also tastes nice, and your pooch may enjoy gnawing on it.
Metal
These are not seen very often. They are made from aluminium or stainless steel. They are not good insulators, either against cold or heat so are ideal only for use inside the house.
Additionally, these types of dog house are more expensive, with most owners opting for either wood or plastic.
Buying Guide: Important Features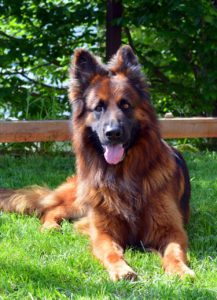 There are some features that are essential for the ideal dog house. Make sure that the dog house has these:
1) The dog house needs a raised floor to prevent it from getting damp. This will also provide better circulation than if placed directly onto the floor.
These allow the air to flow through the house and are essential to keep your pooch from suffocating. They also allow bad smells to escape and so the dog house stays fresh.
2) Sloped roof. This is important for when it rains. The water will not stand and possibly attract mosquitoes.
3) If you are in a cold area, then the dog house needs to be insulated to keep your pet comfortable and healthy. Consider a house which is made from wood or plastic and reinforced with insulated panels.
4) Your dog house should have doors so that your pooch stays inside when you need him to, such as when you go out and need to leave him.
5) Easy cleaning. Look for a model which can be taken apart and washed if needed. Models that are easy to take apart and put back together again will save time.
Where do I Put it?
This depends on how much space you have. Ideally the dog house should be in an area which is out of direct sunlight, and other weather conditions such as rain and wind.
If the dog house needs to go on a balcony, make sure that it is in a protected corner away from direct sunlight.
If your dog house is to be placed in the garage, you need to ensure that there is still plenty of air circulation.
Top 5 Best Dog Houses For German Shepherds
1) Suncast Outdoor Dog House With Door
This cool dog house is suitable for dogs weighing up to 70 pounds, and looks great on the patio or deck.
The dog house is very well made from durable resin material to keep your dog protected from the elements.
You can put this dog house together in just a few minutes as all the parts simply snap closed together. No extra tools are needed.
Because it is made of plastic it can be cleaned easily and left to dry in the sun before assembling again.
The house comes with its own door which measures 11" x 20". The house is perfect for German Shepherds, with a height of 29.5".
2) Confidence Dog Kennel Outdoor Winter House
The internal size of this dog house makes it suitable for large breed dogs such as German Shepherds. The door height is 20 inches.
The dog house comes in three sizes from small to large and is made of weather-proof material, so works well in both hot and cold climates.
The plastic construction means that it is easy to clean down if needed. It also makes it more hygienic than other dog houses because it is coated with resin to protect it against dirt.
Because the design is very simple it makes easy work of assembling the dog house. No extra tools are needed and it can be assembled or taken down in a matter of minutes.
Not only does the dog house look cosy, it is also durable so should last for many years. The raised bottom adds extra warmth against cold ground, ensuring your dog is happy, no matter what the weather.
3) Arf Frame Dog House
This dog house is made from real wood and provides a cosy place for your pooch to call his own. The large model can house dogs weighing up to 80 pounds.
The dog house is designed to be 'close fitting' so if your dog likes more space then you should buy the larger size for him.
The dog house is easy to put together and the wood, which is White Cedar, is known to be pest resistance and fresh smelling. It should take no longer than 45 minutes to assemble.
Not only is the dog house functional, it looks delightful and will enhance any area you choose to set it in.
The house is lightweight and durable, with a solid raised floor for extra warmth and protection against rising cold. The roof has an extra lining to protect against rain.
All the materials used are non-toxic so even if your dog was to chew on it, it would not harm him.
4) Indigo W/Microban
This igloo shaped dog house is designed to fit medium, large and extra large dogs. It is very heavy duty to protect against wind and cold weather and well as providing ventilation in the hot weather.
There are vents on the top of the igloo which help fresh air to circulate, making your dog more comfortable.
The dog house is constructed of microban anti-bacterial materials which help prevent mold and bacteria from growing.
The igloo comes with a raised floor and side moats to drain any rain water away quickly.
The dog house can be assembled in a short amount of time as it is simply clicked together with no additional tools needed.
5) Dog Palace Large Dog House by ASL Solutions
This amazing dog house comes with its own floor heater! Every panel is constructed of real foam insulation for extra protection from the elements.
There is a well fitting door which is a good size for a dog to pass through. There are window panes which are easily changed from closed to open positions without the use of additional tools.
The floor of the dog house is slightly sloped and has a drain hole which makes cleaning easy and quick.
There is an option for fitting a 100-watt light bulb which will help to keep the dog house at a temperature of around 70°F.
In the colder months if you choose not to use the floor heater, the house will still stay as warm as 50°F.
Final Thoughts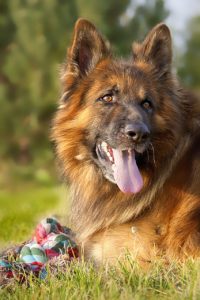 It seems that there are several things to be taken into consideration before buying a dog house for your German Shepherd, although all of them are logical.
It makes sense to but a size that fits the adult dog, so crates with dividers are a great idea to stop having to buy two crates.
Because of the size of the dog, the sturdier the dog house, the less damage your pooch will do to it, and the longer it will last.
It is important that you think about the seasons your dog will be using his dog house and buy one that is appropriate for the weather as well as suiting the size of your dog.
If you need to leave him out in very cold weather, then you may want to consider one with extra insulation.
Of course, what needs to be considered is where you intend to place the dog house. Ideally it should be out of the sun and have some protection from the elements.
After all that, make sure you have your dog's favourite blanket and toys for his new home, and he should be a happy boy while you are away.