It's not easy finding the perfect collar for your dog especially when there are such a large variety of collars to choose from, already!
Which colour shall I go for? What size? What style of dog collar should I choose?
What if you can find a collar that gives YOU more control? What if you can find a collar that is stylish, choke-free and makes training less of a hassle?
That's where the Martingale collar comes in.
What is a Martingale Collar?
These loose-fitting collars slip effortlessly onto the dog's neck and tightens as much as is needed thanks to the two-loop design.
The first, adjustable loop fits around the neck, while the second loop sustains control and will gently tighten when the dog pulls on the leash. The collar will loosen once the dog stops pulling and the tension is released.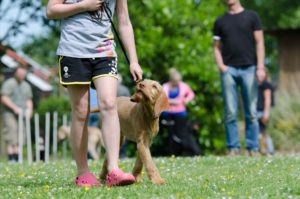 Also known as 'greyhound,' 'whippet,' or 'humane choke collars,' these were originally designed for Sighthounds, since their necks are typically larger than their heads. This meant that they could often slip out of ordinary dog collars such as choke chains or buckle collars.
Martingale collars are now becoming more popular with dog owners and trainers, alike.
I'll explain why….
Benefits of Martingale Collars
Gentle: Less of the choking factor, these collars are much gentler on your dog than prong or choke collars, so you can still tug or guide your dog as necessary. Perfect for older dogs and puppies, alike!
Style: You can choose the style you feel is right for your dog. Some Martingale collars are made from heavy-duty nylon material for one loop and fitted with a steel chain at the other loop. Alternatively, you can get all-nylon materials for a softer and more snug fit.
So many colours to choose from so you can find one for every day of the week, if you wish to use it as an ordinary dog collar or just for training – the choice is yours!
Slip-free: You can feel confident that your dog will be safe and secure with a Martingale collar – especially if your dog is one that tends to wriggle or back out of his collar. Dogs with narrow heads will find this easy to do with ordinary dog collars but Martingale collars will softly tighten as your dog pulls on the leash, without harming or choking him in the process.
Training: Anyone who's ever tried to teach their dog good leash manners will understand the pain involved as soon as their pup catches sight of another. And if they spot a squirrel? Good luck to you.
With a Martingale, you won't need luck, as the two-loop collar design will restrict your dog from twisting or pulling out of his collar at any given distraction. Gently tug him back into focus and resume training!
How Does a Martingale Dog Collar Work?
So, if we look at the Martingale collar more closely, we'll see that it's designed for dogs with narrow heads, but these are becoming more popular with other breeds.
It comes with a length of material (typically nylon) that has a metal hoop attached at each end. This goes around the dog's neck. Another length of material loops through the two rings. Then the leash attaches to this.
If attached correctly, the collar will tighten to the size of your dog's neck without choking but will stop him from backing out of the collar.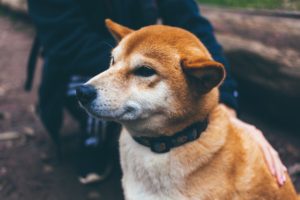 It's important to get a proper fitting and to measure your dog's neck for safety reasons. Once the Martingale collar is slipped over your dog's head, you need to pull the collar up right behind the ears which is the narrowest part of the neck.
The D-ring should be attached to the smaller control loop. When you pull up on this loop, the two metal slides should come together without touching. If the metal slides do touch each other, then the collar needs to be adjusted as it's too loose.
For safety reasons, it's important not to tie your dog up outside with one of these collars, and take care if your dog starts to hound or play with another dog whilst wearing a Martingale as there is a risk that they can get tangled up in the loop.
How to use a Martingale Collar
Before you hook your pup up to a Martingale, make sure you measure his head and neck first by using a piece of string or a soft tape measure.
For dogs with larger heads than necks, you'll need to ensure that the collar will fit over the head with ease. For dogs with necks larger than heads, you'll need to ensure the collar fits well over the neck.
Of course, you'll need to allow room for growth, so add an extra couple of inches to the measurement.
First – the head. Start from under the jaw, up round to the front base of the ears to measure the circumference of the head.
The second head measurement starts from where the neck meets the jaw and up over the ears. The collar will mostly need to fit comfortably around the neck, so these two measurements should completely measure their head.
Now measure around the base of the dog's neck so you can choose exactly which size Martingale you will need.
Opt for a collar that measures in the middle of the size range. For example, if your dog's head is 16" go for a collar that is 14" to 18" for a best fit.
Slip the larger adjustable loop of the collar over your pup's head as we discussed earlier and pull up on the D-ring to see how well you've fitted his collar. The collar will need to be tightened if it's too loose.
Allow a one to two-finger gap on the loop around the dog's neck when you test the fit with your fingers.
Then stand back and take a good look. If the Martingale collar is properly fitted, it should rest comfortably around the middle of your pup's neck. If the collar sits up behind the ears, then you know it's too tight and may cause your pup some discomfort.
Bear in mind that Martingale collars may stretch over time, so always have a quick check and a refit if necessary at a later stage.
You can find the full video on how to fit a Martingale, here:
Best Martingale Collars
From experience, I've found that a number of Martingale collars work well for different breeds or simply for everyday use, but there are some that really stood out for me in terms of comfort, style, good for leash training as well as ones that suit rural areas where we live.
Here are my best Martingale collar picks!
Padded Martingale Dog Collar: Pet Champion Comfort Control
This is an excellent choice if you're looking for extra added comfort. The Martingale Padded Comfort Control works well with puppies in training, especially. The leash attachment allows for less pull, and the reflective stitching is an added bonus when walking your dog during the darker times of the day.
So, if you're a dawn or a dusk dog-walker, this one's for you!
Fully adjustable from 12 – 16" this Martingale collar is made from a high-grade polyester for extra durability.
I've found this one particularly easy to remove using the buckle, so you don't have to pull it over your dog's head. And anyone who's ever ended up holding a leash and an empty collar after your frightened dog backs out of it and takes off, will definitely appreciate one of these.
Not so easy to back out of a Martingale, and you can be safe in the knowledge that the extra padded comfort won't be uncomfortable for your pup when the collar tightens while he tugs.
The reflective stitching increases visibility in low light and will glow effectively if you shine your torch onto it.
The Padded Comfort Control comes in two colours: Purple and Gray and two sizes: Medium and Large. This particular Martingale collar has been a notable favourite for owners of puppies.
Martingale Collar with Buckle: Wellbro Martingale Collars for Dogs
Are you looking for an excellent training collar that gives you more control in a choke-free and far less aggressive way compared to traditional choke collars?
Are you after one that tightens just enough under tension to give a gentle training cue to your pup?
And lastly, are you looking for a collar with a quick-release buckle that saves endless struggles and faffing around when trying to put it on your pup or trying to detach?
Then this is the one for you…
Made from a premium nylon material, and fitted with a plastic buckle, clip and stainless-steel chain, this Martingale design provides a more comfortable, secure fit for your dog.
I found the clasp to be quite sturdy; it latches and unlatches with ease, and the chain is heavy and durable – great for large dogs in particular.
It's a wide collar, ranging from 17" – 22" and it's reflective, too, which is perfect for walking dogs at night in more rural or wooded areas.
The solid, stainless steel is rust-proof – perfect for all kinds of weather and will last longer.
The Wellbro Martingale collar comes with five reflective lines to ensure further visibility and safety at night, and the limited chain closure design creates an audible sound for further safety without closing or hurting your dog.
The premium and soft nylon webbing gives this collar its top material quality, whilst the solid stainless-steel D-ring attachment will withstand all weather conditions effectively making it durable and highly functional.
A large adjustable size measure between 17 – 22" in length and is 1.0" in width. It comes in two colours: Black and Gray.
Some owners have commented on the notable strength of the chain and ring which are highly useful for boisterous dogs or larger heavier ones weighing around 80lbs.
Considering its aesthetic appeal and durability, the price of this collar is well worth the money, as it'll certainly do the job.
Not only is the Wellbro excellent quality, but having an adjustable clip make these so much easier to use than ones where you have to squeeze over the dog's head!
You can feel confident that your dog won't slip out of this collar during training, and at an affordable price – what have you got to lose?
Wide Martingale Collar: If It Barks Martingale Collar for Dogs
This wide Martingale collar is ideal for dogs with small heads and larger necks such as greyhounds and whippets, so you can have better control of your dog – whatever his breed.
Sizes range from 11" for a small up to 30" for a large size making this Martingale collar suitable for all kinds of head and neck measurements. In addition, owners can feel more in control as these 'limited slip' collars spread the pressure evenly around the dog's neck.
Comfortable and stylish, these wide collars are produced from thin webbing that offers better strength and durability, and you can rest assured that your dog won't be in any discomfort as he pulls and tugs after a small animal! (We've all been there.)
Great for training use, as some owners have found these collars to provide your pup with more of a "gentle reminder" rather than a choke chain, and the wideness of the collar gives that added bit of comfort.
In my experience, I've found these particular collars to work brilliantly with pit bulls and even aggressive dogs whose owners find the strain too much to handle. Easily adjustable and durable hardware are essential qualities needed in a collar for young, excitable pups as well as larger, heavier breeds.
I've noticed a significant difference in the way dogs respond to the Martingale collar, and the 1.5" If It Barks Martingale comes in beautiful, vibrant colours, too, which makes it stylish AND practical. Not easy to find with ordinary dog collars.
This collar can be used on daily walks or simply at home – it's pretty versatile and will look smart on your dog, thanks to the quality material.
Final Thoughts
Out of all the fabulous Martingale-type collars from which to choose from, the one that stands out for me in terms of versatility will have to be the If It Barks 1.5" Martingale with adjustable nylon collar.
Not only is it excellent value for money, but it covers everything that any dog owner could possibly want in a dog collar for all dog breeds.
If you're looking for softness and added comfort; if you're in search of one that is quick and easy to get on and off; and if you're after one to suit small and large dogs, then this is truly the one that ticks all boxes.
I've found this one to be a superb fit for leash training as it won't crush the dog's larynx if your little pup is a little scamp and won't do as he's told! Or even if you have a much heavier and solid Labrador or a Husky that will throw his chest into a lunge. This Martingale will prevent that with ease and the wideness of the collar means that it won't bunch up around the buckles like the narrower collars do.
To sum up, the benefits of using a Martingale collar as opposed to ordinary or more traditional dog collars are the following:
Choke collars become tighter around the neck as dogs pull, but the Martingale collar will prevent this from happening. Loosely fitted around the dogs' neck, the collar will distribute pressure evenly rather than in certain areas, like at your dog's throat!
These collars are perfect for teaching your dogs to 'heel' and not pull on the leash. Help your dogs learn basic commands while safely controlling them and reminding them to pay attention with a subtle tightening action.
Prevents Dogs from Slipping Out of Collar
Regardless of whether your pup's head is wide or narrow with a large neck or small, the Martingale collar will stay firmly put, despite your dog's desperate attempts to be freed. As long as the head and neck are measured properly, even the most brutish of dogs won't be able to escape, which makes for a safe, enjoyable walk, free from distractions.
So, you can see that there are number of advantages into getting a Martingale collar for your pup instead of an ordinary one, and thanks to the unique design, owners can enjoy fun outings and pup-training.
Now you can finally put an end to chasing down your dog and start taking him for a walk – don't let him take you!