Hi, my name's Irena and I live on the beautiful island of Crete in Greece with my dog, Sherlock and my three cats, Hamlet, Dimitris and Ebony.
I've been here for twenty years and have had quite an assortment of pet.
When I was a kid my family had a couple of gorgeous guinea pigs, Fluffy and Honey. They were my first introduction to having pets and mum and dad taught me how to look after them properly.
However, back then there wasn't such a choice of bedding for guinea pigs. We had to use wood shavings which of course you can still buy.
Mind you have to be careful as to what shavings you use. Cedar and pine wood aren't good for guinea pigs as they can be irritating to their respiratory systems and can also cause allergies.
Aspen shavings are acceptable, but we are here today to talk about fleece bedding and its pros and cons.
Fleece looks great in the cage when you show your guinea pigs to friends or show them  photos, but does it always look that good?
Everything looks attractive when you have clean bedding, but in-between putting it down and washing it you may not have such a good looking cage.
You will have to ask yourself if you have the time to wash the bedding. It is always best to wash the fleece on its' own as it will be stained.
In addition, you will have to spot clean the fleece in-between major cleans. Having any animal is time-consuming, but if you love them as I do, it's worth the effort.
However, many guinea pig owners are beginning to realize what the advantages of having fleece bedding are.
Once the fleece is washed and dried two or three times, any liquid will pass through the fabric rather than being absorbed by the fleece.
This means that the surface of the fleece will stay dry for quite a few days. It is best to wash your fleece as soon as you buy it so that it absorbs liquid from the word go.
Why is Fleece Bedding Good for Your Guinea Pig?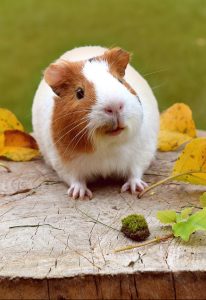 There are many benefits to using fleece instead of wood shavings. For a start it saves money. You can spend a lot on wood shavings which can't be reused.
In this way it's just like cat litter and believe me, I get through bags and bags of litter as my cats live indoors.
Instead, all you have to do is buy a couple of yards of fleece which can be washed and reused as much as you want.
Some fleeces come in bags with more than one which is great as you can replace the fleece immediately after removing the dirty one.
Because fleece can be reused, it is more eco-friendly, especially if you hang it outside on the line when it is warmer. This will save on drier bills. You can even wash most fleeces by hand if you want.
Cleaning the cage will be easier if you use fleece. With wood shavings you will be cleaning very day, but with fleece, all you will have to do is to spot clean a few times a week.
If you want you can clean every day particularly if you have multiple guinea pigs. Then you just do a complete change of bedding at the end of the week.  This is why it's handy to have more than one fleece.
Another advantage of fleece bedding is that it is tidier than wood shavings. It is also more stylish. You can get fleece in all different colors and even with patterns.
This will make the cage look nicer when your friends come and see you and want to look at your guinea pigs.
Guinea pigs have very sensitive feet so fleece bedding is better for them than wood shavings. You don't want to cause your pigs any additional stress or pain.
Another advantage of using fleece is that if it is cleaned properly, it can reduce the smell coming from the cage.
I have cats and I know how litter boxes can smell, so I clean every day to keep the smell down. I also use incense sticks which are a blessing especially when I have guests.
How to Use Guinea Pig Fleece Liners for Bedding
It isn't advisable to just buy guinea pig bedding and put it into the cage. There are steps you need to follow before doing this in order to get the best results.
The first thing you need to do once you have bought your fleece is to wash and dry it at least three times with a mild detergent, preferably one made especially for pets.
You can either use your washing machine or hand wash it. It is important not to use fabric conditioner as this can stop the fleece from absorbing moisture.
Once you have washed and dried your fleece a few times, you are ready to start layering. You can't just put down fleece on its' own.
Yes, the liquid may pass through it and leave the fleece on top dry, but it won't be dry at the bottom. You need to have something underneath to take in the liquid.
There are different options for what you lay underneath the fleece. Old towels are a good idea as are puppy training pads and mattress pads.
Don't use newspaper as this absorbs the liquid too quickly and tends to stick to the fleece, producing a more potent odor.
In my opinion, towels are probably the best option. Yes, puppy and mattress pads are great, but they are also expensive in the long run and they are not that much better than towels.
With towels, you just wash and dry, but pads have to be thrown away.
When you come to lay the bedding, use one layer of fleece to two layers of towels or puppy pads.
Don't put down two layers of fleece as the liquid won't go through the fleece and you will end up with a mess. Start with putting down the bottom layer of fleece, then towels and finally put the other fleece on top.
6 Best Guinea Pig Fleece Bedding Options
1) Guinea Pig Fleece Liner by Small Pets & Company
This fleece cage liner is made larger than the typical cage size of 24″ x 48″ so shrinkage is allowed for and it also ensures complete protection from messes.
Buy two so while one is in the wash, you can put another fleece in. Before washing all you have to do is shake the bedding into the bin and then put the fleece into the wash.
You are best off washing the liner on its own as it needs to be on a very low temperature.
These fleece liners are cleverly made. There are 2 layers of fleece with a middle layer which is very absorbent.  This middle layer keeps your guinea pigs paws dry and in addition, helps to get rid of any unpleasant odors.
To keep your bedding clean for as long as possible, sweep it up each day with a dustpan and brush. Then once a week, wash and dry the bedding.
2) My Doggy Place Washable Fleece Comfort Crate Mat and Nap Pad
This might say it's for dogs and cats, but it can be used for a guinea pig cage just as well. The only thing you need to know is the size of your cage.
This fleece mat fits a cage of 27″ x 18″ and it is 2″ thick. The backing has non-slip durable rubber dots so it won't slip all over the cage.
One thing you do want is for the fleece to stay in position, ensuring that your guinea pigs have something comfortable to lie on.
The fleece is washable and there is a zipper so that you can take the lining out while you are washing the cover.
3) GuineaDad Fleece Liner 2.0
This fleece liner is specially made for guinea pigs and other small animals. It is very absorbent and can take in around three times of its weight in water.
This helps to prevent bumblefoot which is a bacterial infection often found on the feet of tame rodents and birds.
As I've said, guinea pigs have very sensitive feet and you need to take care of them.
This fleece keeps your guinea pigs feet dry as it absorbs moisture away from the fleece and so keeps bacterial infections at bay.
The fleece is anti-fungal, anti-bacterial and odor resistant so your guinea pigs should avoid diseases such as conjunctivitis and respiratory illnesses. This is so much better than wood shavings.
The fleece is 100% biodegradable which is good for the planet. I think that most of us like to be eco-friendly these days what with climate change.
It even comes in a plastic-free corrugated box which has perforated lines and can be made into a little hideaway for your pigs.
4) Cornsmart Pet Blanket
Here is another dog and cat blanket that is ideal for guinea pigs as it's not too big. This will fit in a cage which measures 24″ x 28″ which is a good size for a guinea pig cage.
It comes in a pack of 6 so you will have spares for when you are doing the washing. It is made with double-sided fleece material, but it's not too heavy.
However, it is still is warm and soft and your guinea pigs will love cuddling up with each other.
5) Eagmak Cute Dog Cat Fleece Blankets with Pet Paw Prints for Kitten Puppy and Small Bedding
Here is another blanket that comes in a pack of 6 with a paw print design. The 6 blankets are all different colors; black, brown, blue, grey, red and white.
Your guinea pigs will look very bright cuddled up in these blankets. They are made from 100% double-sided fleece.
All you need to do is put a towel or puppy pad underneath the blankets to soak up the moisture.
Each of the fleeces is 24′ x 28″ which will fit a standard guinea pig cage. They are machine washable on a cool wash or you can also wash them by hand.
6) Furrybaby Premium Fluffy Fleece Dog Blanket
Here we have a fleece which says it's for dogs and cats, but it just as good for your guinea pigs especially as they make them in small sizes.
The smallest size is 24′ x 32″ and the next size up is 32″ x 40″. You should be able to find a size that suits your cage.
This blanket is made of environmentally friendly soft, thick and comfortable fleece.
It is machine washable and can even be tumble dried. Still, it's better to hang it out on the line as it's even more environmentally friendly. It comes in all different colors so you can match it to your guinea pigs.
How to Maintain Guinea Pig Fleece Bedding
When you are washing the fleece add half a cup of vinegar. This helps to reduce static cling and it works as a fabric softener.
A normal fabric softener would stop the fleece from absorbing liquids, but vinegar doesn't.
When it is warm enough hang your fleece and towels out on the line to dry. It is guaranteed that you won't have any static cling and you will save energy as well.
All guinea pigs shed, but some shed more than others, in particular long-haired guinea pigs. You will need to buy a lint roller so you can remove hair from the fleece.
It is particularly important to do this before washing the fleece as a wash won't remove the hair and may clog up your washing machine.
In addition, it's a good idea to use a small vacuum or hand broom with a dustpan to remove excess hair from the fleece.
If you buy fleece by the length, there are things you can do with any excess fleece.
Why not make some small pillows so that your guinea pigs are comfortable while they are napping. You could even make a small tent for them to hide away in.
Male guinea pigs sometimes like to scent after a fleece change. It is a good idea to keep a bit of used fleece in the cage and to not wash it. Your guinea pigs will be less likely to scent the cage if they can smell themselves.
Final Thoughts: Guinea Pig Fleece Bedding and Liners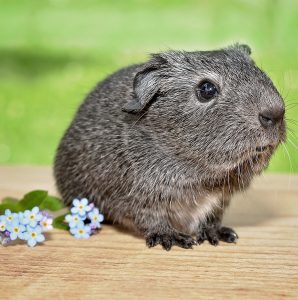 Personally, I think that fleece is the most comfortable bedding out there for guinea pigs.
It's much more cozy and luxurious than wood shavings or paper bedding which is another option. With towels or padding underneath the fleece, you will have created a mattress for your guinea pigs.
Let's look at the pros and cons of fleece bedding. You will see that the pros far outweigh the cons.
Pros
Because you can keep washing fleece, it works out as a cheap option.
It is hypoallergenic, anti-bacterial and helps to prevent diseases like respiratory problems.
Fleece is eco-friendly.
It is extra absorbent and has a waterproof bottom.
It is dust-free unlike wood shavings.
Natural materials like bamboo are used to make fleece.
Cons
Fleece has to be washed so it can be time-consuming
Fleece can damage your washing machine if the padding is too dirty.
You really need to buy more than one fleece so that changing the bedding is as quick as possible.
You need to buy pet-friendly detergents. Ordinary detergents could cause allergies and rashes.
I hope that you have enjoyed reading about fleece blankets and will find ones you like from my choice.