If you're in the market for information about guinea pig cage liners then you've come to the right place!
When we welcome these furry pigs into our homes one of the top priorities we have is housing them!
This means finding the right cage and cage liners. Our goals as pet owners is to ensure the comfort and health of our little pigs while lowering the stress on ourselves with a low maintenance routine in cage cleaning.
My name's Casey and I've owned many small mammals and during my 7 years as a veterinary technician, I've got to know many pets!
In this article, we are going to focus less on the actual cage and more on the various types of cage liners that you can choose from.
I'll be covering a general overview of all the available options, and then I'll review some of the top brands available.
Both ones that I have personal experience with and a few that have fantastic reviews from fellow guinea pig owners.
So let's discover the best bedding for guinea pigs!
Fleece Bedding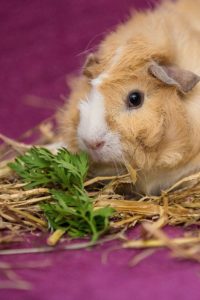 One of the most popular options for cage liners happens to be fleece bedding! Not only is it comfortable and colorful, but some options provide a burrowing sleeve for your pig to nest in. Therefore is often regarded as one of the best guinea pig bedding options.
Fleece has taken off in popularity for a variety of reasons, aside from the cost saving benefits, fleece has a variety of colorful patterns and provides a layer of coziness for our guinea pigs.
When properly prepped, fleece allows for urine to slip right through to an absorbent layer beneath, which provides a dry surface for several days. So this leads to the follow-up question, how do you prep fleece?
Well it's simple! Simply pre-wash your chosen fleece bedding in hot water, no fabric softener and no dryer sheets. Depending on the brand used it may take a minimum of 3 washes. The best way to test your chosen fleece for readiness is by pouring some water on it.
If the water pools, you know it's not ready as the same thing will happen with urine and the last thing we want is for our pigs to be swimming in their own urine!
For the absorbent layer beneath the fleece, there are a few options, including old towels, newspaper, puppy pads, mattress pads, and various other bedding types.
When it comes to these options, my personal choice has always been old towels. With a couple of towels and a single layer of fleece on top, I have found my pigs were comfortable and clean.
Maintenance is a breeze, requiring some spot cleaning throughout the week to remove feces and other debris and a load of laundry at the end of the week. I personally don't recommend the use of newspaper or puppy pads as the absorbent lower layer.
Newspaper has a tendency to absorb urine at a quick rate which then leads to it sticking to the fleece or bottom of the cage, making clean-up a bit of a nightmare. Puppy pads, while good for puppies, are not the best choice for guinea pigs unless you can guarantee your pigs will not somehow gain access to it.
Since puppy pads contain plastic if your pigs find their way to it they may chew on it. The potential ingestion of harmful plastic is enough of a risk for me to avoid usage of puppy pads at all costs!
Paper Bedding
Whether you're looking for bedding to line your guinea pigs cage with, or you're wanting something different beneath a fleece fabric, paper bedding is one of my top choices!
There are, of course, several different paper bedding options and not just where brands are concerned! There is the soft and cushiony natural paper, pelleted recycled paper, paper granules, and paper strips.
My personal favorite is the the natural paper as it is soft, absorbent, and traps odors well. I have found the pelleted paper to be a bit too firm for my tastes as they seemed a bit pokey on my pigs feet.
As far as the granules and paper strip bedding types, I don't really have any experience with these.
Wood Shavings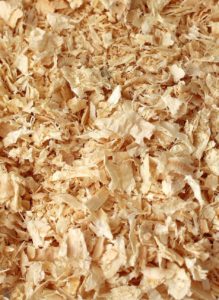 I'm sure by now you've heard time and again to completely avoid wood types that contain strong odors and oils. Cedar and pine are both to be avoided – Cedar especially! So instead we look at aspen shavings as our go-to for pocket pet bedding.
Not only is it relatively dust free, it also doesn't contain any harmful oils or strong fragrances that may prove harmful to our little furry friends.
I personally enjoy using a mix of aspen and natural paper as both products are soft and work well together for optimal absorbency and odor control.
What I love about Aspen is that it's a softer wood, so I don't need to worry about my guinea pigs feet being harmed by walking around on it.
Fiber Bedding
One bedding type you don't typically think about or really see in the larger commercial pet stores is fiber based bedding options.
There are two types that come to mind when I think "fiber" and those are coconut fiber bedding and hemp fiber bedding.
Both options offer adequate absorbency and odor control while still remaining soft enough for our furry pigs to relax and remain comfortable.
Avoid Kitty Litter For Bedding
I feel the need to include this as it is technically an available option for lining your guinea pig cage, especially if you're using a fleece topper. There are of course several litter types including clay, crystal, and the more natural options of corn cob or wheat.
While these options do provide great absorbency, they will require daily cleaning to prevent becoming over-saturated, can stick to your fleece topper along with the bottom of the cage.
When it comes to the natural litter types, they have a tendency to quickly grow mold and produce additional odors.
If used without a fleece topper, these litters can poke into sensitive feed and be very dusty which can cause harm to our little fur pigs.
Avoid Hay and Straw
While these options are okay for say horses; when it comes to guinea pigs we are going to be more interested in ensuring great absorption and less mess.
Guinea pigs love hay as part of their diet, so let's keep it that way to avoid the risk of them potentially ingesting soiled bedding.
Straw and hay are also not the best at absorbing urine, so you have a higher risk of pooled liquids.
Best Guinea Pig Bedding
        1. GuineaDad Fleece Liner 2.0
The use of fleece fabric for a liner is amazing in the comfort level provided for your guinea pig. My top pick when it comes to using a fleece liner is the option provided by GuineaDad.
The thick padding between layers of soft fleece makes these liners basically like their own private beds. It's an all-in-one option for comfort, absorbency and even has a built in a waterproof backing to prevent leaks.
Unlike fleece that you may find at your local craft shop, this all in one style is hypoallergenic for your extra sensitive pigs, has antibacterial properties and is of course, completely dust free.
My favorite part of this liner is that it has a built-in sleeve for your pigs to snuggle down and relax in.
Don't let the initial cost scare you away, the use of this fleece liner will provide optimal savings in the long run!
2. Carefresh Paper Varieties
The carefresh brand is one of my go-to when it comes to the soft natural and absorbent paper bedding.
They have several varieties available to choose from and all of the ones I've tried work great!
I'm going to list my favourites below, as each has a slightly different purpose! #4 is my personal favourite out of all of them!
To check the prices and to find out more about them, simply click their names, and you'll be taken to the product page!
So, my favorites from the Carefresh team include:
#1 The Carefresh Complete Bedding – Made from "comfyfluff" and provides 10 day odor control!
#2 The Carefresh Natural Premium Soft Bedding – Biodegradable bedding which is pine and cedar free.
#3 The Carefresh Custom Rabbit/Guinea Pig Pet Bedding – This bedding is geared specifically towards the larger pocket pets, but works well for the smaller ones too!
#4 The Carefresh Shavings Plus Pet Bedding – This is my personal favourite, as it combines both wood shavings and paper bedding in the perfect consistency for optimal softness and absorption.
3. Kaytee Clean & Cozy White Small Animal Bedding
While Kaytee is better known for their pet food and treat options, they have provided us with a great paper strips bedding option for our little fur babies.
The strips will provide some fun for our pigs to nibble and move around, while the white coloring allows for clearly defined pee spots for spot cleaning.
The bedding is 99.9%, which will go some way towards a cleaner cage!
It's absorbent qualities are pretty impressive, with claims that it absorbs up to 6x its own weight in liquids.
The bedding is soft and fluffy, therefore should provide a comfortable lining for your guinea pigs!
4. Purina Yesterday's News Unscented
The first pelleted paper bedding I think of is actually intended to be used as a kitty litter.
I know, I know, I said avoid kitty litter, but this one is different!
If you're looking for a pelleted option then Purina's Yesterday's News Unscented is one of the top choices.
It's a bit pokey for my tastes, but you may find your guinea pigs enjoy it.
It's easy to see where your pigs have urinated as the pellets not only darken in color but dissolve as well.
The litter should also mean less "mess" as it's heavier than the Carefresh paper varieties.
Best Guinea Pig Granule Options
I'm not a huge fan of granules for guinea pigs, however, if it is something you're interested in trying for your pigs then here are two options to try!
      #1 Kaytee Soft Granule Blend Bedding
This is the first option that is actually more of wood-based crumbles rather than paper.
Reviews have stated that it feels more like cardboard and acts better as an option for a litter pan option than for bedding.
Kaytee has mixed in natural ingredients for a lovely fragrance – such as orange peels – along with the reduction of odors.
Like most of the bedding's, it's highly absorbent and can hold 3x its weight in liquids.
        #2 Vitakraft Fresh World Strength Crumble Bedding for Small Animals
This is another option that I'd consider.
It is made from recycled paper that has been compacted into granule forms.
Reviews say this is the top crumble option for pocket pets!
It has a unique "Odor Blocker Formula" which helps to control odors for up to 14 days!
It also absorbs up to 3x its weight in liquid, which seems to be a standard with small animal bedding!
       #3 Kaytee Aspen Bedding
Another great option from Kaytee is their Aspen bedding.
This is one of my favorites when it comes to wood shavings as my guinea pigs have always tolerated it very well and seem to enjoy pushing it around their cage.
The odor control is adequate, along with the absorbency rate.
The bedding has been specially processed to eliminate wood debris & excess dust, which can be found in other types of bedding.
It's also suitable for a range of habitats, so isn't limited to guinea pigs!
Final Thoughts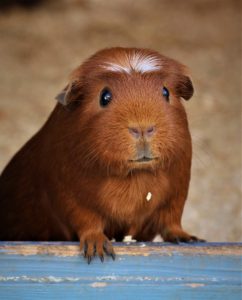 There are tons of options available when it comes to lining your guinea pigs cage.
You've taken the first steps in doing research and now it's time for you to choose your favorite and see what works with your schedule and your pigs!
My personal favorites include the fleece liner, natural paper and wood shaving mix.
I have found the most success with these options. Don't be afraid to experiment! It took me several go's at different brands and bedding styles to find my favorites!
I hope I've helped you to find the best bedding for your guinea pigs.
If you have any comments or questions, please feel free to leave them below!
Articles you may also like:
Best Guinea Pig Playpens & Runs