Hi, my name's Irena and I live on the island of Crete in southern Europe with my dog, Sherlock, and my three cats, Hamlet, Dimitris and Ebony.
I have a lot of experience in caring for a variety of pets, including Guinea Pigs!
Today I'm going to talk about guinea pigs and what sort of playpens and runs you should buy for them.
It is important to give them room to run and play as being cooped up in a cage all the time isn't stimulating for them.
Yes, you can let them have a run around the garden to give them a bit of freedom, but this should only be done under supervision because there might be predators about or they could try to dig their way out of the garden.
I remember having a rabbit when I was a child and we did let him run around the garden. He loved it, but we were always there keeping an eye on him.
Why Buy a Guinea Pig Playpen or Run?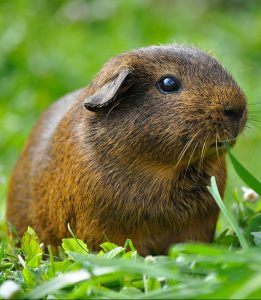 A guinea pig playpen or run is an enclosure where you can allow your guinea pigs to run free away from their cage or hutch. It gives them both exercise and mental stimulation.
After all, who wants to be cramped in a cage all day and night, however cozy it night be?
However neither a playpen nor a run should be used as living quarters as guinea pigs need a comfortable enclosure to sleep in.
However, if you have a big enough playpen or run you can put their cage in it. In fact some runs come with a hutch attached which is ideal
You should give your guinea pigs floor time for about half an hour every 3 or 4 days, but if you have the time it's even better if you let them out every day.
In fact, if you're at home with them, why not let them run about for longer. They will love the freedom and exercise.
Where to Place a Guinea Pig Playpen or Run
You can buy both indoor and outdoor playpens and runs. The indoor ones aren't as strong as the outdoor ones so don't put them outside.
In addition, outdoor runs are generally built to withstand the elements. However, some are built for both indoor and outdoor use.
Many are also foldable which is handy for storage or if you want to take your guinea pigs away with you on vacation.
It's always a good idea to put the playpen or run near to where you are as it creates bonding. Guinea pigs can become the friendliest of creatures if they are close to their humans.
I personally think it's a good idea to have both an indoor and an outdoor playpen or run or one that doubles up as both.
When the weather's good you can take them outside with you and when it's cold you can have them in their pen in the sitting room where you can watch them play.
5 Best Guinea Pig Playpens
Best Indoor Guinea Pig Playpens:
1) Kaytee Pet-N-Playpen Small Animal Pen
This round playpen is 29 inches high and 18 inches wide. It is made of wire and there is 1 inch spacing between the wires.
It comes in 8 connectable parts and is very easy to set up. No tools are needed at all.
When it is set up it gives your guinea pigs 9 square feet of play room which is a good size for even 2 or 3 guinea pigs. You can even fold it down if you want to put it away.
There is a connector for you to add passageways if you want to give your furry friends extra stimulation. They will give your guinea pigs a chance to explore.
The playpen also comes a plastic mat so you floor won't get messy. It is easily removed and washed.
2) Aveen 3 – Tier Cat Cage Playpen
This may say that it's a cat playpen, but it can just as easily be used for your guinea pigs. In fact they will have masses of room to play.
It is 40 inches in height, 24 inches in length and 17 inches in width. The playpen has 3 tiers meaning that your guinea pigs will have lots of fun running up and down each level.
The playpen is durable and long-lasting meaning that your guinea pigs won't be able to escape. It is made from a sturdy and strong metal which is both rust and rot-proof.
The ladders in-between the tiers are also made from metal. It comes with a hammock so your guinea pigs can have a rest when they're tired from all that playing.
A great advantage of this playpen is that it is really easy to set up. You can set it up in a matter of minutes and then fold it back down if you want to store it away or when you want to take your guinea pigs away with you on vacation.
The playpen has 2 large front doors meaning that you will have easy access to your guinea pigs. It also has a large sliding-out bottom tray, making it easy to clean
Best Outdoor Guinea Pig Play Pens
3) Midwest Guinea Habitat Guinea Pig Home
This guinea pig playpen is suitable for 2 guinea pigs and is 8 square feet in size which gives your pets plenty of room to run and play.
The sides are 14 inches high which means that you can easily get to your guinea pigs, but they shouldn't be able to get out. The bars are spaced by just 1 inch so they can't escape that way either.
The playpen comes with a PVC lined bottom which provides traction and also protects the feet of your guinea pigs.
Their feet are very sensitive. The bottom of the pen can easily be removed for washing and it is both durable and leak-proof.
The playpen is easy to set up. It won't take you more than a few minutes and no tools or connecting pieces are required. If you want to store it or take it with you on your travels, it folds flat.
You can buy a divider for the playpen and also a top for if you are worried that your guinea pigs might scale the walls.
The dividing panel comes with hinged lock-in place ramps. The pen is suitable for either indoor or outdoor use.
4) ToysOpoly # 1 Premium Pet Playpen – Large 45″ Indoor/Outdoor Cage
This large pet playpen is made from 600D oxford cloth material and it has a strong internal steel frame. It is certified as being non-toxic, lead-free and phthalates safe.
It comes with 4 stainless steel anchors, meaning that it can be secured safely outside. You don't want predators getting in or your guinea pigs getting out.
There is no assembly needed as it just pops up. It folds flat for storing or for when you want to go away with your guinea pigs.
The playpen was newly designed in 2018 and has 8 panels all of which have reinforced corners and protected seams, making it long-lasting. It is completely waterproof. There is a removable top and bottom.
Take off the top when you bring your guinea pigs inside and put it back on when you take them outside so that they can easily be provided with shade. The bottom can easily be removed and cleaned.
There are 2 zippered roll-up doors meaning that you will have easy access to your guinea pigs when you want it, but they can't escape.
In addition there is a band attached to the pen where you can put a water-bottle
Best Folding Guinea Pig Playpen
5) Doublewood Small Animals C & C Cage Tent
This playpen is made out of polyester fabric which is surrounded by nets. This means that you can keep an eye on your pets and not worry what is going on in the playpen
The playpen has an automatic opening. The frame just pops up and you are ready to go. It folds back flat for transportation.
When you open it, be careful not to have it near children or anyone's faces as it opens under spring pressure.
This playpen is better for indoor use as there is a chance that your guinea pigs may escape and you don't want that to happen outside.
It is a big playpen at 47 inches long and 15 inches wide. The bigger the playpen is for your guinea pig she better as they like the freedom. A final thing to say about this playpen is that it's easy to clean.
5 Best Guinea Pig Runs
Best Indoor Guinea Pig Runs
1) Songmics Pet Playpen, Fence Cage with Bottom for Small Animals
This may say playpen, but it's big enough to be a run for your guinea pigs. It is rectangular and is 10.5 square feet which will give your pets plenty of room to run.
It is 17.7 inches high which means that there is little chance of your guinea pigs escaping. However, you can get to them easily enough as there isn't a roof.
The corners don't have sharp edges so your furry friends won't get hurt and nor will you when you are assembling it.
It has a bottom which will stop stains getting onto your carpet. If you decide to put the run outside, the bottom will also stop your guinea pigs from being able to dig their way out of the run.
The bottom also stops your pets from moving the pen.It is easy to set up this run.
It comes with detailed instructions, a rubber mallet and 30 cable ties which help to connect the panels and make the run more stable.
You can even turn the run into different shapes which will give your guinea pigs a little more variety.
Best Outdoor Guinea Pig Runs
2) Trixie Small Animal Hutch with Outdoor Run
This run comes with a hutch so your guinea pigs will be able to get some snooze time after running and playing.
The hutch measures 30″ in length x 21″ in width x 28″ in height, while the run measures 31″ in length x 21″ in width x 23″ in height. Both give your guinea pigs plenty of room to enjoy themselves.
The run and the hutch are both made out of solid wood with a glazed pine finish. It gives years of wear without any maintenance and is waterproof both inside and out.
It is 2-story with the hutch on the upper level. There is a non-slip ramp between the 2 different levels.
If you don't want your guinea pigs to use the run, you can close the door to the hutch. If you want you can detach the run and put it anywhere you want in the yard or even take it indoors.
Both the hutch roof and the run roof open from the top so you can easily get to your guinea pigs without them escaping.
On the bottom of the run there is a pull-out plastic tray which means that it can easily be cleaned and washed.
3) Pawhut Outdoor Triangular Wooden Bunny Rabbit Hutch/Guinea Pig House with Run
This run is a little different as it's triangular and has a hutch at one end. Your guinea pigs will be able to have a good run and then snooze in the dark and cozy hutch.
It is sturdy, but is still lightweight and easy to move around the garden.
It is made from natural cedar wood and powder coated steel wire, both of which are sturdy and durable. This can be assembled in minutes. All you need is a screwdriver.
The screened walls give lots of ventilation so your guinea pigs can enjoy the outside while still being protected from predators.
There are 2 easily opened doors, one into the run and the other into the hutch so you can easily get hold of your pets, but without letting them out.
4) Wooden Chicken Coop Backyard Rabbit Poultry Hen House with Waterproof Asphalt Roof, Fenced Run and Outdoor Ramp by Friday Discount
This may say it\s for chickens but it will work just as well for your guinea pigs. This is another run which has a hutch attached to it and is in 2 tiers.
There is a ramp between the two tiers which has timber ridging making it slip proof. You don't want your guinea pigs rolling down or falling.
The overall dimensions are 55.1 inches in length x 20.5 inches in width x 38.4 inches in height. It is sturdy and durable as well as waterproof.
It is made from natural fir wood and the surface is painted with eco-friendly non-toxic varnish. This stops corrosion from bad weather and will make it last for years.
The run is made out of high-quality wire fencing which keeps out predators and also allows you to watch your guinea pigs play without disturbing them.
The roof opens so you can let in more air flow and it also allows you to get to your pets. There is a plastic removable bottom tray which makes cleaning easy. The tray is rust resistant and easy to slide out.
Best Folding Guinea Pig Run
5) Allmax Metal Pet Fence, Black
This run is made out of rust-resistant metal with a black powder coat finish and is 6.27 squares meters in size. Your guinea pigs will have plenty of room to stretch their legs and play.
It comes in 8 panels which easily snap together without the use of any tools. Each panel is 31.4 inches wide.
The run folds flat very easily and in no time at all so that you can store it away or take it with you on your travels.
What to Put in a Guinea Pig Playpen or Run
Don't just leave your guinea pigs in an empty playpen or run. They need to have something to stimulate their minds.
There are plenty of things that you can give them to enjoy, most of which you can just make yourself. You don't need to spend a lot of money to keep your guinea pigs entertained.
Crumpled paper makes an excellent toy as guinea pigs like the noise it makes when they are playing with it. It also gives them something to chew on.
I'm sure that you know that guinea pigs love to chew. Just one thing, don't give them newspaper as it's toxic to small mammals.
Don't throw away any cardboard boxes you have. You might think that boxes are just for cats, but guinea pigs can make good use of them as well.
Cut a whole in a box and your guinea pigs will love to use it a hideout. They might also enjoy a little chewing, helping to keep down those ever-growing teeth of theirs.
Guinea pigs love to burrow so tunnels are an excellent addition to their playpen or run. You can buy these online, but you can also make them yourselves.
Just use wrapping paper tubes although it's a good idea to cut open the whole length of the tube to make sure that your guinea pigs don't get stuck. You can also use toilet rolls or paper towel rolls.
There are other things you can give your guinea pigs to trim those teeth of theirs. Buy them hay or grass balls.
They will both enjoy playing with them and eating them. Chew sticks are also a good idea as long as they're made from all-natural wood.
You could build a tent for your guinea pigs out of fleece. They will enjoy having somewhere else to hide apart from their hutch.
You could also cut strips of it to look like a curtain. Hang this in their pen and watch them running through the hanging strips.
Stuffing socks is also a good idea. Stuff them with hay or clean bedding and then tie the sock off with wool. For Guinea pig bedding ideas, check here!
This will give your guinea pigs a pillow which they can either sleep on or play with. They're not fussy as to what they do.
Why not fill some toilet rolls or paper towel rolls with hay and your guinea pigs will be in heaven trying to get the hay out. These types of rolls are suitable for guinea pigs as they are non-toxic.
You could make an obstacle course out of cardboard boxes and tubes. Your guineas pigs will love the trying to get through the course, especially if there\s a treat at the end of it.
One thing to remember, however, is not to put exercise balls or wheels in your guinea pig playpen or run.
It does not suit the physique of guinea pigs as they can get hurt using them. The outcome can even be fatal.
Final Thoughts : Guinea Pig Playpens & Runs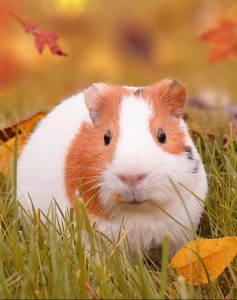 I hope you have enjoyed reading about guinea pig runs and playpens and have even fond one or two to suit. As you can see there is a great choice out there.
You will find that most of them will fold for easy storage or for taking away on your travels.
Some pens and runs are suitable for both inside and out and these are the ones I would recommend as they are so much more versatile.
Others come with a hutch attached which kills two birds with one stone. All you will have to do is open the hutch door and your guinea pigs will be able to have a good run and playtime.
What they all have in common, however, is that they give your guinea pigs exercise and a little more freedom than they would get if they were cooped up in a hutch all the time.