Hi, my name's Irena and I'm here to talk about the recommended space between your dog's collar and his neck.
I have five dogs, all of whom have collars and get walked on a leash. I often check their collars as they can lose or gain weight and I want them to be comfortable.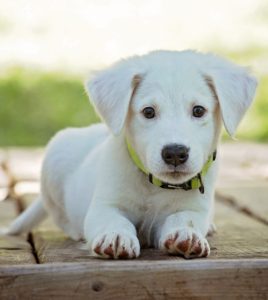 It can be quite daunting when you get a new puppy or dog for the first time.  There's so much to think about and learn…
How are you going to house train your dog? How much should you feed him? What should you feed him? Where should he sleep at night? How many walks a day will he need?
In addition to this you will have to choose a collar for your dog. There are lots of different collars out there in a variety of styles, patterns, and colors.
Do you want a chain slip collar for training, a regular collar, or a harness?  However, it doesn't matter too much about what you choose, the one thing that is important is that you need to make sure that it fits correctly.
At the start you may think that you are forcing your dog to wear something he doesn't want, but you couldn't be more wrong. A comfortable well-made collar won't bother him and it will of course enable you to take him out on walks. I have never had a problem with any of my dogs wearing a collar.
A collar and leash will keep your dog from chasing people or other animals, or even cars. If the worst does happen and your dog gets lost, putting a dog tag on his collar may help him to get home.
Why Does the Space Between a Dog's Collar and Neck Matter?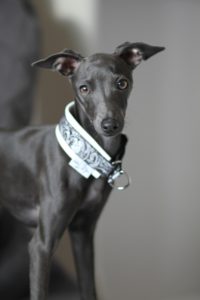 If a collar is too loose, the dog may be able to back out of it and escape. Perhaps you think that your dog doesn't want to leave you, but he could be spooked by an unfamiliar noise and just run off.
In addition the collar could get caught on a tree limb or bush making him struggle to get free, all the while hurting himself.
On the other hand, a tight collar is not much better.
It can cause difficulties in breathing and irritation around your dog's neck and it might even cause his fur to fall out.
Choosing the Correct Size of Collar for your Dog
To choose the correct size of collar for your dog measure the circumference of his neck and then add one to three inches, depending on your dog's size. It will be less for a small breed, more for a larger breed.
When you have purchased the collar, try it on your dog and adjust the straps to the correct fitting.  It's a good idea to measure the upper neckline of your dog to make sure that the collar isn't loose enough to come off over his head.
What is the Recommended Space Between a Dog's Collar and Neck?
The general rule is that if you can fit two fingers comfortably between the collar and your dog's neck, it is fitted correctly.
If you have a dog that pulls, it is usually best to buy a wider collar as it will be easier for you to control him.
Large breeds usually cause most problems in this respect, while smaller breeds are easier to control and can have a narrower collar.
I do have pulling problems with my Sherlock and have found that a wider collar is so much better, not that it stops him from trying to pull!
I also use a no-pull dog harness, you can check out an article on harnesses here.
Check and Readjust Your Dog's Collar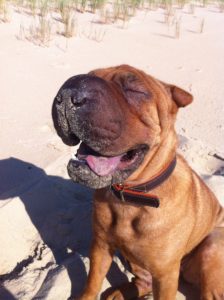 Just because you have got the right size collar doesn't mean that you don't have to check it from time to time. There could be all sorts of reasons why the collar isn't the right fit anymore.
I have mentioned weight gain and loss already, but if he's been shaved or groomed, the collar might now be loose on him.
You will have to check it more often as his hair grows back. Perhaps the collar shows signs of wear and tear meaning that a new collar needs to be bought.
If you have a puppy, you will need to check the collar more often as they grow fast. You don't want them to be uncomfortable and resent wearing a collar.
It's good to let your dog have a rest from wearing his collar, but when you put it back on him, make sure that you check that it fits correctly.
What Kind of Collar Should You Get?
The most common type of collar is the flat collar and I have these for my dogs. I haven't had any problems with them, but they do need to be checked often to make sure that they still fit properly.
A flat collar helps to control feisty dogs, but may also cause neck irritation if you have to pull on them too often.
A potential problem can arise if you have a dog whose neck is bigger than his head. It could be quite easy for him to slip out of the collar and in this case, you would be better off choosing a harness.
Should I use a Dog Harness Instead?
I used a harness with my dog, Sherlock, when he was a puppy as it is easier to train a pup on a harness.  It also makes you feel safer knowing that it would be very difficult for your puppy to escape.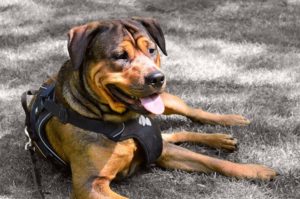 A harness for puppies is also a good idea because it gets rid of the possibility of them getting caught up in the leash and injuring themselves.
Harnesses also has the advantage that your dog won't be able to slip out of his collar and get into danger.
Still, you should make sure that, as with flat collars, you can get two fingers in-between it and your dog. It will make all the difference to his comfort.
In addition, make sure that the clasps holding the harness are not broken; otherwise your dog could escape and run off.
There are two types of harnesses, a back-clip harness and a front-clip harness. The ring that the leash goes onto on a back-clip harness is on the top of the dog's back.
They are really only suitable for calm dogs as it is easy for them to pull. They are also a good idea for dogs with delicate throats.
A front-clip harness clips to the leash by a ring in the front. They have the advantage of giving more control to the owner, particularly if the dog has a tendency to want to do his own thing.
Hey, perhaps I should get one for Sherlock as he is very rumbustious.
The final type of collar is the chain collar which should only be used for training and shouldn't be left on when your dog is at home. They are also called choke chains and I personally wouldn't use one as I wouldn't want to hurt my dog.
Now I've found a couple of collars which I think are really great. Hopefully you will too. Again, if you want to go the harness route, check out the best dog harnesses here.
Best Dog Collars for Your Pooch
        Blazin Safety LED Dog Collar – USB Rechargeable with Water Resistant Flashing Light
If you take your dog out on night walks, this is definitely the collar for you. It's a light-up collar with a visibility of 350 yards.
You will be noticed by cars who will give you a wide berth. In addition, you can keep an eye on your dog while he plays in the back yard and it's useful if he gets lost at night.
It has three modes, on, strobe, and blink, and of course, you can switch it off during the day.
The ability to charge from any device is a nice feature and it takes around four hours charging for eight hours of use.
The collar also comes in assorted colors including blue, red, pink, and purple so you can choose your favorite color.
Finally, it's available in different sizes so you should be able to find one that fits your pet.
Pet Tracker Petfinder GPS Tracking Device Dogs Remote Activity Tracking Collar Tag Locator Waterproof
Now this is some device, I didn't even know these existed!
This collar also has a GPS tracker and phone for you to talk to your dog while you are away from him.
The tracking works nationwide so is a great device if you have lost your pet or he has been kidnapped.
You can also designate safe areas and will be contacted if your dog gets out. On top of everything, it is also waterproof.
The collar comes with a free sim card and it is supported by both iPhone and Android. The monthly phone plan can be as low as $5.
I think it is a great device although it's not cheap. It will give you peace of mind while you are away from your dog and he will also find comfort in hearing your voice.
Final Thoughts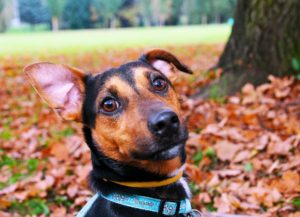 Hopefully I have given you some food for thought when it comes to collars, whether you buy a leather one, one made out of material, a light-up collar, or a pet tracker.
The general rule is to make sure that you are able to get two fingers in-between your dog's collar and his neck.
Remember to recheck the collar from time to time to make sure that it still fits correctly. This is especially important if you have puppies that can grow very quickly.
Just remembering these simple rules will give you years of enjoyment with your pooch.