Hi there! My name's Valerie and i'm the proud parent of my fabulous golden doodle Bentley!
Most people in our village have known Bentley since he came to us at the tender age of 15 weeks. While he was the most adorable cuddly teddy bear, and only weighed a few kilos, no one had a problem when the furry boy jumped up to greet them.
However, we knew the size he was going to grow into and jumping up at people was never going to be acceptable.
I began to look at dogs walking with their owners and found that where we live most people have small dogs. While they pulled on the leads, it was easy to bring them back into line. Not so with our Bentley! Sometimes he would pull so hard against the collar that he seemed to choke himself.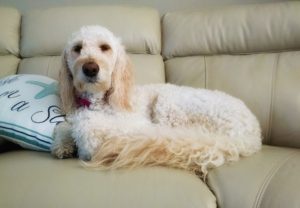 Time for a rethink. We tried choke collars which did not work with our cute little mutt. I did not like the idea of a prong collar so did some research and decided that a no-pull harness was the right thing for our dog.
It seems that traditional collars are fine for dogs that don't pull at them and walk beside you without pulling.
But sometimes you need something better to keep a dog in line, particularly when it is a large dog who has a mind of his own!
Now what I find is that harnesses are great while you walk the dog, but when you get home its best to remove them. It is not comfortable for our furry friends to wear them for extended periods, particularly if they have long hair.
The hair seems to get caught up in the harness and this cannot be comfortable.
I've also become aware of just how many people are using harnesses these days, especially for bigger dogs. I've found that the harness is great when Bentley gets excited around other dogs, it keeps him more under control.
Mind you, I must say that you should still watch out if your pooch gets excited. I have to make sure I never relax my grip on the handle when we see other dogs.
What is a No-Pull Harness?
As the name says, this is a harness as opposed to a collar, so it does not go around your dog's neck. It fits around the body. Some harnesses have an attachment point on the back while others have one underneath in the chest area.
The harness always comes with a chest strap and a belly strap which all join together at the top of the dog's back. Sometimes there is a strap which connects the two and this was the first type of harness that I tried with Bentley. I taught him to sit and put one paw in at a time and to stand still while I clipped it closed at his back.
He soon got the hang of this and we used it for some months until he outgrew it.
After that we moved on to an adjustable harness which we still have. This one I can extend as he grows so it's good value for money. Not that harnesses are that expensive. Truthfully, you can get a very good quality harness for a good price, so they are well worth buying if you have a dog that pulls like Bentley used to do.
I must add here that although Bentley has mostly stopped pulling, given the slightest opportunity he will head off to greet another dog if he gets the chance. So, while a no-pull harness will stop him pulling because it gets uncomfortable around his chest, we still have to be careful in case he catches us off guard.
I guess that comes down to training, and that's a whole 'nother story!
So, What Are The Advantages of a No-Pull Harness?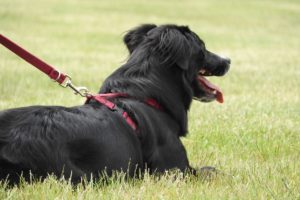 Yes, I think there are several very good points in favour of a harness. They make excellent training tools with younger pups.
Believe me, the sooner you can teach your dog not to jump up, the better!
I've found that my dog is less likely to get tangled up in the harness than if he wears his collar and lead. The harness definitely discourages Bentley from trying to pull.
I also believe, after reading up about this, that a harness prevents any neck injuries which could come from trying to pull and run. If you have a toy breed which is quite small and delicate, this is important so as not to hurt the dog.
Another thing that is well worth thinking about is if you use the harness for breeds which have respiratory problems. It is horrible to see a dog battling to breathe because the collar is choking him as he's trying to pull away. A harness shouldn't do that, so that's a very good point in favour of harnesses.
Do No-Pull Harnesses Really Work?
I've looked into this extensively and also talked to people who have used harnesses. It seems that most dogs do well with a harness that has a leash attachment on their back. This seems to pull them up short if they decide to tear off after something or someone.
There are dogs who are very boisterous and eager to jump at people. This is scary, even if they mean no harm, and it seems that here the harness with the attachment on the chest really comes into its own.
Chest attachment harnesses will help to stop the dog lunging forward or leaping up because they bring the head around to the side. This is an uncomfortable feeling for any dog, and eventually he will learn that if he wants to be comfortable on walks, he stops jumping or pulling.
Most dogs do learn this, and the harnesses certainly help to embed it into their minds.
That being said, if other dogs are anything like Bentley, he will try the patience of a saint sometimes! He will certainly think that he can outsmart me and jump up given the opportunity, so I have to be focused all the time when he wears the harness.
How to Fit a No-Pull Harness
There are two types of no pull harness, the one fastens on the back of the dog, while then other fastens in the chest area. My friend has a small dog who wears a soft, vest type harness which fastens at his back. She says that these are great for smaller pooches.
Now when it comes to fitting the harness, I have learned one thing. RTFM – know what that stands for? Yes, I'm sure you do, basically read the instructions. So, every harness I have bought and seen has come with a diagram of some sort showing a dog wearing it. This is a good place to start and it gave me a pretty good idea of how to fit the harness onto Bentley.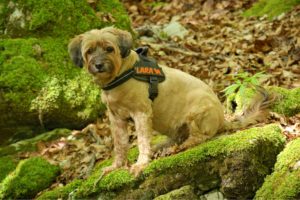 It's best to start by adjusting the strap that goes under the ribs first and I found that it worked to make this as long as possible.
Next, I adjusted the strap that goes over his back, and I make this as short as I can.
Then I start to adjust the underneath strap again so that it is not too tight or too loose for him.
Both the top and bottom straps should be snug, but not so tight that you can't get two fingers between the straps and the body.
I also see that the top and bottom straps need to be in an almost vertical line behind my dog's shoulders, and to get them this way I had to loosen the strap that goes over his chest.
A problem I had when I first started was to try to tighten everything up far too tight. I think I was scared that Bentley would somehow slip out and make a run for next door's dog, or the open fields, but I learned that if all the straps are a snug fit, he was never going to escape.
Even if he rolls around the harness does not come off.
There are different ways to get your dog into the harness, some recommend that you place them over the head. I managed to train Bentley to sit and place his paws in, one at a time.  Most days we get this right unless he is overly excited to go for a walk and simply won't sit still.
You will know if the harness is not the right size if you tighten it all up and it still looks as if it's hanging off him. The opposite applies too, if it's too small and is just too tight when done up.
A word of advice: take a pocketful of treats with you. I found that when Bentley first started wearing the harness it took a while before he realised what it was for. When he started to pull, we just stopped walking and waited until he realised that we would go nowhere until there was no pulling.
A treat every so often along our walks seemed to get it into his mind that if he didn't pull, he was rewarded.
Truthfully, I can't say that Bentley never pulls, even with a harness. What I can say is that it has made a huge difference to us having a walk and me being taken for a walk by a big, furry teddy bear. And – more importantly, I think – the neighbourhood is now safe from being jumped on.
I've found this video online, that shows how to fit different types ot dog harnesses, it may be of use to you. However, as i've said, read the insturctions on the harness you get, as chances are, it will be different to ones in the video!
Best 5 No-Pull/ No-Jump Dog Harnesses
So having used a dog harness with Bentley, I know it can be difficult to find a good quality one!
Therefore, I've had a look at some harnesses and have shortlisted them below!
All I can say is, check them out, read the reviews, if you think it will suit your dog, give it a go.
1. RABBITGOO No-Pull Pet Harness
This harness can be adjusted to fit all sizes of dog, from small to large and is really easy to get on and off again.
The pulling pressure is nice and evenly spread over the entire harness so there is no chance of the dog choking.
I like the metal leash attachments on both the back and chest. There is something about metal attachments which gives me more confidence in the strength of the harness.
You can adjust the straps very easily, and the harness is beautifully padded, so your dog will be comfortable wearing it.
What I did like is that the fabric is reflective, so if you go for a walk at night, you can be seen by motorists.
2. JUXZH Soft Front Dog Harness
If you or your dog is fashion conscious, then you'll love this harness! It comes in a huge range of beautiful colours, so you can co-ordinate your own dress with your pooch!
Apart from looking good together, the harness has two leash attachments and reflective fabric for walking at dusk or at night.
The actual harness part is nicely padded and soft sponge for extra comfort.
What is a very good idea is that the one attachment is designed to be used as a seat belt attachment, so you can take your pooch along with you knowing he is safely buckled up.
3. Big Dog No Pull Harness
This harness is for BIG dogs, and I mean big! The chest girth measurement is 22-35", although you can adjust it to fit a medium sized dog like a Retriever or American Pit Bull.
The harness is easy to put on and take off, the buckles snap closed quickly, and it gives a very secure fit.
You will see that the D-ring attachment is particularly sturdy, which is exactly what you want for a large dog.
The harness is also lightweight and very easy to clean, so I think this would be perfect for hiking and hunting. You need have no worries about getting it clean afterwards.
4. MEEROWN No Pull Dog Harness
This harness comes with a sturdy D-ring attachment point as well as a nylon handle to help you control your pooch, if you need to.
Because the harness is reflective, it means you can walk more safely at night and you can also get the harness on and off quickly with the snap buckles.
The harness is lightweight and is made from soft fabric so will be comfortable for your dog to wear for longer periods.
It is important for the harness to be easily cleaned because we all know that dogs just love to get dirty or wet. This one is easy to clean which means less worry if he gets dirty on his walk.
5. PetLove Dog Harness
Lately I've been watching other dog walkers and have noticed that it's not only big dogs that pull, although it's more noticeable to see me being dragged along by Bentley than it is to see my friend and her Toy Pom.
But little dogs also pull. Here's a harness which is designed for the little furry person who wants to take his owners for a walk – you know the one – who walks like a sheep on a mountainside because he's pulling so much!
The harness comes in size XX small and fits the chest measurement of 18.9 – 21.1" and is one of the cutest harnesses you will find!
It's easy to put on and take off and is ultra-lightweight with soft, spongy padding in the chest area.
The harness is reflective so you and the diminutive furball will easily be seen at night!
Final Thoughts…
I hope I've covered all the ins and outs of harnesses. One thing I must just finish on is that even with a harness that it seems like your dog will never escape from, I think it is important that dogs always have identification tags.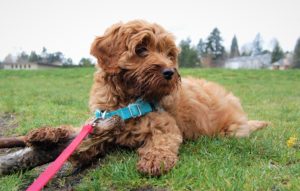 You just never know when something could frighten a dog and we lose concentration for a split second, to find our beloved pooch heading off who knows where. Better to be safe than sorry. Bentley is microchipped and also has his little ID tag with our telephone numbers on – just in case.
So, having decided to buy a harness for your pooch, make sure you get the right size and fit it on him correctly.
They may look and feel a little uncomfortable in it at first. Bentley certainly let me know that I was not doing him any favours by dressing him in the harness.
But it really did not take more than a few walks before he worked out that the only way for a walk was to wear a harness.
Now, when it's walk time he'll stand by the box with his collar, harness and lead in it, sit to get dressed and joyfully head out of the door for his walk.
I also feel better knowing that the village is safe for another Bentley walk!