It comes as no surprise that the Golden Retriever is frequently rated as one of the most popular dog breeds.
They are without doubt beautiful dogs. Additionally, they have beautiful coats and wonderful characteristics.
Highly intelligent, great with children and families, it is no wonder that they are so well loved. Golden Retrievers are classed as medium/large sized dogs.
They have a double coat which means that they have a soft short undercoat and a silky long upper coat. Because of the double coat grooming is slightly different from other single coat dogs.
As the name implies, the coat is a golden colour. It is thick, soft and requires regular brushing to keep it tangle free and shiny.
Because of the double coat the shampoo you use for your Golden Retriever may differ from other shampoos for single coat pooches.
What to Look for in Shampoo for Golden Retrievers
There are several things to consider when choosing the ideal shampoo for the Retriever.
Please don't be tempted to use your own shampoo on your dog, even if it is organic and smells divine.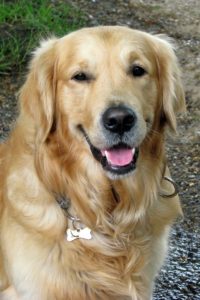 There are always elements in human shampoo which are simply not suited for dogs of any breed.
1) Natural ingredients. Look for a shampoo which has no added fragrances, colours, phosphates and parabens which may irritate your Retriever's skin. They have sensitive skins so check that there are no common allergens and that the other ingredients are all natural.
2) This simply means that the shampoo should not contain any ingredients which can cause an allergic reaction. Because of this, hypoallergenic shampoos are normally organic and all natural.
3) pH balance. Because your Retriever has a different skin pH than you, you should find him his own shampoo. It will be correctly balanced so that it does not irritate hi skin.
4) Retrievers have skin which can be easily irritated, so the ideal shampoo needs to have added moisturisers such as aloe Vera, almond oil and oatmeal.
5) Most Golden Retrievers tend to enjoy getting dirty so you may consider a shampoo which has something to keep him smelling sweet.
So, why Groom a Golden Retriever?
The main reason for grooming your Retriever is to keep his fur in good condition. Grooming removes the dead hair which if left ungroomed will soon form tangles and knots.
These are very difficult to brush out and often a dog with lots of matted hair is shorn to remove them.
All the areas of the Retriever where you find long feathery hair should be trimmed using thinning shears to keep the feathery look.
Because of the double coat, there tends to be a fair amount of dead hair as the weather warms up.
The undercoat, which has kept them warm in the winter is not discarded – all over your floor if you don't groom your pooch!
Use a good quality bristle brush to reduce the shedding during the warm months.
Golden Retrievers enjoy being bathed and you can do this whenever you feel it is called for. If you use a good quality shampoo the coat will not be harmed.
If you need some help grooming your dog click here!
A Word About the Ears and Nails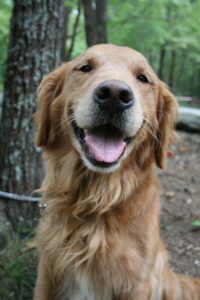 To keep your Retriever's ears from getting infections you need to trim the hair around his ears. Make sure you trim the hair on the inside as this will lead to problems if it gets too long.
Cleaning the inside of the ears is also essential and should be done weekly with a cleansing solution which your vet will have.
Nails need to be clipped regularly. For a dog having long nails makes it uncomfortable to walk. You will also find out how unpleasant they are if your pooch jumps up at you with long nails!
If you feel squeamish about cutting them, then make sure he gets them done at the vet or the groomer.
How Often Should you Groom a Golden Retriever?
Your Golden Retriever needs to be thoroughly brushed at least every week depending on the length of the fur.
You may even do it more often for longer hair. Ears should be taken care of every week.
A complete grooming session should be carried out regularly, when you take care of ears, nails, tail and teeth.
Types of Shampoos for Golden Retrievers
If you have ever walked down the pet aisle at your local supermarket you will notice that these days, there are as many shampoos for dogs and cats as there are for humans.
It can be quite confusing to choose the best one for your furry friend.
There are several different types of dog shampoo which are suitable for a Golden Retriever.
Puppy Shampoo
This is different from adult Retriever shampoo. It is made for more sensitive skin and should also come with a 'tearless' label so you know your pup's eyes will not be irritated.
Tick and Flea Shampoo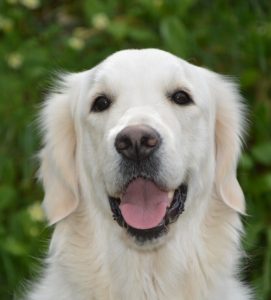 If you live in an area where there is long grass or you often take your pooch for walks in the country, then the chances are he will eventually pick up fleas, and maybe a tick.
For the shampoo to be effective you need to work it well into the fur and all the way to the skin so that it kills the bugs. The shampoo should be left on for ten minutes before rinsing off, so that it is completely effective.
Medicated Shampoo
This is useful if your Retriever has any sort of skin infection. These come in antiseptic, antifungal and antibacterial formulas and your vet will advise you on the correct one to use.
All in one Shampoo
This is the shampoo and conditioner which are together in the same bottle. These are good for keeping the coat shiny and silky smooth.
General use Shampoo
Keeping a good quality all-purpose shampoo for your Retriever is a good idea for when that's all you need. Make sure you choose one with all-natural ingredients and if possible, have a moisturiser added.
Using a general shampoo works very well and it should be a staple in your dog's bathroom container.
If he develops any other problem such as fleas or irritation, then you should add a different type of shampoo, one which is designed to take care of a specific problem.
5 Best Shampoo Choices for Golden Retrievers
1) Earthbath All-Natural Pet Shampoo
What is good about this shampoo is that it is 100% cruelty-free, bio-degradable and completely natural.
The shampoo is gentle and effective, with a delightfully fresh smell. The shampoo is formulated to relieve itching and moisturise dry skin. It is perfect for dogs with sensitive skin.
The formula is soap-free and made with Aloe Vera and oatmeal to leave the fur soft and shiny.
Because of the deodoriser in the shampoo, your dog will smell fresh for longer after he has been bathed. It also offers plenty of relief to itchy skin particularly if your dog is prone to scratching.
The scent is a delicate vanilla and almond which will leave your pooch smelling like he has spent the entire day at the spa.
The shampoo is safe to use on dogs who are older than six weeks. Although it is soap-free you should keep it out of your dog's eyes.
2) Cloud Star Buddy Wash Lavender & Mint 2-in-1 Dog Shampoo + Conditioner 16 Oz
This is a 2-in-1 shampoo and conditioner which has been formulated with essential oils and botanicals.
The Aloe Vera ensures that the skin is calmed, and the soap-free shampoo lathers up to a rich foam which is easy to rub in and even easier to rinse out.
You will find that the skin and fur are both soft and shiny.
Key ingredients are Aloe Vera, Sage, Green Tea, Chamomile and Rosemary, while the coconut base is completely alcohol free and gentle flavoured with mint and lavender.
The shampoo comes with a deodoriser made from wheat protein which is natural and safe, even for frequent usage. The shampoo is so mild it is suitable for puppies.
What I like about this shampoo is that it is not tested on animals, it is also safe for humans and should be used as directed. This is one of the few shampoos that you can share with your pooch!
Because the shampoo is free from any harmful ingredients your dog's skin will feel softer and less irritated after a shampoo session.
The shampoo is suitable for puppies who enjoy getting dirty and no harm will come if you use it frequently on pups or adult dogs.
3) Burt's Bees Tearless Puppy Shampoo with Buttermilk
This is a puppy shampoo, specifically designed for youngsters. The shampoo is made from all-natural ingredients to leave your pup feeling and smelling fresh and clean.
The shampoo is completely free of sulphates and colourants. The pH is perfectly balanced for pups while the buttermilk is added to soothe the skin.
This gentle cleansing shampoo also contains honey which keeps the moisture level of the fur high and regulate and strengthen the follicles, ensuring healthy hair growth.
The pH is balanced for dogs and keeps the skin from becoming too dry or red and flaky.
One good thing about this shampoo is that you can use it right after applying flea and tick treatment because it will not wash it off.
The shampoo is 97% natural, it is not tested on animals and contains the highest quality ingredients. There is also linseed to keep the hair in tip-top condition.
Once you have tried this shampoo you will keep it as a staple in your dog's grooming basket. Fragrance free, as well as sulphite and colouring free make this an essential item when grooming your pooch.
4) 4-Legger Organic, Hypo-Allergenic, Lemongrass & Aloe Dog Shampoo"
This shampoo is hypo-allergenic and subtly smells of Lemongrass and Aloe Vera. It is a completely organic shampoo with no artificial chemicals added to it.
Lemongrass is a natural cleanser and Aloe Vera helps keep the skin in good condition.
Both ingredients work together to prevent itchy skin and calm sensitive or allergy-prone skin.
The formula is concentrated so a little goes a long way. Don't be tempted to use a big blob because you can use a smaller amount for the same effect.
The shampoo is formulated to clean and condition without washing the natural oils away and the ingredients are well-known for their antifungal and antibacterial properties.
You will find that the shampoo does not contain any sulphates or parabens. Neither are there any preservatives or thickeners, just all-natural ingredients.
The formula is eco-friendly and completely biodegradable. It is cruelty-free as well as gluten free.
What I like about this product is that it is only made in small batches so that it is always high quality. It is a totally holistic blend which will keep your Retriever's skin and fur in peak condition.
5) Nature's Miracle Supreme Odour Control Natural Oatmeal Shampoo & Conditioner
This is a soap-free formula which is also an excellent odour-controlling shampoo and conditioner.
It is safe to use it with flea and tick formulas and contains no colourants or parabens.
The shampoo is made with oatmeal to hydrate and soothe sensitive skin. It has a four-fold treatment programme, namely removing odours, deodorising, cleaning and conditioning.
You will find with this shampoo that your dog's hair has less static and keeps clean for longer than other shampoos.
The shampoo is formulated to keep the essential oils in your dog's coat as healthy as possible and the Honey/Sage aroma will make you want to bath him every day!
There are no dyes or parabens in the formula, and you can use it even with tick and flea applications.
What I like about this formula is that it takes care of odours for an extra-long time, as well as keeping the skin in a healthy condition, and smelling sweet.
Final Thoughts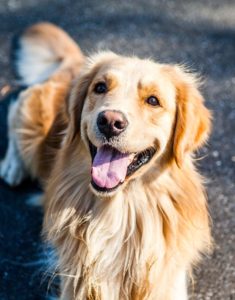 While it is very important to groom your Golden Retriever regularly, it seems that it is even more important to choose the right shampoo/conditioner for the job.
Never be tempted to use your own shampoo on your pooch as the pH is not correct for a dog's skin. He'll appreciate you getting him his own brand of shampoo and conditioner!
So, for a Golden Retriever it's important to brush our pooch at least once a week and then bath him when needed, using his own special brand of shampoo.
This way you will have the best-looking dog in the neighbourhood!