Hi, my name is Irena and I live on the beautiful island of Crete in the Mediterranean Sea with my crazy dog, Sherlock, and three cats, Hammie, Dimitris and Ebony.
Today I'm going to talk about Pugs and what harnesses you should use on them.
Pugs are small dogs with wrinkly skin and big brown eyes. They have bags of personality and enjoy getting up to mischief.
They love human company, so it's not a good idea to have one if you are going to be out all day.
Some Pugs don't much like going for walks, but they do need regular exercise just like all dogs do.
One or two short walks a day should suffice. Be careful, however, to avoid excessive heat as they can overheat very easily.
Benefits of Using a Harness for Your Pug
So why should you use a harness rather than a collar and leash when taking Pugs out for a walk?
Well, the first reason is very important. It prevents choking.
Dogs can get excited when they go out for their walks and can tend to pull on their leashes. However, it is very difficult for them to do this with a harness on.
Smaller breeds tend to pull more than larger dogs so your pugs could get into danger if they are on a lead. A harness will keep your Pugs by your side.
Another good reason to get harnesses for your Pugs is that these dogs are prone to respiratory illnesses. Because of the shape of their bodies, they snort, wheeze and snore more than many other dogs.
They have small snouts, so their airways aren't open enough and they are top-heavy, leading them to have problems with normal breathing. A harness will take the pressure off their necks and chests.
Harnesses can help with training your Pugs. They can be stubborn dogs, so they need to be restrained. Harnesses give you more control over them than a leash and collar do.
They will help to stop your Pugs from jumping up and getting into places they shouldn't be.
What to Look for in a Pug Harness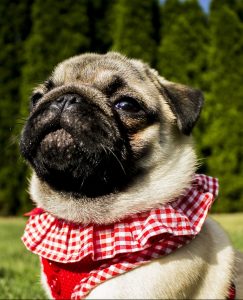 The most important thing to ensure is that the harness fits properly. Measure your dogs around the chest and the neck to ensure they are getting a good fit.
You don't want the harnesses to be too tight as they will be uncomfortable and may rub. On the other hand, they can't be too loose as then your Pugs could escape.
Pugs have sensitive skins so you will need to find harnesses that are made of soft and breathable material. Pugs easily succumb to skin irritations.
However, harnesses do have to be durable and strong enough to withstand any stresses. In addition, the lead which you attach to the harness also needs to be strong.
If you take your Pugs for longer walks it's not a bad idea to get harnesses with padding, especially for under the front legs to stop irritations.
Some harnesses come with handles on top which can give you more control, particularly if you have to pick your Pugs up. Reflective material is a good idea if you walk your dogs when it's dark.
How to Fit a Harness on Your Pugs
Harnesses generally come in two different types; step-in and over the head. It is a good idea to use the harness from when you first start taking your Pugs out so that they get used to walking with a harness.
With the step-in harness, put it flat out on the ground and then put your Pugs on top of it.
Place the right leg in the loop and then the left. Finally, snap together the strap buckles on their backs and then you're ready to go.
With the over the head harness, slide your dogs' heads through the neck pieces and make sure that the bottom straps are placed in-between the two front legs underneath their stomachs.
Then press both the strap buckles together.
Whichever harness you decide to use, make sure that it fits snugly, but not too tight. To check that it isn't too tight, put two fingers between your dogs and the harness. Your fingers should fit comfortably.
Different Types of Harness for a Pug
We have already spoken about the step-in and the over-the-head harness. However, we also need to look at where the leash is attached as this is significant.
Some harnesses have the leash attachment at the back. This has the advantage in that your Pugs won't get their legs caught up in the leash.
However, if you have Pugs that pull, you won't have complete control of them as it is more difficult to rein them in if you are controlling them from their backs.
The alternative is a front-ringed harness. With this, the leash attachment is either in front of the dog's chest or underneath the chest.
You can control your Pugs more easily with these harnesses, but they can be caught between the front legs tripping up your dogs.
To compromise and what I think is best, get a dual-ring harness.
If your dogs are reasonably well behaved you can attach the leashes to the back; if they're not, attach the leashes to the front.
Perhaps start them off with the front-ring until they have learned not to pull and then later, use the back ring. A lot of trainers use this type of harness.
7 Best Harnesses for a Pug
1 )Puppia RiteFit Soft Dog Harness
If you are looking for an over-the-head harness for your Pugs, you won't go far wrong with this one.
It is made from 100% polyester stretch mesh and has a comfortable padded neck opening.
It shouldn't rub or chafe delicate skin. There is reflective seaming which is useful if the light is low.
It has an adjustable chest belt and a quick-release buckle. The harness has a D-ring at the back to hook the leash onto.
This harness comes in sizes ranging from X-small to XX-large. Don't forget to measure your Pugs before ordering.
It also comes in a variety of colors so you should find one to suit. The harness is machine washable, but it will probably last longer if you hand wash and air dry it. The hardware is rust-resistant.
2) Alfie Pet Vince Sailor Harness & Dog Leash
This harness comes with a lead as well so it kills two birds with one stone.
They both have a very trendy striped sailor design which will make your Pugs stand out in a crowd. It comes in sizes from X-small to X- Large so you should find one to fit.
Your Pugs will be able to step into the harness which will make life easier.
Quite a few people who have bought these harnesses have said that their pups prefer to step-in rather than have the harness put over their heads.
This could be because some dogs don't like things coming towards their faces.
This harness distributes restraint across the whole chest. It is fully padded which will be comfortable for your dogs and they will probably be happier to go on a long walk.
The leash comes with a strong and durable D- ring so the leash won't slip off. In addition, it would be very difficult for your Pugs to wriggle out of this harness.
The harness is machine washable although again is it better if you wash it by hand and air-dry it. It should then last for much longer.
3) Rabbitgoo Dog Harness
This is an over-the-head harness which, if your dogs don't mind something coming at their face, is easy to put on and to take off.
It is made out of strong Nylon Oxford mesh, which has reflective stitching and is padded to protect the delicate skin of your Pugs.
The material is breathable which means that your Pugs will stay cool in the summer. As Pugs are prone to respiratory problems, this is good.
There are four adjustment straps, two at the neck and two at the chest so it shouldn't be difficult to get it to fit perfectly.
Don't forget to measure your Pug so that you choose the right size. It comes in sizes from Small to X-Large and in six colors including Bright Orange and Ocean Blue.
The great thing about this harness is that the lead can be attached to either the back or the front. When you are training your Pugs go for the front.
The same goes if you have energetic Pugs who you need to control more. If your Pugs are gentle walkers, you can attach the lease to the back.
4) RUFFWEAR – Front Range Everyday No Pull Dog Harness
This harness is very strong and durable and would suit Pugs who go out on long walks. It won't split or tear after just a few wears; in fact, it should last the lifetime of your Pugs.
The material is nylon and there is plenty of padding so that the harness doesn't rub which is especially important if you are going to go on a long hike.
There are four adjustment points so that you get a perfect fit. You put this harness over the head and there are two leash points.
There is an aluminum ring on the back and a webbing loop on the chest.
If your dogs are gentle walkers, you can use the back ring; if they are energetic and tend to pull, use the front loop. It can easily be used for training purposes.
The harness comes in six colors, including Twilight Grey and Meadow Green and in sizes from XX-Small to Large/X-Large.
It also has an ID tag pocket. Don't machine wash it, but hand wash with a mild detergent and then air dry.
5) EzyDog Chest Plate Custom Fit Dog Harness
This harness is a little different as it has a foam chest plate that molds to the body of the dog, making it more comfortable.
It distributes pressure evenly along the length of the body which helps to stop any injuries taking place. It also gives you more control while walking your dogs.
This plate is made from EVA foam, which is durable, but soft. There isn't too much material which is better if you live in a hot climate as Pugs can be prone to overheat.
The EzyDog harness fits over the head. It has four straps that are easy to adjust, and the buckles are heavy-duty.
You will find that your Pugs would struggle to escape from this harness. The leash attaches to the back via a welded stainless-steel D-ring which is strong and secure.
This connection keeps the leash from catching around your Pugs' feet. In addition, there is reflective stitching, meaning that you and your dogs will be safer if walking out at night.
It comes in a variety of colors and there is a complimentary car restraint accessory included.
6) Frisco Padded No Pull Front Lead Dog Harness
This harness is put on over the head and is easy to get on and off your Pugs because it has two fast-release buckles on either side of the belly strap.
The slides on this strap are adjustable as are the slides on the shoulder straps. It comes in four different sizes and with the adjustable straps, you should find the perfect fit for your Pugs.
It also comes in four different colors, pink, red, blue and black, so you can choose what best suits your Pugs.
The harness is made of high quality, durable nylon webbing so you'll probably have it for years even if you take your Pugs out twice a day for a walk.
The chest piece is padded and is made out of mesh. It is breathable which is good for dogs who can overheat.
There are two leash connectors which makes it easy for you to walk your dogs.
There is an O-ring attachment on the front which is handy if you have Pugs that pull or if you are training puppies.
Once your Pugs are fully trained you can use the D-ring attachment on the back as they will walk side by side with you and not pull.
7) BingPet No Pull Dog Harness
This harness comes in three sizes and four different colors. You put it over the heads of your Pugs and the chest girth is adjustable so you should get the perfect fit.
It is made out of high-strength nylon webbing with sponge padding in the chest area. Your pugs should be very comfortable wearing this.
It has some reflective material which means that your Pugs will be better seen at night or in low light. It is very easy to wipe clean with a sponge.
The buckle is lightweight and is situated at the back, meaning that your pugs won't get the leash caught in their legs while they are walking.
What are the Advantages of Harnesses?
Harnesses offer your Pugs more comfort. If they pull on a collar and lead, they can hurt their necks. A harness can stop this from happening.
Imagine how much better it would be for you and your dogs if you were not continuously tugging at the leash and your Pugs were walking by your side.
A collar and leash can cause respiratory problems in pugs when they pull. In addition, the collar may irritate their skin, making your Pugs itchy. It isn't fun for your dogs to be continually scratching.
Harnesses are useful for training purposes as they give you more control over your dogs' movement. Use a collar with a front leash attachment while training and then switch to a back leash attachment.
Final Thoughts: Best Harness for a Pug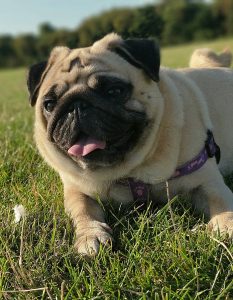 I hope that this article has given you food for thought and has convinced you that a harness is better than a collar and leash.
Hopefully one of the harnesses I have talked about will suit your Pugs.
If I had to pick a favorite, I would go for the RUFFWEAR Front Range, Everyday NoPull Dog Harness.
It has attachments for the lead on both the front and the back and four points of attachment so you can get it to fit your pugs comfortably.
Start early with the harness. It is much easier to mold a puppy rather than an adult dog.
However, if you do adopt adult Pugs, start slowly. Leave the harness around so that they can sniff it and get used to it. Don't punish them if they refuse to put it on.
It will probably take a few tries before they accept it. It's probably a good idea to give them a treat when they do let you put on the harness.
They will then associate the harness with something nice happening. They're such lovely, squashy dogs that it is worth the effort to ensure that they are kept safe on their walks.