Hello, my name is Valerie and I am the proud pet parent to Bentley the Clumberdoodle. This will be the third Christmas that Bentley spends with me, and as always, I am wondering what to buy him.
The last two years have been a learning curve for me, and I fully expect this to continue. I have learned so much about my furry friend – I expect he has learned about me, too.
I have found that Bentley loves his toys – he has heaps of them in various places through the house. I think it is important that he has toys for different reasons.
Firstly, they are important to help keep him active. Secondly, his toys provide mental stimulation. Finally – and most important, in my opinion, his toys create a bond between us and our relationship seems to thrive on time spent together.
So, Why do Dogs Need Toys?
I have done some research here and found that toys not only provide stimulation, there are some that also help to keep teeth clean, and some that encourage pooches to chew their own toys, and not the sofa or my shoes.
So, with Christmas just around the corner, I needed to seriously start looking at toys and gifts that are appropriate for Bentley. The toys I have looked at for this year are different than those of the first to years. In the first year, he had heaps of cuddly toys under the tree, and a pile of chew toys as he was teething.
Last year I cut down on the cuddly toys because Bentley went through a stage of ripping their heads off and pulling out the stuffing. I had a constant pile of headless toys in the sewing box.
This year fortunately Bentley seems to have stopped ripping the heads of his toys, now he grabs them and runs about the house with them.
Occasionally it looks as if we are having a yard sale because he lines them all up at the front gate. I've taught him to then bring them back in again, so I don't have to do this.
What to Get Your Dog For Christmas?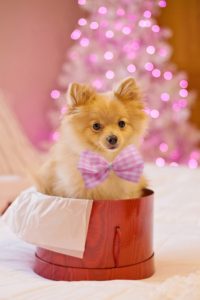 What are suitable toys for a three-year-old Clumber doodle? He's an energetic bundle of fur, who weighs 30kg and loves a bit of 'rough and tumble'. He also likes to curl up for cuddles, so still likes his cuddly toys.
I think it is important that when you buy those gifts for your dog, that you take into consideration some points. Here's what I have come up with.
Age: What I bought at one year and what I will, but this year are different. Dog's needs change as do his activities. A senior pooch will not appreciate mentally challenging games like a young dog will. Neither is it suitable to give nice soft toys to your dog if he loves to chew.
Fitness level: Bentley has a very high fitness level so anything that needs running after, catching, chasing, bringing back, and that type are all good ideas. Probably not a good choice for a dog who does not enjoy much physical activity.
Space: Fortunately, Bentley has heaps of open space to run after balls and throwing toys. If you live in an apartment and don't have that much space, you may not want to get balls or frisbee type toys.
Where to Buy Christmas Toys For Dogs?
Well, there are many different places that you can buy toys. What is important I think, is that the toys you buy are specifically designed for dogs. Toys designed for toddlers and young kids are not suitable for your furry friend.
I always look online first for toys. This is because it is easier to have them delivered to the house, instead of me traipsing around shops looking for them. I can also buy them from reputable shops so I know the quality is good.
What I have found is that it is not a good idea to buy dog toys from 'those cheap shops'. We live in Spain and every town has what we call the 'cheap shop'. This is where you can buy everything you ever want, from scissors to wool, and everything in between.
We also know that most of the stuff does not last and is not good quality. So, while these shops serve a purpose, I would never buy dog toys there. They will not last, the product will be bad quality, and may even hurt my dog.
Reputable online stores will always have a return policy. They will also have reviews that you can read to see what other people have thought of the product. Of, course if the product is really awful, you get to leave your own review as well!
I think that buying Christmas presents for Bentley is just as important for me as it is to a parent buying for their toddler. I would never buy junk, neither would I buy anything that would harm him.
What to Look For in Dog Toys?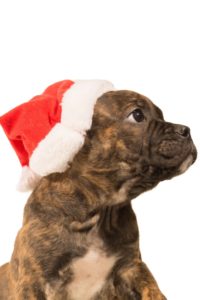 I learned when Bentley was going through the 'rip off the head' stage that I never bought anything with glued on eyes or noses, he loved to chew them off.
Anything I bought – and still buy – must be durable, washable, and sturdy. If there is any plastic in the toy, it must not shatter or crack.
Eyes, ears and noses need to be stitched as part of the face and not made of small plastic pieces.
The whole toy needs to be washable. This is really important as sometimes Bentley's toys get so 'slobbery' and smelly, I need to be able to throw them all in to the washing machine along with his blankies to freshen them all up.
What About Squeaky Dog Toys?
Well, if you think back about the origin of the dog, you will remember that it came from a pack of wild animals who had to kill their dinner to survive. The squeaky noise is what the prey would make when it was about to be eaten, so I think it is reasonable to believe that some of that still insists deep inside the dog's basic instinct.
For us, I know that whenever I have given Bentley a squeaky toy, he is not happy until he had destroyed the squeak. He will attack the toy from any angle and with only one intention in mind – to kill the squeak.
So, while squeaky toys are a great way to keep your pooch occupied for a while so you can get on with other things, you should be prepared for the silent time which will let you know that he has finally killed his prey. I always go and look for the squeak and throw it away so it does not get swallowed.
Are Rope Dog Toys Any Good?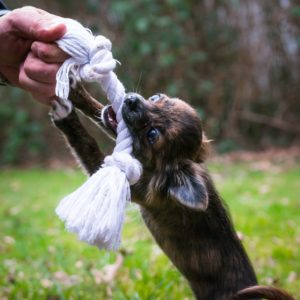 I have found while looking this up that there are two trains of thought about rope toys. The first is that they encourage the dog to be aggressive and that tugging games bring our the aggressive side to dogs.
Myself, I have never found that Bentley is any more aggressive with ropes. He loves to have a bit of tug-of-war with us, although he will also take himself off with his rope and shake it around like a mad thing.
Ropes are also good for cleaning a dog's teeth, so in my mind, I think they are a good choice. Of course, that's up to you, and you probably wouldn't give one to an older dog who does not enjoy pulling games.
So, after reading up on Christmas toys and gifts for dogs, I've found the top 10 best ones and listed them here.
Top 10 Best Dog Toys For Christmas
        1. KONG – Classic
This is one toys that Bentley has had for the last two years, and he still loves it, so I think this is a great addition to the Christmas stocking for dogs of most ages.
Because the Kong bounces differently each time you throw it, the dog never knows exactly where it will land and where to be at touch down. He has to be on his toes with every throw.
The Kong is also designed to help clean teeth and soothe itchy gums so is perfect for dogs who are teething. Truly, they are so hardly I have yet to hear of a dog who has destroyed one.
When I got Bentley his Kong, I bought two just in case he chewed one. We still have them both in perfect condition.
One thing that is great about them is that you can put treats inside. If I need some peace while I work I pop a bit of peanut butter inside and Bentley is occupied for an hour or so.
You can get them in different sizes so even those teeny tiny dogs can enjoy them.
2. ZippyPaws Squeakie Buddies
This is a great gift to add to your dog's present pile. It's a set of three squeaky buddies.
What is good about them is that they do not have any stuffing in them so even if they get ripped open, there is no mess.
These toys are perfect for small to medium sized dogs and you will find that they come with a very loud squeaker which will appeal to dogs who enjoy them.
What is good about these toys is that they are really light so perfectly suitable for smaller dogs who cannot carry heavy things around.
3. Benebone Real Flavor Wishbone Dog Chew Toy
What I like about this toy is that it is easy for a dog to get a good grip on it.
They only use 100% real food ingredients which is a good selling point for me.
Apparently, dogs can tell the difference between real and fake bacon! Who knew!
While the bone is not edible, it is a great size to have a real good chew on so your dog, gets a jaw workout as well as a tooth clean.
4. KONG Air Squeaker Tennis Balls
This toy is designed to stand up to the roughest treatment from any dog so would make a great gift for the best of the chewers!
That being said, you will find that the felt covering is also gentle and non-abrasive.
The toy comes with a squeaker, but it seems unlikely that a dog will ever get it out.
The toy is perfect for medium sized dogs and measures 2 ½ " diameter.
5. Oneisall Dog Toys for Aggressive Chewers
Another one for the chewers! This is made from durable nylon, which is non-toxic and tough.
Again, the toy has a great bacon taste and helps to clean teeth and keep gums in good condition.
The toy comes in three different sizes so there will be one that fits your pooch.
It works for dogs that are less than 65 pounds so can take a good amount of rough handling.
It's a great toy to relieve boredom and keep him occupied for a decent amount of time, while you get on with the Christmas dinner.
6. KONG Flyer
This is one of the best soft rubber discs you can buy.
Not only is it durable, it is made from good quality rubber and perfect for catch games.
It is also soft enough that it won't hurt jaws.
The Flyer will land exactly where you throw it, so your dog will learn to anticipate the direction and improve his accuracy in catching it.
As with any other Kong toy, the rubber is strong enough to stand up to any amount of rough handling your dog can deal out.
7. Outward Hound Hide-A-Squirrel Puzzle
This is a great toy to stimulate your dog's mental ability.
Each squirrel comes with a squeaker and can be hidden inside the house for your dog to find.
The squirrels will also stand up to being thrown around the place for your dog to play catch games.
The toy comes in four sizes so will suit any size dog. If your dog does destroy the squirrels, you can buy them in refill packs, so you don't need to replace the entire toy, which is a good thing to know.
8. AMZpets variety set
This is a great idea! You get a whole bag of ropes, squeaky bones, rope balls and cuddly toys so there will be something to please even the fussiest dog.
This makes the perfect gift for puppies and smaller dogs and comes in a handy carry bag, so you can tidy them all up at the end of the day.
The toys encourage more playing and less biting so are good for training.
The toys are designed to help clean teeth and keep gums healthy, and of course, keep your pooch occupied and stimulated. They are all durable and made from high-quality materials.
One great thing about this pack of toys is that they are all machine washable, so if they get dirty you can simply throw them into the machine.
9. Nylabone Durable Dental Dinosaur
I like this because it looks 'big and scary' and is ideal for dogs to get a good grip on. It's perfect for keeping teeth in good condition and also helping gums stay healthy.
This toy suits the natural instinct to chew and can be given to dogs of up to 50 pounds in weight.
What I think is quite cute is that if either you or your pooch don't really like the dinosaur shape, you can always opt for the T-rex, Brontosaurus, or Stegosaurus.
If the toy gets all slobbery, you can throw it is the washing machine and no harm will come to it.
And my all-time favourite, which is going under the tree for Bentley…
10. Mary & Kate Pets XL Dog Rope
This is perfect for large dogs, as well as dogs that chew and enjoy tug of war games.
The knots are giant-sized and well-made and I very much doubt that even the most aggressive chewer will destroy them.
I don't think Bentley will ever destroy this, so not only is is a good toy, it will also last a long time.
The knots measure 4 ½" and are made from 100% cotton.
This is not a toy for small dogs as they will never get the knot anywhere near their mouths, and it may also hurt them, so keep this toy for the 'big boy'.
Although in reality there is no such thing as an indestructible toy, this one comes pretty close to be that way.
Final Thoughts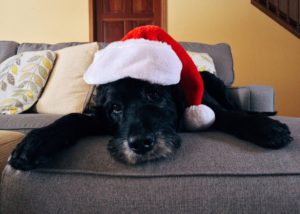 Well, I hope you've learned a little about Christmas prezzies for your pooch. There are really only a few things that you should keep in mind, namely to buy good quality toys that are suitable for dogs and not kids.
Buying toys that suit the age of your dog is important, as well as buying for the right size. And finally, do yourself a favour and make sure you can wash them.
After all this, there was one thing that Bentley loved most last year and that was attacking the gift wrap before he even got to the gift! Get ready to take the bits away as soon as he opens the gift, so he doesn't eat the paper.
Now all that remains is for Bentley and me to wish you and yours a wonderful Christmas and a very Happy New Year!