My name is Jess, and I live with Jimmy, my 12-year-old Cockapoo.
Although I would love to stay at home all day and hang with Jimmy, work, activities, and outings cause me to leave the house and therefore, leave him behind.
He seems to become sad when he sees me picking up my jacket and fumbling around my purse for my car keys, recognizing that I am about to head out.
Sometimes, when I direct him to his crate, he reluctantly climbs in and whimpers as I secure the door.
Separation anxiety is common among dogs, and although inevitable in some cases, learning more about it can help to lessen the effects for your dog.
Jimmy and I have been working on his anxiety for a few months now, and with a few simple changes, his condition has improved significantly.
What is Separation Anxiety in Dogs?
Separation anxiety in dogs occurs when your pet becomes distressed before and during the time you are gone from the house.
When they are left alone, they become sad and distraught and may even act out of character. 
When you return home, they are overly excited to the point of acting like they have not seen you in months.
What Causes Separation Anxiety in Dogs?
Separation anxiety can be caused by a few different factors.  Your dog may just be sensitive and attached to you, therefore, emotionally reactive in your absence.
Separation anxiety can also be caused by factors from a dog's past, such as multiple homes, abandonment, or a recent loss of a family member.
Getting to the root of your dog's cause of separation anxiety can help you to alleviate some of the symptoms and sadness they are experiencing.
What Dogs Normally Suffer From Separation Anxiety?
Any dog can suffer from this condition, but some breeds are more apt to face separation anxiety because of their innate tendencies and characteristics.
Some of the breeds predisposed to this type of anxiety include Border Collies, Labrador Retrievers, German Shepherds, Australian Shepherds, Vizslas, Jack Russell Terriers, and Bichon Frises.
As mentioned previously, any dog who has faced abandonment or multiple owners is also more inclined to struggle with separation anxiety.
What are the Signs of Separation Anxiety?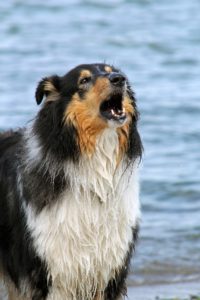 Signs of separation anxiety can come in a variety of symptoms. Excessive whimpering and crying when a dog's owner is about to leave or has just left is one of the most common signs.
These actions are sometimes followed up by barking, even if there are seemingly no disturbances or reasons that the dog might be alarmed.
Crying and barking as soon as I started to leave the house were two of the symptoms Jimmy showered when I first noticed signs of his anxiety.
Some dogs will try to escape their crates or their homes which can be harmful to themselves and their surroundings.
Other dogs may act out by urinating in the house, even though they are trained to pee outside, or digging in the garbage can.
Jimmy also displayed these behaviors when I used to leave him alone in the house while I was gone (and before he had a crate).
Signs of Jimmy's symptoms initially created a lot of tension because I did not understand why my older, well-trained pet was reverting back to his puppy-like behaviors.
I came to realize that his actions were a result of genuine sadness from being alone. Cockapoos are loyal companions who thrive on attention, so spending even small increments of time alone can cause feelings of anxiety.
How to Help Your Dog to Cope With Separation Anxiety?
The key to helping your dog cope with his or her separation anxiety is making your dog feel more comfortable with the idea of you leaving.
A few tips to ease their sadness include:
Giving your dog a treat or a special toy each time you leave. This will help your dog associate your departure with positive feelings.
Making less of a big deal as you come and go. This will prevent the buildup of sadness as you get ready to leave.
Pretend to get ready to leave, but stay home. This will desensitize your dog to the cues of putting on your jacket and grabbing your keys, allowing you to exit more peacefully when you do depart.
Leave for very small increments of time. Doing so will help condition your dog to your ins and outs, therefore making it less intense when you come and go.
If your dog is experiencing separation anxiety and is still unable to experience relief from the tips above, it is worth consulting with a veterinarian to see if other coping mechanisms may be able to help.
How to Prevent Your Dog From Having Separation Anxiety?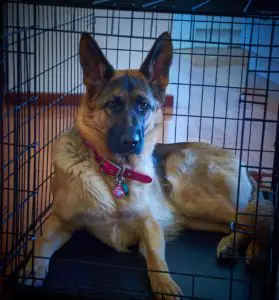 Over time, if you practice some of the recommended tips, you may find that your dog can completely rid of his or her separation anxiety.
Conditioning your dog to become used to your daily schedule can alleviate their sadness and outward symptoms.
If your dog is not currently experiencing any symptoms, or if you've recently gotten a dog and you aren't sure about their tendencies yet, make a habit of creating a routine that includes the treat or special toy as you get ready to head out to ensure they associate your absence with positivity.
Another trick that helps is to send a lot of time with your new dog initially, but every so often, leave the room for a few minutes and then return.  This helps your dog learn that even though you might leave, you will come back.
In addition, it is important to remember that leaving your dog alone for a number of hours is unhealthy because it does not allow them to get outside to take care of their duties.
This can provoke them to take care of their business in the house and induce stress-related symptoms that could evolve into separation anxiety.
If you anticipate that you will be gone for an extended period of time, consider asking a friend or family member to stop by to check in, or you can even hire a dog walker for the day who can bring them outside and get them moving around.
Can a Dog Crate Help With Separation Anxiety?
Getting your new dog accustomed to their own space can also help to ease the sadness of being separated.
Dog crates are a staple in some homes, but scarce in others.  Crates are known as a safe space for your pet, especially at night or when you leave the house, though some dog owners do believe in them.
Crates can aid dogs who suffer from separation anxiety because it helps them to get used to the routine of going into their own space to rest or sleep when you're away.
Dogs become comfortable with their crates over time, and they act as a shelter, providing them comfort and preventing the restlessness that can come from a dog alone in a big, empty living space.
What to Look for in Crates for Dogs With Separation Anxiety?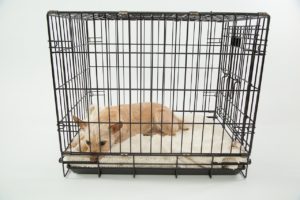 If a crate seems like a viable solution for your dog, it is imperative that you choose the right one to help with easing their symptoms.
First and foremost, make sure the crate is big enough for your dog. This was not hard for me, because Jimmy is under 30lbs and does not take up a lot of room.
For bigger dogs, you want to make sure you measure their height and consider their weight in order to choose the right dimensions.  They should be able to stand up and sprawl out if needed.
It would worsen their conditions if their crate was too cramped and did not allow for them to sleep comfortably.
There are a few different types of crates that you can choose from:
Wire crates: Simple, common crates that allow for ample room and visibility.
Plastic crates: Typically used for transportation purposes since they come with a handle.
Fashion crates: Usually wooden and provide a more elegant style for dog owners who might want the crate to blend well with their homes.
Soft-sided crates: Also, portable and lightweight, but mostly an option for smaller dogs.
Heavy-duty crates: Great for dogs who try to escape or may be a bit rowdier in general.
How to Crate Train Your Dog?
Crate training your dog is an integral step in getting them used to the new space. Establish a routine for them by making sure you lead them into the crate before each time you head out.
Adding a dog bed or a cushy pad can help them to feel more comfortable from the start.
Jimmy has a dog bed in his crate that he loves and tends to cuddle up with. I have also added a pillow and one of his favorite toys.
Customizing your dog's crate to fit what he or she likes can make the transition a lot smoother.
Although difficult, it is important to ignore your dog's cries and pleas the first few times you put him or her into the crate. Ignoring them forces them to get used to the crate, which they will eventually become comfortable in.
If you take them out immediately upon the first cry, they will think that you are staying, or trick you into letting them rule the house while you're away.
Top 5 crates for dogs with separation anxiety
        1. AmazonBasics Single Door & Double Door Folding Metal Dog Crate
This crate is great for your anxiety-ridden dog because it gives him or her breath-ability and visibility.
The design is perfect for adding a dog bed to make sure your dog is more comfortable.
There are two side-bolt door latches for security and the sturdy build make it durable.
This crate comes in 6 different sizes, ranging from 22-inch to 48-inch.  There is also the option for a double-door design in case that is preferred.
This is the crate that I use with Jimmy. It's been a great addition to our routine and with space for a pillow, has helped reduce his symptoms!
        2. Petmate Compass Plastic Pets Kennel with Chrome Door
This crate comes with a versatile 2-way door that gives your dog the option to enter and exit through either side.
The build is extremely durable and great for travel.
Petmate also gives great ventilation for your pet without too much exposure and is also airline adaptable.
Although great for travel, this can also be a great solution for your pet at home, and using the same crate between home and travel can help to ease anxiety in case you travel with your dog often.
This crate comes in 6 different sizes, as small as 10lbs and as big as 70-90lbs.
       3. EliteField 3-Door Folding Soft Dog Crate, Indoor & Outdoor Pet Home
This crate is soft and foldable! It comes in 10 different colors and 5 different sizes, each labeled by exact length, width, and height measurements.
The frame is composed of strong steel tube and the cover is made of durable fabrics that are easy to wash. There are 3 mesh doors for breathability and convenience.
There is a free carrying bag and fleece bed that is included and there are also straps that make the crate easy to transport.
The added features to the soft design help your dog's anxiety by providing a sheltered, comfortable space.
The semi-covered walls provide more covered shelter to those dogs who may seek more secluded spaces.
There is also a 2-year warranty from EliteField, the brand ranked #1 by Amazon in the soft dog crate category.  If you are not completely satisfied with your EliteField crate, you will get 100% of your money back.
        4. Boomer & George Wooden Pet Crate End Table
This fashion crate doubles as an end table!  It comes in an Espresso finish to match your living room décor, and has a cage-like top half to allow for visibility for your dog.
The most intriguing aspect of this crate is that it allows for your dog to reside in likely one of his or her favorite places; right in the family room.
The placement of the crate can help to alleviate anxiety and make the transition to the crate less dramatic since it is in the center of the house.
The style blends well with the other furniture that is already in the room, making it an easy addition to your home.
Due to the size of the crate (imagine a typical end table), this option would be most ideal for smaller dogs.
         5. Midwest Exercise Pen/Pet Playpens
This circular playpen is a great alternative for dog owners who may be concerned by the space constraints that come with a crate or who may not be interested in crates in general.
This pen allows for your dog to have extra room that a crate does not allow for while still maintaining a specific space for him or her to stay in while you are away.
This option is a great solution for dogs who may be larger or who may be struggling to adjust to a crate.
In addition, this pen can be placed inside or outside, allowing your dog to relieve themselves if needed (and if it is warm enough for them to remain outdoors).
The Midwest Pen comes in 5 different sizes, from 24"H to 48"H.  Height is an important detail to consider because if your dog is able to jump over the walls of the pen, the purpose of the pen is lost.
This pen comes with a secure double latch step-through access and provides 16 square feet of area.  There are 8 ground anchors, 8 corner stabilizers, and 4 thumb snaps that make it easy to assemble and secure.
Final Thoughts and Jimmy's Crate Choice!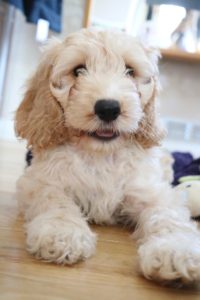 There are multiple great options for your dog to help secure him or her while you are away and reduce the separation anxiety.
I know for my dog, Jimmy, getting used to his crate has been vital for reducing his symptoms.
He has the first crate option listed above, the AmazonBasics Single Door & Double Door Folding Metal Dog Crate.
This is my favorite of the options because it is easy to customize, as I alluded to earlier with the dog bed and the pillow.
That being said, I think the Midwest Exercise pen is another great option for dog owners who want to avoid a crate but still want to keep their dog under control while they are away.
This can prevent anxiety-ridden dogs from digging into the trash or urinating in the home and ultimately get them used to the routine of being confined to a certain space while their owners are away.
Overall, crates are a great tool for helping dogs who face separation anxiety.
No matter what solution you choose, it is important to understand your dog's specific needs and tendencies so you can help him or her adjust accordingly and suffer less.
Once you understand how and why your dog might be facing separation anxiety, you are empowered to make their lives better, and get back to the best aspects of having a furry best friend!
If you have any comments or questions, please feel free to leave them below!