Christmas is my favorite time of the year. I love all the decorations, the delicious food, and the spending of time with friends and family. However, it's not just a time for us humans. I also like to include my dogs in the celebrations. After all, they are part of the family as well.
Hi, my name's Irena and I have five dogs. Of course they don't necessarily know that it's Christmas, but they do realize that something different is happening. They get excited by all the present unwrapping, and of course by the extra food that's around.
Talking of presents, I think it's a great idea to give your dogs a treat at Christmas as well. After all, they deserve it for being loyal companions all year long.
What to Buy Your Dogs for Christmas
Of course, anything edible goes down a treat. None of my dogs can resist a bone or a chew. Perhaps that will keep them away from the Christmas table when you are sitting down for your meal.
My dogs always get excited when they're given a gift so it's nice to wrap them up so they can tear off the wrapping paper themselves. My oldest four, who are fourteen, do this quite slowly, but Sherlock, who's just four, goes mad when he's given a gift.
It's nice to give your dogs something they don't get the rest of the year. Perhaps you give them chews or dental sticks on a regular basis. Then it's time for something different.
I've found some Christmas themed edible dog treats, which I think would go down well. Your dogs might not notice, but it's still fun to be festive.
Dangers of Wrapping and Giving Gifts
Unfortunately, most wrapping paper can be toxic to dogs as it is often treated with bleach and chlorine. This could make your dogs pretty sick, not to mention that sellotape can be a choking hazard.
However, there are companies out there, like Pet Party Printz, who produce non-toxic wrapping paper and an adhesive. Alternatively, you can put the gift in a stocking.
The first thing to do is to give them the gifts and let them smell them. If you have a dog like my Sherlock he'll be trying to get it out of your hand as soon as he smells it. He does get very excited when presents are around and it's fun for us to watch him.
You can get some presents which come with both edible gifts and toys. This gives you the best of both worlds and should keep your pooch entertained all through Christmas Day.
Well, I've given you some tips on giving your dogs Christmas presents. Now it's time to look at my top ten edible presents for dogs. Most of the gifts I have chosen are seasonal as I think it's great to keep the Christmas spirit alive as much as you can.
1. Christmas Dog Treats Grain-Free Organic
Now here's something that all my dogs would like. In fact I'd probably have to buy them a box each.
There can't be many dogs out there who would turn their nose up at half a dozen cookies.
They are all very festive and you will get cookies shaped as Santa, Santa's hat, the Grinch, and a candy cane, among others.
They are all decorated beautifully, not that it will matter much to your dogs.
These cookies have the added benefit of being healthy. They are made from 100% USDA certified organic ingredients.
For a start, they are grain free. Your dogs don't need empty fillers like corn, wheat, and soy which have no health benefits at all.
In addition, there are no GMO products used to make these cookies. They have no artificial colors, flavors or preservatives, no salt or sugar has been added, and nor has shortening. None of the products used have been produced with the use of chemicals or pesticides.
The organic ingredients used to make these cookies include such things as pumpkin, carob, peanuts, coconut and black bean flours, and garbanzo (or chickpeas). You can rest assured that your dogs will be getting a delicious snack as well as a healthy one.
The cookies come in a cloth drawstring bag, tied with a festive ribbon. They are vacuum sealed so they can remain fresh for longer.
2. Crunchkins Crunch Edible Card, Christmas Card for Someone Sweet
Now we have something completely different.
Yes, you've bought your pooches presents, but what about a card?
What is the point you ask?
Well, you haven't seen this card yet. Believe it or not, it's completely edible.
It's a fun looking card with a picture of a dog on the front holding a candy cane in his mouth. It even comes with an envelope, but you'd better open it rather than leave it to the dog.
The card is made of all natural products and the colors don't run. It gets soft when your pooch starts to eat it and comes off like cotton. It'll go down a treat. I know all mine would love this.
3. Box of Doggie Candy
This is a real bargain as you get a dozen frosted treats, probably too many to feed one dog.
Personally, I would open it for the dogs and then hand them out.
I think my Sherlock would be first in line!
These treats are frosted in red, white, and green so are very festive. They even look like mini Christmas crackers!
What's even better is that only organic ingredients have been used, so as well as being tasty, they are also healthy. They are grain free and what dog needs empty fillers of wheat, corn, and soy?
They contain no additives, preservatives, GMO ingredients, by-products, artificial flavors, or salt and sugar. Nothing in these treats contains ingredients which have been treated with chemicals or pesticides.
What else could your dog ask for?
4. Jumbo Dog Gift Basket – Prime Treats & Toys
Now this really is some Christmas gift. It's a box filled with all sorts of goodies your pooches will love.
As there's so much, it's better just to show it to the dogs before handing out the treats.
There are fifteen items in the box, nine of which are edible.
They include Alpo Variety Little-Bite Sized Snaps, a Purina Busy Bone, and a Barky Bigger Bone Treat.
The toys include balls and squeaky toys.
If I was buying this for my pups, I would hand them each a couple of treats and then start playing with them with the toys. If there aren't enough bones to go round, I suggest buying extra for the others.
You could give these after they have played when they will just want to relax (You hope!).
The box is sturdy and comes with a picture of a dog wearing glasses. It's all tied up with a very festive gold bow.
5. Pooches Gracias Dog Lover Gift
Now if you want to give yourself a gift as well as your pooch, this is the gift to go for.
It's more suitable for a one-dog household as there are treats for you as well.
If you have more dogs they might fight over the chewy rawhide bone, but they would be alright with the gourmet cheese sticks and cookies, as long as I gave them out!
Treats for you include fresh popped popcorn and crunchy nuts. Knowing me I would end up sharing these with my dogs.
I know, you shouldn't give your dogs human treats, but I'm too soft, especially when it comes to Sherlock.
He just looks at me with those big brown eyes and I melt.
Also included is a doggy picture frame so you can put in your favorite picture of your pooches.
6. Jagger's Doggy Deli Christmas Pet Dog Gift Basket with Large Gingerbread Man
If you're looking for a gift basket which would suit a multiple dog household this should fit the bill.
The only problem is that it just has one toy, a large gingerbread man with a grunter and squeaker, so you may have to buy extra.
However, it would be fine for me as Sherlock would grab the toy straight away and the others wouldn't be bothered!
There are absolutely loads of treats in here for your dogs; cheddar cheese stars, peanut butter treats, peanut butter and carob chips, and a paw paw package of assorted gourmet cookies.
A veritable feast for your dogs.
7. PetFun Christmas Novel Smart Doggy Challenging Cube Dispenser
This is the sort of gift I would give each one of my dogs as they would love it and would like to have one of their own.
There should then be no fighting (I hope!).
It's a two-in-one gift. You buy a ball dispenser and then fill it with your dogs favorite treats.
They are then left to chew and puzzle out how to get the treats out.
They'll love it and it will keep them busy over Christmas lunch.
The ball is made out of non-toxic rubber so is safe for your dogs to chew on while they are working out how to get the treats. It's a great IQ builder as it gives your dogs something to think about.
In addition it is a great alternative to bowl feeding. Not that I'm saying do it all the time, but perhaps split their dry food into two, one in a bowl and the rest in the ball.
I don't know about you, but my dogs all gulp their food down. This can lead to bloating which can be harmful. so if they are eating more slowly from their treat ball; it can do nothing but good.
This is a great toy to leave out when you have to go to work. Fill it up with treats and let them play and chomp all day.
8. Just Chill'in Pets Holiday Dog Gift Basket
Now here we have another multi-gift which is bound to keep your pooches amused on Christmas Day and a long time afterwards.
You get so much for your money; two packs of tasty rawhide chews, nine toys, and a blanket.
This is great for a single dog, but it would also work in a multi-dog household. Once they have inspected the gift, give them all one of the treats in the basket and then let them play with the toys.
Whenever they come round the Christmas table, give them another of the treats, that will keep them happy!
As for the blanket, I don't think my dogs would go crazy over it. I would just put it in one of the dog baskets.
They chop and change so much and one of them might like the blanket and choose that bed.
9. Holiday Gift Basket, Peanut Butter Bones and Good Dog Ginger Stars
Here we have another gift basket for your dogs.
I would say that this would suit a two-dog household perfectly as it has two holiday toys in it.
In addition there are 12 oz. of peanut butter bones and 12 oz. of Good Dog Ginger Stars. It all comes in an attractive holiday box.
The treats are made out of completely natural ingredients with no unnecessary fillers or additives.
They are also made by hand from scratch which is a lovely touch. So, you will be getting something a bit more personalized, although your dogs won't notice.
All they'll want is to chomp their way through the delicious treats.
10. Claudia's Canine Bakery-Reindeer Wonderland Dog Treats
This is a lovely gift which all your dogs can share.
Or if you have just one dog, you'll have to spread the treats out a bit, even though your pup might be going crazy for more.
These cookies are very festive. There are red stars and green and white bones, as well as a reindeer face on one of the bones.
They have a delicious aroma which will make your dogs come back for more and they are very tasty.
There are even yogurt drizzles on some of the cookies making them even more delicious.
Final Thoughts
I hope that you are filled with ideas of what to get your dogs for Christmas this year.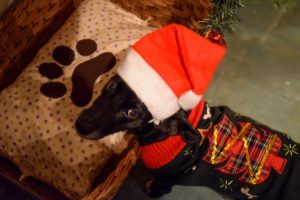 There are a lot of things to choose from and I think getting them something festive is a great idea. Yes, they might not notice, but you and your family and friends will and it makes Christmas just that little more special.
For me there always has to be something edible amongst the Christmas gifts and I'm sure that this goes for a lot of you out there too. We all know how much dogs love to eat and mine are no different.
Why not go ahead and spoil your faithful friends with one of these delectable goodies?