You may love doggy kisses, but you could probably do without the doggy breath. Don't worry, you're not alone in that.
When we take care of our dogs, we often neglect their teeth; after all, unlike a human, you can't simply brush your dog's teeth – although, your dog may let you if you use peanut butter.
However, after even a short period of time without care, you may find that your dog's breath begins to have a foul odor, their teeth may begin to decay, or they may even develop gum disease, just like a human does.
Thanks to dental dog treats, though, you don't need to worry about setting up a dentist appointment for your dog.
What are Dental Dog Treats?
You can think of dental dog treats like gum for dogs. They are any kind of treat that encourages chewing, and some may even contain different ingredients and chemicals to boost cleaning abilities.
Some of dog dental treats, like the ones discussed and reviewed below, have a unique design that works to remove plaque and tartar through mechanical cleaning alone.
The Veterinary Oral Health Council reviews each and every product, and, if a dental dog treats earns their seal of approval, you can rest assure that the treat is beneficial.
Why Should You Use Dental Dog Treats?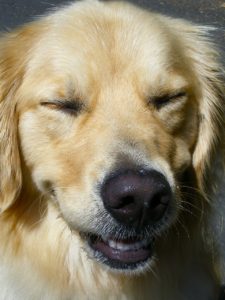 Dental dog treats offer an abundance of benefits. Like humans, dogs are at risk for dental diseases and issues such as bad breath, gum disease, tooth decay, irritated gums, and tartar buildup.
Dental dog treats can help cure and prevent these issues from occurring by encouraging chewing which promotes saliva production (which makes it harder for bacteria to settle on your dog's teeth) and provides a mechanical method for cleaning that is similar to brushing your teeth.
Dental treats also provide a healthy alternative during training, just be careful when giving them to puppies, as some, if not all, are not suited for sensitive puppy tummies and fragile teeth.
Ready to start investing in dog dental treats but not sure where to start? Don't worry! Here's what you should look for in a dog dental treat.
How to Pick the Best Dog Dental Treat
Picking is a dog dental treat is much like picking a toothbrush and toothpaste for yourself. You want to make sure that it doesn't have any harmful ingredients, and you want to make sure that it actually works.
The last thing you want is a toothbrush that barely cleans your teeth. And, while it's not a requirement, it's always nice if you enjoy the taste of your toothpaste, or if it provides extra benefits outside of just cleaning your teeth.
When picking the best dog dental treat, it should at least meet these criteria, if not more:
It should be free of harmful ingredients
It should not harm your dog in any way
It should work efficiently to clean your dog's teeth
It should remove plaque and tartar buildup
It should improve your dog's breath
As long as you pick a treat that does this, you can rest assured that it is a great product for your dog. If it does this and then some, you can rest assured that it is the best product for your dog.
To help you even further in your process to pick the absolute best dog dental treat, here are reviews for the top four brands.
Best Dog Dental Treats Reviewed
      Whimzees Review
About
Whimzees are all-natural, gluten dental treats that are designed specifically to give your dog a low-fat, but tasty tooth cleaning method.
These treats have a unique design – hollow center with exterior knobs and grooves – that allow your dog to easy grip, chew, and clean their teeth.
The knobs and grooves are able to reach even the smallest parts of your dog's mouth to provide an efficient cleaning that reduces tartar, plaque, and bad breath.
Whimzees Ingredients
Whimzees unique recipe uses only six ingredients that are completely natural.
These treats don't use any extra or unneeded ingredients, so you can sure that each ingredient – potato starch, glycerin, powdered cellulose, yeast, malt extract, and lecithin – offers a benefit to your dog.
Some of these, like glycerin, are to keep the treats moist so you don't have to worry about them becoming dangerously hard, and others, like powdered cellulose and potato starch, act as significant dietary fibers so your dog's tummy will be soothed.
Pros
Free of GMOs, gluten, grain, and artificial additives
Large variety of dental dog treats for both small and large dogs
Unique recipe that uses only six all-natural ingredients
Unique shape designed to reach even the smallest parts of your dog's mouth
Highly praised in reviews
Cons
Incorrect size listings that can make picking the right size for your dog difficult
Expensive
Hard to digest
Some owners report that these treats made their smaller (under 25 pounds) dogs sick
Our Rating of Whimzees
We give Whimzees Dog Dental Treats a 3/5.
Affordability and safety for all dogs is important, but, if you don't mind an investment, and if you supervise your dog carefully, then Whimzees offers a large variety of treats that, thanks to the limited ingredients, can be given to dogs even with sensitivities.
Where to Buy Whimzees
      Greenies Review
About
Greenies, which were founded in 1996, are made in the United States.
They have a unique texture, a variety of flavors and sizes, and inexpensive options that have gained the company both the approval of customers and the Veterinary Oral Health Council.
They also have a variety of recipes for every size, palate, and dietary need.
Greenies Ingredients
Greenies have a variety of ingredients depending on which flavor, size, and style you buy.
However, one thing is sure across all varieties of Greenies: even though they can't claim to be completely all-natural, they do use natural, highly nutritious ingredients in each treat they produce.
If you purchase a flavored option such as blueberry, a quick glance at the ingredients list will show you that they are made with real dried blueberries.
If your dog has sensitives, such as a gluten allergy, you can also purchase a grain-free option.
Pros
Veterinarian recommended
Veterinary Oral Health Council approved
Variety of flavors
Large variety of dental dog treats for both small and large dogs
Highly praised in reviews
Easy to digest
Made in the United States
Highly nutritious
Inexpensive
Cons
Possible digestion and bowel issues
Causes sickness in some dogs
Our Rating of Greenies
We give Greenies a 4/5.
While there are claims of these treats causing sickness, they also have such a wide variety that you can experiment to find the treat that works best for your dog.
They also have the VOHC seal of approval and are veterinarian recommended.
Where to Buy Greenies
     Dentastix Review
About
Dentastix are a dental dog treat produced by Pedigree, a highly reputable brand.
They have a X-shape that, along with the tripe action design, helps freshen breathe, clean teeth, and prevent plaque and tartar buildup.
Dentastix come in a variety of sizes so that every dog, no matter the breed or weight, can enjoy them.
Dentastix Ingredients
Dentastix cannot claim to be all natural. They are, however, a great source of vitamins, minerals, and protein.
Some of the notable ingredients include folic acid, which promotes a healthy coat and nails, and green tea extract.
Pros
Inexpensive
Unique triple action design
Variety of flavors
Grain-free option for dogs with sensitivities
Variety of sizes so they are safe for every dog
Cons
Some dogs have choked on these
Causes diarrhea in some dogs, especially younger ones
Our Rating of Dentastix
We give Dentastix a 4.5/5.
Choking and diarrhea can occur with any treat, and they are more of a result of your dog's eating habits and sensitives rather than the treat themselves.
They are affordable and efficient as well, with a variety of flavors that dogs love.
Where to Buy Dentastix
Unlike the brands mentioned so far, rather than multiple styles with a single flavor, Dentastix has one style with a variety of flavors, with the chicken flavor found on Chewy being specifically for puppies.
      Merrick Fresh Kisses Review
About
Merrick is a popular, reputable brand that, while not a luxurious price, is still slightly more expensive than some of the cheaper choices like Dentastix.
The brand produces dog training treats and dog food that are all highly reviewed, and Merrick Fresh Kisses are no different.
These dog dental treats feature a unique double brush design. Each end of the treat has a brush, though they are facing different directions.
This means that, while your dog is chewing, the brushes move in a twisting motion that efficiently cleans both the top and bottom rows of teeth.
Merrick Fresh Kisses Ingredients
Merrick Fresh Kisses, no matter which flavor you choose, are made out of all-natural ingredients that are healthy, tasty, and packed full of benefits for your dog's mouth and overall wellbeing.
On top of that, these are one of the only dog dental treats are both gluten and potato free, making them a great choice for dogs with sensitives.
Pros
Unique double brush design
All natural
Gluten and potato free
Variety of sizes for all breeds of dogs
Cleans teeth and freshens breath
Cons
Lack of variety in flavors
Expensive
Not suitable for puppies
Extra large dogs may swallow treats whole
Our Rating of Merrick Fresh Kisses
We give Merrick Fresh Kisses a 4.5/5.
They don't pose any significant health concerns or risks, and their major downfall is there lack in variety of flavors.
They have a unique double brush design that works to clean all the teeth in your dog's mouth rather than focusing on only one area.
Where to Buy Merrick Fresh Kisses
Like Dentastix, Merrick Fresh Kisses come in only one style but different flavors.
Whimzees vs Greenies vs Dentastix vs Merrick Fresh Kisses: Comparison
In order to truly compare all of the information listed above, and to make it easier for you, of course, we've complied a table ranking each product from 1 (top choice) to 4 (last choice) in three different areas: efficiency, or the ability to truly clean your dog's mouth; safety, as no product should harm your dog, though, some adverse effects are inevitable; and affordability.
| | | | | |
| --- | --- | --- | --- | --- |
| | Whimzees | Greenies | Dentastix | Merrick Fresh Kisses |
| Efficiency | 1 | 4 | 3 | 2 |
| Safety | 4 | 3 | 2 | 1 |
| Affordability | 4 | 2 | 1 | 3 |
Our Top Pick: Whimzees vs Greenies vs Dentastix vs Merrick Fresh Kisses!
While it definitely isn't an easy choice, between the ingredients, reviews, and benefits, we've decided that Dentastix are the best dog dental treats, with Merrick Fresh Kisses being a close second.
Despite the lack of variety in shape, Dentastix are the only treats with triple cleaning action. These have proved to be the most efficient in cleaning teeth, freshening breath, and preventing plaque and tartar buildup.
They are easy to digest, gentle on your dog's mouth despite their cleaning strength, and come in a variety of flavors, including a dual flavor option, so that you're almost guaranteed to find the perfect option for your dog.
Even though the Dentastix dog dental treats aren't made of all natural ingredients like some of the other treats on this list, they are made with a variety of vitamins, minerals, and proteins that make them a great healthy treat for your dog.
Runner Up
Merrick Fresh Kisses were such a close second to Dentastix that they deserve some recognition too.
The standout feature on these dog dental treats is the unique double brush feature.
In fact, had these treats been more affordable and had a larger variety of flavors, this feature alone could have been enough to make it our top choice.
This treat is also made out of all-natural ingredients, and it is gluten and potato free.
They are full natural botanical oils that not only help clean your dog's mouth but keep it healthy, all while still providing some of the vitamins and minerals your dog needs each and every day.
Final Thoughts
No matter which dog dental treat you pick, it's important that you take the time to take care of your dog's teeth.
While it may seem silly to think about brushing your dog's teeth or setting them up a professional cleaning, if the tartar builds up, or if they begin to suffer from dental disease, these may become mandatory actions.
Investing in quality dental treats will save you from complications in the future, and your dog will thank you for taking the time to think about and care for their teeth since they can't.
With a variety of dental treats on the market, it may be hard to decide what a quality treat is, though.
If choose not to get Dentastix, make sure to do your research so that, rather than just a dog treat that claims to clean your dog's teeth, you get a good quality, efficient dental dog treat.